An Interview with Jamie Masada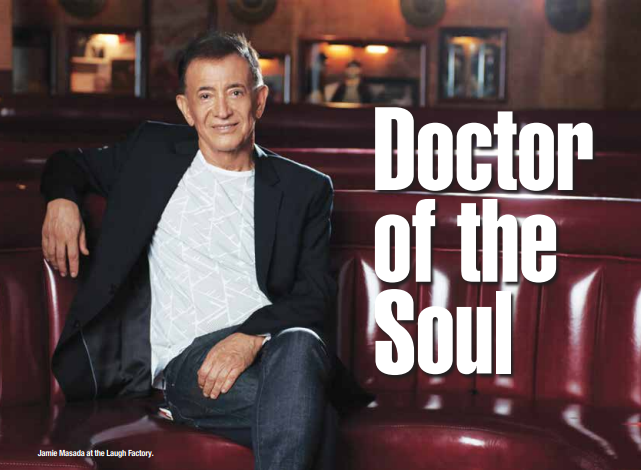 For someone who was a close friend of Richard Pryor, Paul Mooney, Robin Williams, and many of the bombastic '70s comics, you'd think Jamie Masada, founder and owner of the legendary Laugh Factory, might let f-bombs fly freely. In reality, Masada spoke with a gentle, almost conciliatory tone. When he called me three minutes before our scheduled interview, I was at the tail end of making a pour-over coffee. I hurried to my kitchen office, swept away the clutter, and answered. But his sweet sounding voice, with a tinge of a Persian accent, quickly lulled me into a relaxed emotional state, almost as if I was talking to an uncle or some long lost family member.
From an early age, Masada was enthralled with all things comedy. He immigrated from Iran when he was just a teenager and, in his mid-twenties, founded the Laugh Factory, now a mainstay comedian's playground off the Sunset Strip. Not to brag, but when I was in my mid-twenties, I was delivering food for Postmates.
Masada has gone on to receive awards from the NAACP and ACLU for free speech as well as produce a comedy camp for underprivileged youth. I may have only had 45 minutes with him, but I could have easily spoken with him for another five hours. I interviewed him about his upbringing in Iran, philanthropy, Judaism, and his first love: comedy. 
With all the conflict in the world going on right now, I suppose my first question should be, what does it mean to produce comedy in a time of great turmoil?
I think laughter is healing. 
The most important thing for a comic is to help people break barriers and communicate with each other. One night, I had two very conservative Arab comics and two very conservative Jewish comics on the same show. Right before the show started, I looked at the divided audience and I thought to myself, "Oh my god, Jamie, I made a big mistake. I hope I have insurance if something bad happens."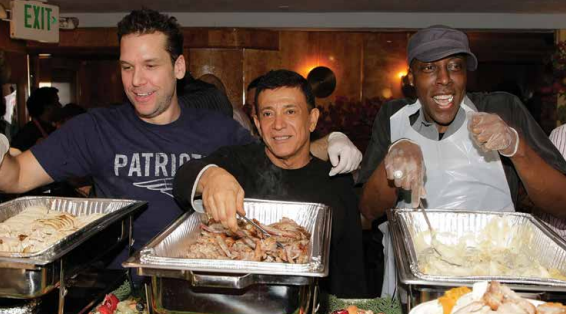 But about a half an hour later, the people are laughing! The comedians are making jokes like, "America takes credit for everything. America even takes credit for inventing slavery. They don't realize you Jewish people were our slaves in Egypt first!" The audience loved it. After the show, I went outside and the comics were sitting in a big Rolls Royce. The Muslim guy was wearing a turban around his head and the Jewish guy with a yarmulke and they were lighting each other's cigarettes.
There are Jewish and Muslim groups that come together in community, but so often, I think these inter-cultural groups are based on heavy serious conversation. It seems like if it was situated more around comedy and laughter then that would break down a lot more barriers quicker.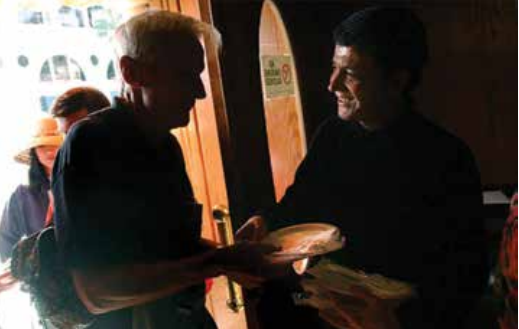 Absolutely. You're a smart person. 
That's what I keep telling my mom. 
Did you know, I don't call them "comics" anymore? 
What do you call them? 
I call them Doctors of the Soul. Because the laughter helps the audience. 
Are there any red lines for content with regards to these Doctors of the Soul? Do you or others at the club ever tell comedians what they can or cannot talk about? 
Yes, I do. For example, at the time, one went on my stage and he used the N-word and he did it with such a hatred. I saw there's something in him. His reality came out. I banned him from the club and after that, Letterman and a bunch of people called me to say, "Let him come in." 
I said, "No, we don't promote hatred in this club. We promote fun and have people respecting each other."
So comedy for you must come from a place of healing?
When I was a boy, I had dyslexia. I couldn't read. And my dad, poor guy, he would lose his temper. One time—because he felt guilty—he put me on his back and we went to the bazaar. In a store that was closed, they had this little black and white TV, which was showing Three Stooges. My dad, who didn't ever hold me or hug me, put me on his lap and sat down outside of the store. He started imitating their voices and I laughed so hard. I hate to say it, but I lost control of my bladder. I was scared that my dad would get mad. But he hugged me and kissed me and he said, "The greatest mitzvah you could do for any man is care for him and bring a smile to their face." 
Have you been back to Iran since you left?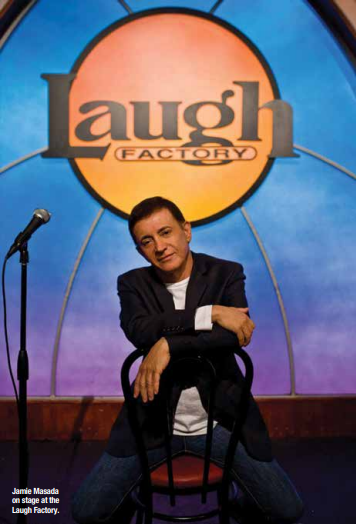 There are people in the United Nations that haven't done anything for peace. The only thing I have seen bring people together is laughter.
Only once. 
So you won't be opening a Laugh Factory in Iran anytime soon? 
No no no. 
Did you attend synagogue growing up? 
I did a little bit. But because of my dyslexia, I had fear to go outside because I couldn't read anything.
The city and country is engulfed in labor actions that are pushing back against extremes of corporate wealth. It's interesting that the Laugh Factory was born out of the fact that comedians were striking against other comedy clubs because they wouldn't pay them.
I was the first comedy club to split the door between comic and club. All of the comedy clubs, they are wonderful people, but they didn't know how to solve the problem of the strike. I came up with the idea.
Splitting the door in a lot of ways is giving ownership to the comedian, whereas if you're just paying them a flat fee, there wouldn't be that collaboration.
Absolutely right, because if you give them ownership you give them pride. 
Do you remember one of the first times you performed on stage?
Yes! I went to The Comedy Store looking for a job. One comic did not show and the man I met with asked if I could go on stage and tell jokes.
I said, "Yes! I tell jokes." 
So I go on the stage and at first the spotlight hit me. My legs were shaking. I forgot to speak into the mic. One of the guys from the audience started screaming, "You're doing okay boy! Just hold on to the mic." 
I then started telling all of my jokes in Farsi. Everyone started laughing and I didn't realize I was talking in Farsi. Not one joke was in English.
And then a big guy, comic, comes on the stage. He said, "Can you dig it."
And he put out his hand. 
I said, "Dig what? 
He said, Dig that." 
I said, "No I can't dig anything. I need a shovel." 
Then he said, "Just give me five." 
I said, "Five. I don't even have twenty-five." 
And that was the first time I ever went on the stage. It was by accident. 
If you had to pick one comedian to be in heaven with for eternity— 
Eddie Murphy.
You mentioned in your LA Magazine interview that religion has failed us. Which goes to your broader concept that laughter is like breaking bread. Yet, you also bring people together for High Holy Day services at the Laugh Factory. I was wondering if you could talk about that dichotomy?
Governments have killed many people, from Hitler to Stalin and it's all about territory. Also, religion has killed many people: "My religion is better than your religion. So, I am going to kill you."
There are people in the United Nations that haven't done anything for peace. The only thing I have seen bring people together is laughter. Right now in Ukraine and Russia, there have been almost 500,000 casualties. They give a kid a gun and say, "Go shoot the other people." They don't know why they're shooting at each other. And it's all because the government or the king or the president of the country said, "We go to war and must kill the other side." That's what I meant to say in the article.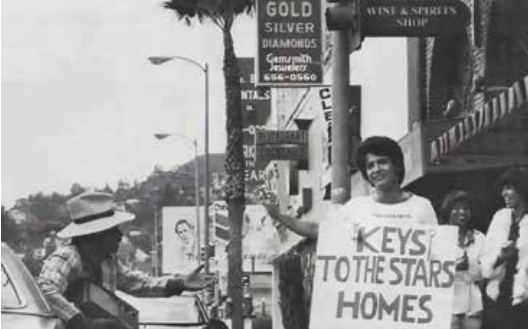 The reason I started doing High Holiday Services at the Laugh Factory was because a lot of people that came from New York or other places couldn't go home. Before that, I was purchasing tickets for comics, who didn't have money to go to services at temples. But finally I said, "Maybe I should find a rabbi and a cantor." 
The rabbi and cantor came in and started doing my services. After two years, you couldn't stand in our room because the fire department was closing us down. Everybody thinks Jewish people are all rich, but they don't realize some Holocaust survivors don't have enough money to eat. It's a shame. But don't give me credit. Comedians come in and help. Every year, for Thanksgiving and Christmas, many comics like Tiffany Haddish, stand in line and give out toys for the kids. 
Last question. For a budding young comic, how can they perform at the Laugh Factory?
Come to three open mics. Then go on the stage and just be yourself. Have fun and be passionate. But don't do it because you want to be famous. Don't do it because you want to be on TV. Do it because you have passion. Everything else comes together.
The world-famous Laugh Factory Hollywood will host its 43rd consecutive annual free Thanksgiving dinner and show this year, with seating beginning at noon and enough food to serve a Thanksgiving feast with all the trimmings to 2,000 people. As always, Laugh Factory welcomes those who are away from home, or those who are simply in need of a warm meal and a laugh. Top comedians will serve the guests and give them a wonderful show. Laugh Factory asks Good Samaritans to help homeless and other underserved people get to the event, or simply give them the Laugh Factory address so they can get a great holiday meal and a full helping of comedy.