Traveling to Jordan

As we gathered to plan our family trip to Israel, the excitement of adding Petra to our itinerary was palpable. As we delved into our research, we soon discovered that Jordan had far more treasures to offer. With our curiosity piqued, we embarked on a thrilling 3-day journey through this captivating country, exploring the wonders of Petra, the ethereal landscapes of Wadi Rum, and the historical marvels of Jerash.
Crossing Borders and Finding Our Way 
With our starting point in Tel Aviv, we considered the logistics of reaching Jordan. Options ranged from hiring a driver, taking the bus, or hopping on a quick flight. To optimize our time in Eilat, we opted for the short flight—a mere hour—from Tel Aviv and then rode the local bus from Rimon Airport to Eilat's center.
After a quick lunch and walk in Eilat, we embarked on the next leg of our journey. We hailed a taxi that took us to the Yitzhak Rabin Terminal/Wadi Araba Crossing—a preferred entry point into Jordan due to its accessibility. The crossing itself was smooth, facilitated by our chosen tour provider, Jordan Inspiration Tours (JIT). We were greeted on the Jordanian side with warm smiles and expert guidance, ushering us through the various checkpoints and paperwork needed.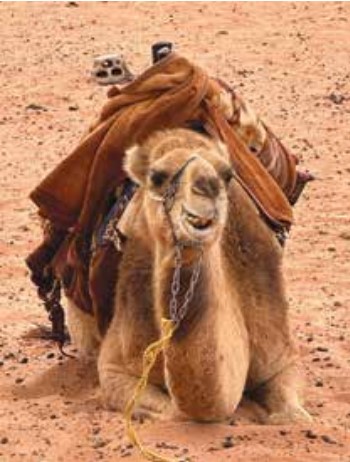 Aqaba: A Gateway to Exploration 
Our first stop was Aqaba, a charming seaport city nestled on the shores of the Red Sea. As the sun set over this coastal oasis, we joined some fellow travelers and wandered the streets, sampling delicacies, and admiring crafts and spices on display. The Sherif al-Hussein bin Ali Mosque, its towering white minaret illuminated against the night sky, was a sight to behold.
Wadi Rum: A Desert Adventure
We started the day with our driver and began our 40-mile journey to Wadi Rum (wadi is the word for valley in Arabic), a desert wilderness that could easily be mistaken for another planet. The unique landscape, with its reddish sand and towering sandstone mountains, has served as the backdrop for numerous films, including "Lawrence of Arabia" and "The Martian."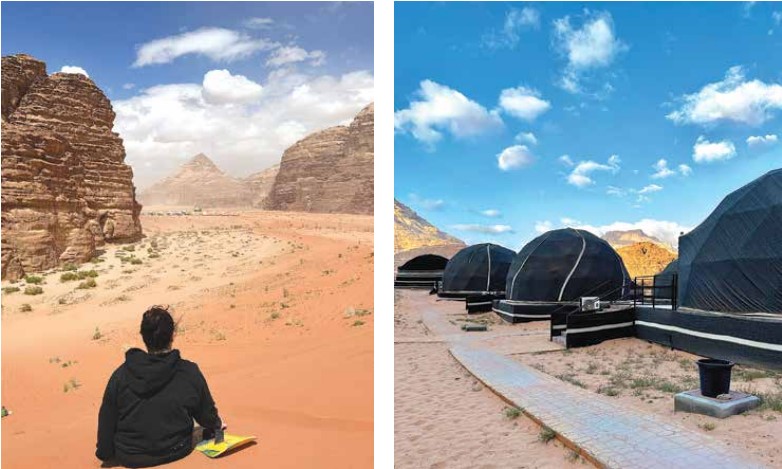 Our adventure in Wadi Rum unfolded through a Jeep Safari which is a fancy term for hanging out in the back of an old pick-up truck. It was an exhilarating experience as we traversed the vast desert expanse stopping at various sites. We hiked, rock-climbed, and even tried our hand at sand surfing, all while being immersed in the captivating scenery. The day culminated with a stay at the Alladin campsite, where a traditional Bedouin dinner cooked in a zarb, an underground BBQ pit, awaited us. After dinner, we spread open the curtains of our panoramic dome glamping-style accommodations to marvel at the incredible views of the stars above.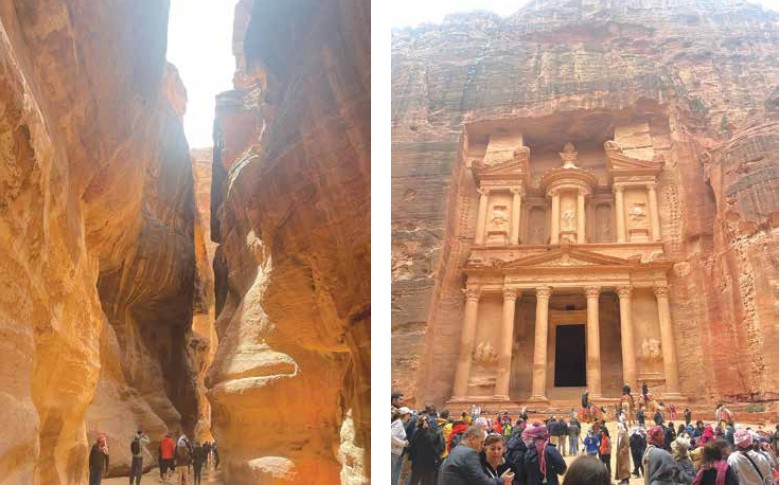 Petra: Unveiling Ancient Mysteries 
The next morning, we embarked on a journey to Petra, the ancient city carved into rose-red cliffs. Led by our knowledgeable guide, Sami al Hasanat, a local expert and preservationist. We learned and saw firsthand what an incredible guide we lucked upon, A former member of the Jordanian parliament with a Ph.D. in Natural Science, Sami has been at the forefront of protecting his home, Petra. He proudly recounted how he and others laid down and stopped the bulldozers intent on trying to modernize the area.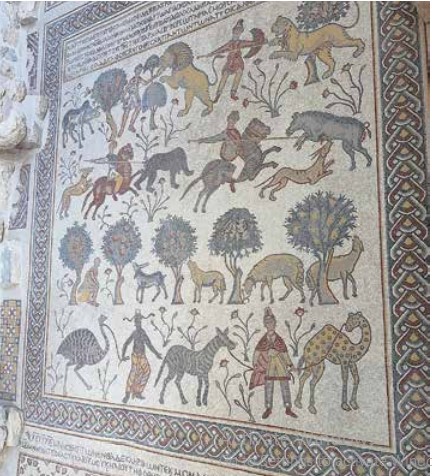 We marveled at the architectural wonders of this UNESCO World Heritage Site. We were shown how the Nabateaen Empire survived through their expertise of creating underground cisterns to hold water and the remaining ruins of a ceramic pipeline that traveled at a precise 4 degrees to bring water to the city dwellers. 
We traveled through the Siq—a rock canal leading to the Treasury—to the Street of Facades, the Theater, and the Royal Tombs, Sami's insights brought Petra's history to life. 
The crowning jewel, the Treasury, stood before us—an intricately carved masterpiece protected from the elements for centuries. As we explored further, Sami's anecdotes unveiled the mysteries of Petra's past, offering a profound appreciation for its significance as a key city along the trade route from Asia to Europe.
As we walked back to the entrance we visited the Petra Museum, a free museum that showcases some of the city's treasures.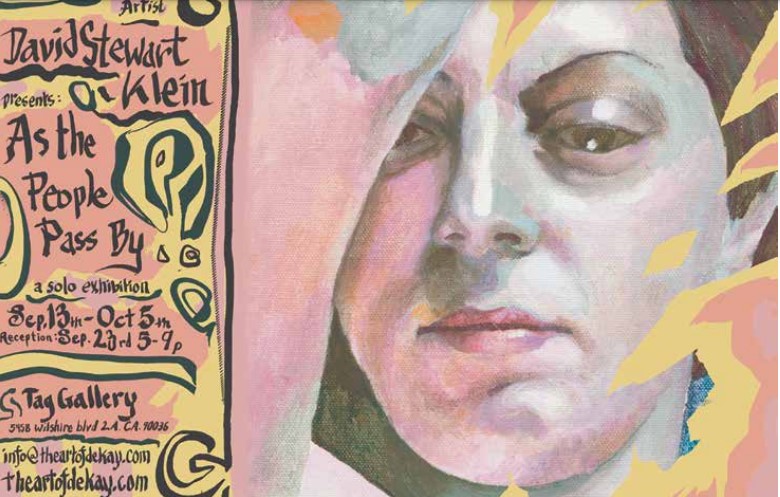 Mount Nebo and Jerash: Tracing History 
Our journey took us northward, past landscapes that transitioned from desert to lush green pastures. The Abraim Mountains welcomed us, as we looked at the Tomb of Aaron from afar and ascended to Mount Nebo—a site of historical and religious importance. This location was the last residence of Moses before the Israelites entered the Promised Land. Looking over the vista, Jericho and the Jordan River is just down, while on a clear day, it is possible to see Jerusalem.
We entered The Byzantine Church built in the 4th century, on the mount's summit where services were being held as we viewed the intricate mosaics depicting hunting and winemaking. 
Next, we explored Jerash, a Roman city known for its well-preserved archaeological sites. Our guide led us through the ruins, providing insight into its golden era under Alexander the Great's rule. The Hippodrome, Oval Forum, and South Theater were among the highlights, transporting us back in time to a flourishing ancient civilization. Oddly, as we entered the South Theater we were met by a number of robed Jordanians who were playing the bagpipers. Little did we know that bagpipes are authentically Roman!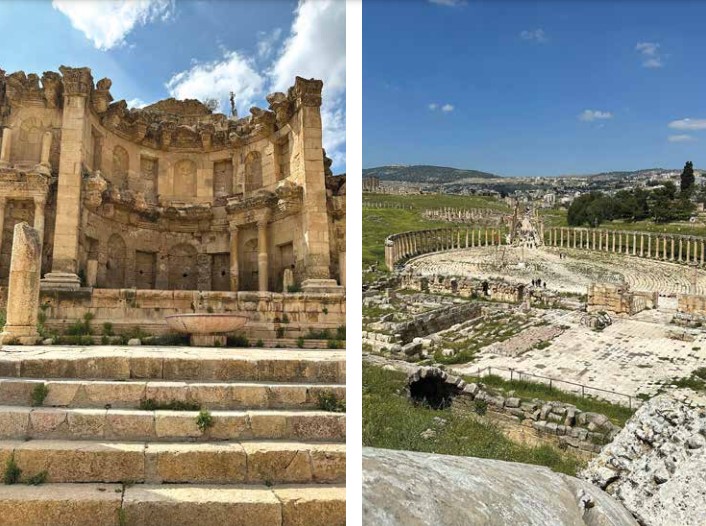 A Journey of Discovery 
Our 3-day adventure through Jordan concluded at the Sheik Hussein/Jordan River Crossing, setting our sights on returning to Israel. Reflecting on our journey, we found that three nights and days had introduced us to a world of wonders. From the mysteries of Petra to the ethereal beauty of Wadi Rum and the historical treasures of Jerash, we had witnessed the rich tapestry of Jordan's past. 
Traveling as a family of four, we immersed ourselves in this journey of exploration, with accommodations and most meals included in our package. Guided by local expertise our adventure deepened our understanding of Jordan's cultural, historical, and natural riches. As we said farewell to Jordan, we were left with memories that would forever remind us of the captivating journey we had undertaken.