La Boite Charoset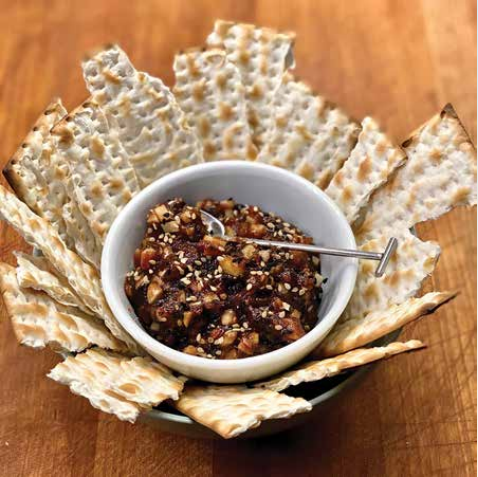 To me, charoset is the ultimate Jewish chutney. It combines Eastern and Western cultures with the use of Mediterranean dates, which are strangely popular in Eastern European cuisine. Together with chazeret, these two are probably my highlight of any Passover dinner. My charoset adds texture with sesame and nigella seed, and acidity with sumac and sherry vinegar, which are also more preservative than traditional lemon juice. It could easily be served throughout the year and would be excellent as a cake filling or with cold meats or roasts. And please stay away from cheap sweet wine, a quality sweet port or sherry, something you'd enjoy drinking, is what your charoset deserves.
INGREDIENTS 
1 cup date puree (see the link and tips below) 
1/4 cup ruby port wine 
2 medium granny smith apples, peeled, cored, 1/4 inch dice 
1/2 cup coarsely chopped toasted and salted cashews 
1 tablespoon nigella seeds 
1 tablespoon sesame seeds 
1 tablespoon sherry vinegar 
1 teaspoon ground sumac 
1 teaspoon Aleppo chili flakes 
12 teaspoons of fine seal salt
DIRECTIONS 
In a mixing bowl combine all ingredients using a spatula, then refrigerate until serving. Can be prepared up to 24 hours ahead of time. 
Note – Date puree, similar to Silan, can be purchased. The Date Lady is dedicated to dates and you can find her pure puree through Amazon. 
To make your own puree, place one cup of pitted medjool dates with the port into a food processor and pulse to puree – adding a few spoons of water if needed. This also makes a great sandwich spread, cake filling, addition to stews, sauces, tagines, etc. Serves 6-8.