TRANSPARENT SIBLINGS
"There's nothing more Jewish than this play," said creator Joey Soloway of "A Transparent Musical, "which runs through June 25 at the Mark Taper Forum. It's based on Soloway's multi-award-winning hit Amazon television series, "Transparent," a groundbreaking show that helped introduce transexual life and issues into popular culture. During its run from 2014 to 2019, the series spotlighted the Jewish Pfefferman family, whose parent comes out as a transgender woman at 67. There was also a rabbi character, a Passover episode as well as the Pfeffermans' visit to Israel during season four, where they encounter the Israeli-Palestinian conflict as well as Jewish issues.
"If you thought the TV show wasn't Jewish enough, this musical has all that," Joey said.
"It's 50-50 Jewish and queer," Joey's sibling, Faith Soloway, who wrote the music and songs for the production, added during a telephone interview with Joey at the Los Angeles apartment building they're sharing with the show's cast.
Joey identifies as transexual and Faith as transexual and non-binary (not identifying with either male or female genders); both use the pronouns "they" and "them."
The siblings were alternatively hilarious, soulful, and irreverent during a recent telephone interview. At one point Joey teased me that she named the Pfeffermans after my own surname (she didn't).
"We set the [musical] in a meeting at a Jewish Community Center [JCC] that has a temple, a Hebrew school, and a burgeoning reckoning of its own identity," Joey continued. "The subject is the conflict between the JCC [and an LGBTQ] group. And then, through a magical beanbag, we move all the way back in time to Weimar Berlin and really move back and forth between 1930s Germany and a JCC in Los Feliz, which we comedically call the CJJJCC. There are a lot of Yiddishisms and everyone talks Jewish."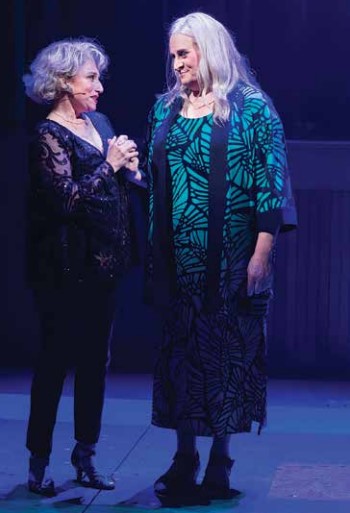 In the musical, the youngest of the three Pfefferman siblings, Ali, who came out as non-binary on the TV series and is portrayed in the musical by the non-binary actor Adina Verson, visits 30's Berlin and discovers a thriving non-binary community on the cusp of the rise of Hitler. 
And so, Faith said, "We're really able to go right to the heart of fascism, white supremacy, and misogyny, and to figure out what transness and Jewishness have in common…. You can see [the Nazis'] comparisons between Jews and 'deviants'….It's an emotional awakening that I think is too didactic to do in dialogue but actually perfect for our songs." Not surprisingly, one song is titled, "Deviant." 
"I really tried to serve each song in a genre that I felt matched with the emotion," added Faith, who also composed music for the "Transparent" TV series and was a writer on that show. "It's comedic but it's also serious. The music might [present] a song that seems like it's out of 'The Producers' or old Broadway or Borsht Belt comedy. And then the next song might sound more intimate and haunting…The music almost has this identity that is not quite binary as well." 
Faith, 59, and Joey, 57, were raised in a Jewish home in Chicago, where their parents worked in a theater on the south side of the city and the siblings listened to soundtracks from musicals such as "Hair," "Fiddler on the Roof " and "Jesus Christ Superstar." "We lived in a world of musicals," Faith said. 
Regarding "Jesus Christ Superstar," Faith added, "We found ourselves asking the questions, 'Why do [the women] have to anoint Jesus' forehead and wash his feet?' We wanted to be Jesus in that musical, and the disciples as the people who were going to save the world." 
Joey joked, "You're saying we had a messiah complex at a very young age." 
Years later, Joey was inspired to create the "Transparent" TV series after their own parent came out as a trans woman at the age of 67. That proved to be quite a shock for the siblings, who now call that parent "moppa." "I think that those emotions are so big that they're all really in the heart," Joey said. "It was such a huge thing. 
"I thought of myself as cisgender at the time; I identified as a woman; I had another name [Jill] and was married to a man. So I was trying to promote the TV show without talking about my own family. It was such a different time. It was a world where 'Transparent' hadn't premiered yet, so we didn't feel safe." 
The siblings gradually came out as trans while working on the TV show.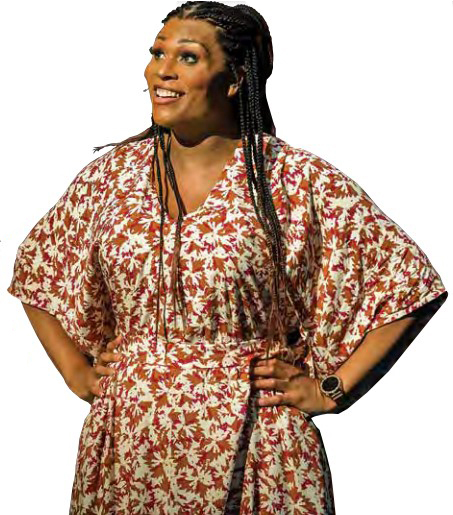 Faith later reflected on "A time in my life that I struggled. If I had had the tools, the medicine, and the therapy, I understand that I could have transitioned when I was young. I probably would have. I went years and years with all that trapped inside of me. I first came out as a lesbian, but I still question whether I should get surgery, whether I should start hormones…I know I have some anxiety and depression – don't all Jews? But I know that a lot of mine is related to having had to present a gender that I knew wasn't right for me."
While Faith is less Jewishly observant, Joey has long been deeply involved in the Jewish community in Los Angeles, having co-founded the progressive organization East Side Jews at the JCC in Los Feliz. Joey observes Shabbat and also sits on the board of Temple Nefesh in Los Angeles, among other activities.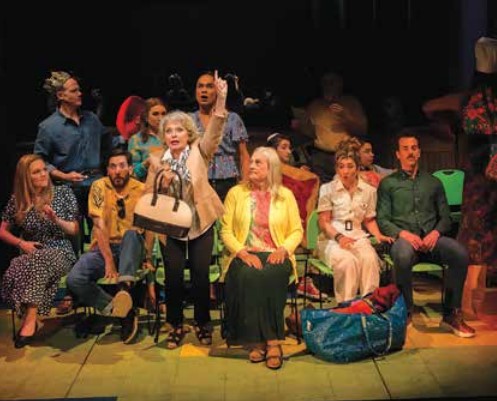 Faith believes it was only natural to transform the TV show into a musical, "because the emotional beats felt like songs." 
While Joey was initially chastised by some for casting a straight male actor, Jeffrey Tambor, to portray Maura on the TV show, the play features performers who are 75 percent trans or non-binary. 
The Soloways view the musical as a form of protest against officials such as Florida governor Ron DeSantis, who wants to introduce a number of anti-trans laws. "Holy s—, we have him running on our own trans kids being taken away from their parents," Faith said. "How can we wrap our heads around that? This s— is rising again. And for us to show this moment before the Holocaust, in 1933, when people there were so proud to be queer, it's like we're sending up a warning sign or flare. We're doing it, in part, with comedy. And you cannot walk out of this musical without seeing the parallels between then and now." 
For tickets and information about "A Transparent Musical," visit centertheatregroup.org.