Amy Jurist's Mom's Port Raised Brisket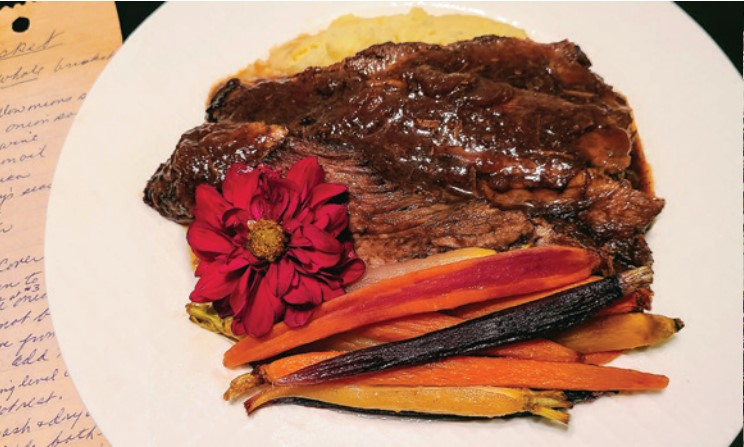 This recipe reminds me of the Jewish holidays with my Mom, who died 25 years ago. She was a great cook and made the most electable brisket. Really tender with a wonderful hearty broth. Every time I make it, I know she'd be so proud of me, because of how good it tastes, and how I finally followed my passion and became a professional chef. When I serve it to my catering clients for their Passover and Hanukah dinners, it makes me feel so good knowing that this delicious brisket is a special part of their holiday traditions now, too.
1 whole brisket – 4-5 lbs
5 medium yellow onions thinly sliced and cut in half
6 cups beef broth
1 bottle (4 cups) of hearty red (burgundy) wine
2 cups of port wine
vegetable oil for sautéing
the onions
paprika
garlic powder
salt & pepper
Cover bottom of a large dutch oven, or heavy bottomed pot with 1/4" of oil
sauté onions to clear, but not browned
remove from pot and set aside
add more oil to bring up to 1/4"
wash and dry brisket
trim off any thick chunks of fat, but you want to leave the large fat cap that's on one side to keep the meat moist while cooking
sprinkle both sides generously with paprika, garlic pepper and salt
place seasoned brisket in pot and brown/sear all sides and edges
lift out of pot
remove brisket and reduce heat to simmer
cover bottom of pot with layer of onions
set in meat, put layer of onions on top (if you are doing 2 briskets you can both in the pot if they fit)
pour in the beef broth and port
fill the rest of the pot with wine until meat is covered.
cover and simmer for at least 7 hours (could be up to 9 hours), turning over meat every 45 minutes rearranging onions as much as possible make sure the lean the section is always under liquid
add more wine if needed
when the meat is very tender and almost falling apart, remove the brisket
carefully remove the fat on the one side of the brisket meat
strain out the onions, and reduce the liquid by half, so the flavor is rich and concentrated and the liquid is thickened
slice against the grain and serve with the burgundy onion au jus and buttered egg noodles
Put the reduced au jus in the freezer for a couple of hours and then remove any fat that rises to the top.
The brisket can be cooked up to 2 days in advance and put in the refrigerator.
It can also be pre sliced, just be sure to cover the slices in the au jus to keep it from drying out.
Brisket freezes very well. I recommend freezing it completely covered with the au jus to keep it moist