It's A Miracle! Hanukkah and the Air Fryer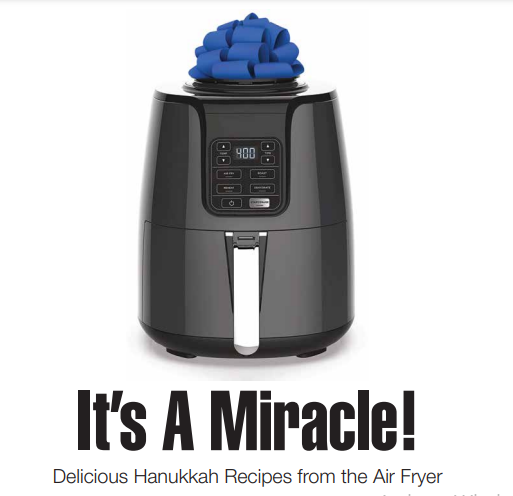 Trendy appliances can be a huge help in the kitchen, especially when you're hosting a party, and this time of year, who isn't? The air fryer for instance can act as a second oven, getting hot food to your family or guests in a short amount of time with little effort on your part. This Hanukkah (or any time really) try these recipes for an oil-less miracle. 
So what exactly is an air fryer? The first thing that comes to mind as a comparison is that 80's staple, the air-popper. Do you remember that counter-hogging gadget? Ours was bright yellow plastic with a faux wood veneer. We popped popcorn and felt guiltless and it was all part of the moment. Plus, it looked super space-aged in my mother's chic-but-retro kitchen. 
In my current chic-but-retro kitchen, the sleek air fryer takes up about double the space as the air-popper of yore but seems just as space-aged and for sure gets used a lot more often. The compact, enclosed convection oven uses a high-speed fan to circulate hot air in a way that reduces cooking times and doesn't heat up the room. That's it, except my toaster oven has convection and I'm still convinced the air fryer gets the job done faster. I just love the thing. It also has the bonus of letting you "fry" (very much in air quotes) food.
You may have already been wondering what's the point of all this when using an air fryer makes no sense for a holiday that is celebrated by eating fried foods. You make a good point, but these air-fried recipes help lighten the meal or soiree. Focus the stove-top frying on the latkes and doughnuts and delegate cooking these treats to one of your madrich. 
In the spirit of making something quickly, these are five certified delicious Hanukkah recipes. (Yes, they're certified by me, but I count!) that can be made ahead and are delicious any time of year. 
Oh, and can you make traditional latkes in the air fryer? Yes! The frozen ones come out especially well, so if you do want to eschew a pan of boiling oil, the air fryer is here to the rescue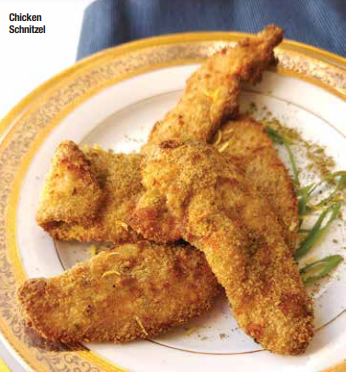 We could probably call this chicken fingers, but Halloween is behind us and schnitzel is much more fun to say. With the addition of hot-right-now (and always) za'atar, this is elevated to truly adult party fare. Of course, the kids will love it too. 
Thanks to the air fryer the chicken stays juicy and easy to love. Try serving it with zhug, amba (mango pickle), or tahini thinned with a touch of olive oil. 
Serves 4 as an entrée or 8 for appetizers 
Meat 
Ingredients
16 chicken tenders, or boned and skinned chicken thighs 
1 large egg 
1 cup whole wheat breadcrumbs 
1 tablespoon za'atar Kosher salt and pepper to taste
Directions 
Line a sheet pan with foil and spray lightly with oil. Set aside. Crack the egg into a shallow bowl and add 1 tablespoon of water. Whisk until combined. 
In another shallow bowl, combine the breadcrumbs, za'atar, salt, and pepper. 
Dip the chicken into the egg mixture and then into the seasoned breadcrumbs. Arrange in a single layer on the prepared sheet pan. Freeze for up to 1 hour. 
When ready to cook, place the chicken in the air fryer and cook at 375F until crispy and cooked through about 10 minutes. 
Serve hot.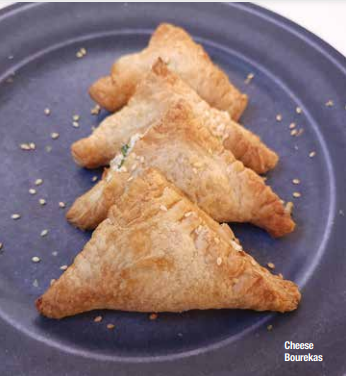 Bourekas are in the spotlight right now. The cheese-filled puff pastry snack that is possibly Turkish, maybe Israeli, sometimes Lebanese treat, is having a moment, and it's well deserved. The appetizer is so easy to put together that you should have some on hand in the freezer at all times. Customize with different spices and seasonings and make them your own. This is the time to claim bourekas! 
Ingredients 
1 package of puff pastry, defrosted in the refrigerator 
1 cup ricotta, drained 
1/2 cup grated Parmesan cheese 
1 egg 
Zest of one small lemon 
1/4 cup green onion or parsley 
Salt and pepper to taste 
Pan spray 
Sesame seeds to garnish 
Directions 
Line a sheet pan with foil. Spray lightly with oil.
In a mixing bowl, stir together the ricotta, Parmesan, egg, lemon zest, herbs, salt, and pepper.
Unfold one of the puff pastry sheets and cut it into 9 even squares. 
Spoon a small amount of the cheese filling onto one side of each piece of dough, leaving a border around the edges. 
Fold the other half of the dough over the filling to create a triangle. Press the edges together to seal, making sure no cheese gets caught in the seam. Crimp the edges with a fork and trim a small sliver of the edges to make them even. Using a sharp paring knife, stab a small vent into the top, making sure not to go all the way through. 
Arrange on the baking sheet and freeze for 30 minutes if making immediately, or when frozen, transfer to a freezer-safe bag for up to a month. 
When ready to cook, spray the tops with pan spray or blot with a bit of oil, and sprinkle lightly with sesame seeds. 
Bake in the air-fryer in a single layer at 375F for eight minutes. Check and continue until evenly browned. 
Let cool for a few minutes before serving.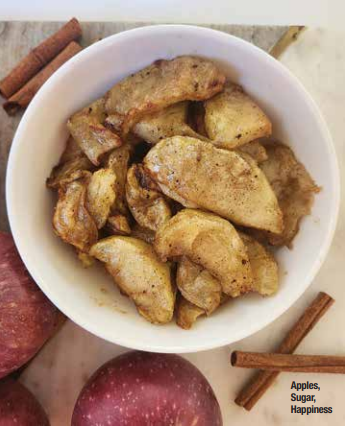 Apples, Sugar, Happiness 
Hear me out. After reheating pizza and cooking frozen treats, this is the best use for an air fryer I've found to date. It's sliced apples, in a sweet and autumnal-spiced glaze that you can make in minutes. 
It's so simple and versatile and saves you from having to do anything on the stovetop. I found it so good that I've been making it over and over. (Pats own back.) Yes, the idea is to offer it with latkes – this is a Hanukkah article after all – but it's great on oatmeal, with pan cakes, over ice cream, mixed into a fruit crumble, with yogurt, and the list goes on. Try it and see. 
Makes 2 cups 
Vegan 
Ingredients 
1lb apples, peeled, cored and sliced 
Oil (about a 1½ teaspoons) 
2 tablespoons sugar 
1 teaspoon ground cinnamon 
1/4 teaspoon ground nutmeg 
Tiny pinch of table salt (optional)
Directions 
In a medium bowl, toss the apple slices with a touch of oil, making sure each piece is coated. 
Air-fry at 350F for 6 minutes or until browned. They will look a little dry. Don't worry. 
Remove from the air fryer and toss with the sugar, spices, and salt if using. Stir to combine and cover for 4 minutes. 
Enjoy warm or at room temperature. Will keep in the refrigerator for up to a week.
This recipe feels like cheating. A little bit anyway. Instead of having to clean up a pan or preheat your oven, this delicious mix-up is ready in minutes and is endlessly customizable. I love it served on a cheese board. The ultimate treat. 
Makes two cups 
Vegetarian, parve
Ingredients 
2 cups assorted nuts and seeds: cashews, almonds, walnuts, pumpkin seeds, peanuts and/or pistachios all work 
1 tablespoon olive oil 
¼ cup honey 
1 teaspoon minced dried rosemary or thyme 
Pinch of cayenne (optional) 
Coarse kosher salt and fresh cracked black pepper to taste
Directions 
In a large bowl, combine the olive oil, honey, herbs, cayenne (if using), salt, and pepper, until well mixed. 
Add the nuts and seeds and mix until all the nuts and seeds are well coated. 
Line the basket of your air fryer with parchment paper. 
Transfer the nuts to the basket and place them in a single layer. (Do this in two batches if your air-fryer is smaller) 
Air fry at 300F for 7 minutes, stirring in between until the nuts are roasted. 
Remove, transfer the nuts to a plate, and let cool. 
If needed, break into clusters. Serve at room temperature or store in an air-tight container for up to three days.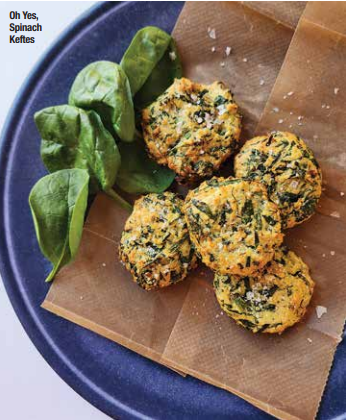 Small fried patties or croquettes, known as keftes, are popular in the Sephardic Jewish community. These Spinach Keftes are a unique and delicious vegetarian take on the kefte concept. 
Makes about 20 
Vegetarian, parve
Ingredients 
12 ounces fresh spinach, rinsed and still wet 
2 cups mashed potatoes (I used instant. Worked like a charm.) 
3/4 cup matzo meal 
1 large egg 
1 teaspoon garlic powder 
Kosher salt and pepper to taste 
Pan spray 
Directions
Line a sheet pan with foil and spray lightly with oil. Set aside. 
In a steamer or large pan with a lid, cook the spinach until it has wilted. 
Remove from heat and transfer to a mesh strainer. Squeeze to remove excess moisture. 
When most of the liquid has been squeezed out and the spinach has cooled; roughly chop. 
Stir the spinach together with the remaining ingredients and let rest for 30 minutes. 
Using damp hands form the mixture into patties. Place them on the sheet pan in a single layer. 
Freeze for 15 minutes. When ready to cook, air-fry at 350F for 8 minutes. Check and continue cooking until browned. Serve hot. 
Fully frozen patties can be kept in a freezer bag in the freezer for up to 2 months. 
There are just so many things to do in that air fryer. Keep it out and you'll find it's a terrific kitchen tool. Then again, so was that air popper. I wonder if they're on eBay.