Chef Doug Weinstein's Savory Mushroom Bread Pudding Recipe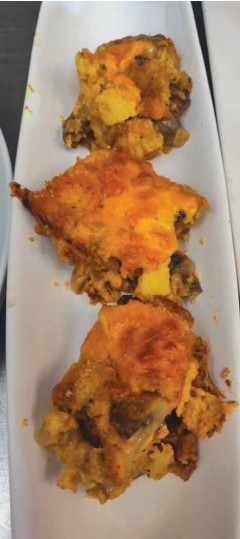 3 cups of 1/2-inch Diamond Bakery challah bread cubes (about 1/3 of a challah) 
1 tablespoon extra olive oil or Avocado Oil, 
1 teaspoon butter, plus more for the baking dish 
1 cup chopped sweet Vidalia onion 
1 medium garlic clove, minced or more if you like garlic 
8 ounce package of white mushrooms, or brown button mushrooms*, cut into pieces about the same size as the bread cubes. You can add some shitake or other fancy mushroom if you have them or like them. 
2 tablespoons white Sherry 
2 teaspoons chopped fresh marjoram leaves. Can substitute fresh Thyme and Oregano if you have it in the garden. 
2 large eggs 
3/4 cup half-and-half 
1/2 cup stock, chicken or vegetable 
3/4 cup shredded white cheese. Can be cheddar, swiss, or gruyere. Coarse sea salt 
Black pepper
Place the cubed challah on a sheet pan and toast at 350° F until somewhat dried, but not brown. Or you can leave the bread out to dry overnight. Set aside. 

Saute onions over medium heat in a large skillet with butter and some oil until the onion begins to soften and brown a little at the edges. Add the minced garlic and stir until it is fragrant, then add the chopped mushrooms. Cook until the mushrooms are brown and give off some liquid. Add the Sherry, reduce to a glaze. Stir in the herbs of choice. Season with salt and pepper to taste. Turn off heat, save for the next step. 

Beat the eggs together with the cream and stock. Butter the baking dish, put the cubed challah evenly in the dish, sprinkle 2/3 of the cheese evenly over the challah. Season the custard to taste, careful with the salt. Combine the mushroom mixture into the custard, pour it evenly over the challah cubes. Cover with plastic wrap and press the bread into the custard until all the bread is moist. 

Preheat the oven to 350° F. Place a rack in the lower third of the oven. Sprinkle of the remaining shredded cheese evenly over the top of the mixture, I like to sprinkle Italian seasoned bread crumbs over the top for more of a crunch but NOT TOO MUCH. 

Bake for 30 to 45 minutes, or until the top is golden brown and the custard is set. (The baking time will depend on the depth of the baking dish you have chosen). 

Serve hot and make sure every diner gets a portion of the crusty top. Leftovers can be refrigerated, tightly covered for 2 to 3 days. 
Yields: Four servings