Lenny's Casita A Kosher Cocina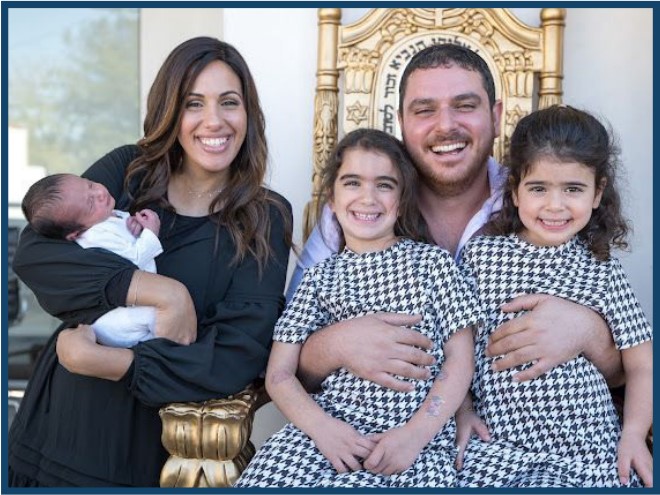 If you are lucky enough to spend a few minutes talking with Leonardo Nourafchan who goes by Lenny Nour at his restaurant, Lenny's Casita, you will instantly realize you a sitting at the eye of the storm. Lenny gives 100% to everything he is doing from managing 16 employees, answering questions, and talking with his loyal ustomers who drop by to grab a bite or just to say hello. And he does it with passion. As he says, "I feel blessed to do what I love" and it shows with every interaction.
Born to an Italian mother and Iranian father, Lenny grew up in Los Angeles not far from his present location in the heart of Pico Robertson. As the youngest of three sons, Lenny wasn't the best of students and at 14 he was sent to Israel to grow up. He worked on a farm and went to find what he wanted to do for his life. After doing some soul searching and trying different jobs, he called his high-powered attorney mother and told her that he wanted to be a chef. Lenny chuckles at her abrupt answer, "Absolutely Not."
According to his mother's wishes, Lenny was supposed to find himself as a lawyer or a doctor. So, with a bit more maturity he moved back to Los Angeles and enrolled at Santa Monica Community College. He transferred to George Washington University where he graduated with honors in international studies. Over the next few years, Lenny lived in Europe, joined the army in Israel and tried to find his calling. At the age of 26, he found himself back in Los Angeles, working in real estate, when his boss came to him to have a heart to heart. His boss could tell that Lenny was just going through the motions and told him that he needed to find a job that matched his passion.
With all the signs and passion still burning, Lenny knew it was time. He once again told his mother that he wanted to be a chef and this time he packed his bags and moved to New York to learn from the best New York's kosher restaurants. After stints at Doma Land+Sea, Alenbi, and Mike's Bistro, Lenny was ready.
In 2018, Lenny moved back to Los Angeles as the head chef at Charcoal Bar and Grill. The high-end kosher restaurant was well received. In an interview at the time from Eater, he stated, "I don't want to simply make good food, I want people to be floored when they take a bite. I want my food to etch an unforgettable memory."
At Charcoal Lenny created his signature dish – a lamb shwarma taco. Inspired by the Mexican influences and still couched in Jerusalem Street food, the tacos became a hit! The nightly special soon became one of the most requested menu items and Lenny's passion for flavors and invention were given fuel. Everything was in motion and then the pandemic hit.
Like most service industries, March 2020 was a punch in the gut to the restaurant industry and Charcoal was briefly closed. When the staff was laid off, Lenny was crushed. He wasn't worried about his future, as he was concerned about his staff who were like family to him. He feared for their lack of benefits and available jobs to keep them in Los Angeles able to provide for their families.
After a month of needed relaxation, Lenny got the idea to open a Mexican kosher eatery. He got a call from his former meat supplier, and they discussed the project and the supplier told Lenny that he could use his facilities after 3 pm to develop the concept as a ghost kitchen. A week later, Lenny got his old team together and they opened, serving take-out and delivery through a small window in a back alley of Western Kosher Meat on La Brea. Word spread and Lenny's was a hit!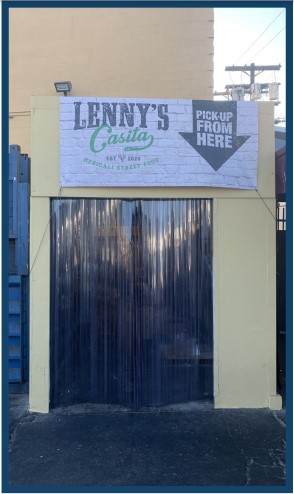 "It was funny, we had people coming all dressed up coming down the alley looking for Lenny's Casita. I couldn't believe it – in those days everything was just going out the back and we never got to see our customers."
While Lenny was reimagining the dishes that he loved, from a kosher high-end crunchwrap to Mexicali Street food he was also bringing much loved Mexican kosher food back to the neighborhood. Almost 4 years ago on April 5th, 2018, Chef Katsuji Tanabe closed his well-loved restaurant Mexikosher. As Lenny says, "Chef Tanabe is a legend. He's a top chef – the real deal. He paved the way. When the store closed there was a void that you could feel."
In July of 2021, Lenny got another break and was able to sign a lease in the heart of Pico Robertson. Among his sixteen employees, seven are from his original team when he started. Despite the challenges of running any eatery these days with supply and labor issues, Lenny loves it and is still in motion. His small eatery also offers Bazaar menu items and Fridays he has created Lennys Shabbat Shuk for customers to get food for their festive meal.
While Lenny's will be closed for Passover, he will be taking a much-needed break and celebrating with his wife, Liat and his three children, Adelle (5), Eliana (4) and the newest family member Yehuda Arye Leib born in February.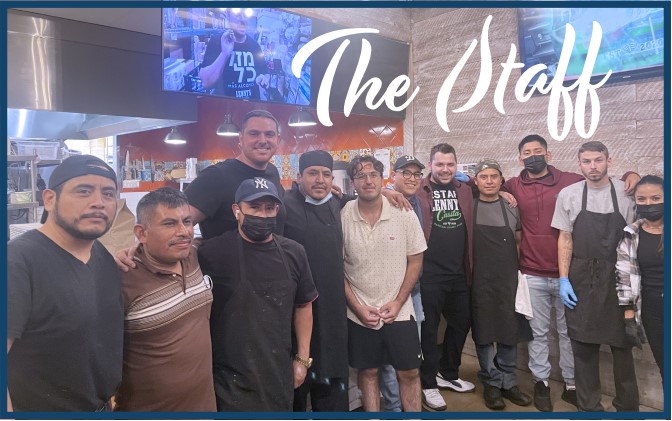 When talking about Passover Lenny loves to recount his memories of celebrating with family. Passover meant sitting on the floor, hitting each other with scallions and eating a feast of rice and stewed meats. Through Lenny's memories you can feel their families love, laughter and celebration of the holiday and the joy of being together. While his family didn't serve matzah ball soup during the holiday, Lenny was quick to say that he adores it, and it was his grandmother's favorite thing, and he recalls the two of them going to Pico Kosher Deli to have a bowl of comfort.
"I don't want to simply make good food, I want people to be floored when they take a bite. I want my food to etch an unforgettable memory."
One memorable Passover was when his family hosted the community seder and the Rabbi brought a few Rastafarians to the event. Lenny lights up as he remembers when they began to sing, and he starts to belt out Bob Marley's chorus of Redemption Song.
"Won't you help to sing
These songs of freedom?
'Cause all I ever have
Redemption songs
Redemption songs?"
Lenny added' "It was the best!"
To help us get through Passover Lenny has prepared a couple of recipes for our readers to enjoy.
Libyan Fish Balls
Lettuce Wrap Tacos
Matzah Chilaquiles
Corn Ribs