Penny Davidi's Pesach Roasted Chicken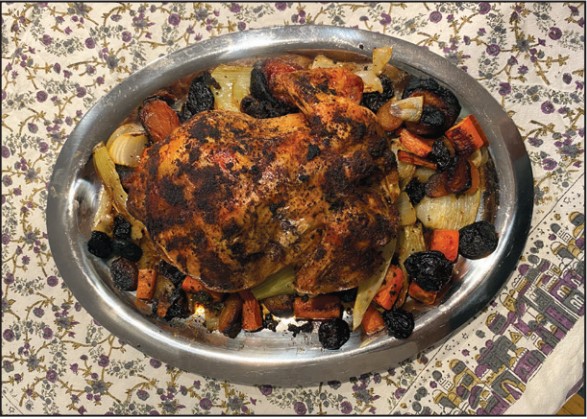 So here is the ultimate impress the family with a Passover dinner dish. I remember the smell of roasted garlic and saffron permeating throughout the house. It made me feel so warm and fuzzy all over. Sweet, but the '80s are long gone and this is not my mama's chicken recipe (ok maybe it is but she didn't dress it up like this) How do you dress up roasted chicken? By juicing it up, a little pineapple juice, stuffed with orange and surrounded with dried fruits, that's how you make it mysterious.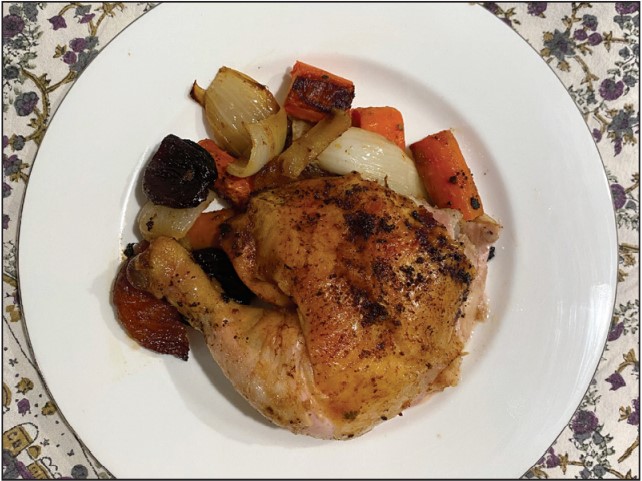 1 (5 to 6 pound) roasting chicken or 2 (3 pounders)
kosher salt
freshly ground black pepper
2 tablespoons garlic powder
1 teaspoon saffron powder diluted in a 1/2 cup of hot water and 1 teaspoon sugar
2 tablespoons onion powder
2 tablespoons sweet paprika powder
2 large bunch fresh thyme, plus 20 sprigs
1 lemon, halved
1 orange, halved
1 head garlic, cut in half crosswise
1 cup dried apricots
1 cup dried prunes
1 cup dried peaches
1/2 cup pineapple juice
1 large yellow onion, thickly sliced
4 carrots cut into 2-inch chunks
1 bulb of fennel, tops removed, and cut into wedges
olive oil
Preheat the oven to 425 degrees F.
Remove the insides and rinse inside and out of chicken.
Remove any excess fat and leftover feathers.
In a bowl mix paprika, garlic powder and onion powder.
Massage the dry rub all over the inside and outside of chicken.
Liberally salt and pepper the inside of the chicken.
Stuff the cavity with the bunch of thyme, both halves of lemon, and orange and all the garlic.
Brush the outside of the chicken with the olive oil and sprinkle again with salt and pepper.
Tie the legs together with kitchen string and tuck the wing tips under the body of the chicken.
Place the onions, carrots, and fennel in a roasting pan.
Toss with salt, pepper, 20 sprigs of thyme, and olive oil.
Spread around the bottom of the roasting pan and place the chicken on top.
Place all the dried fruit around the pan and pour in the pineapple juice and top the chicken with the hot saffron broth.
Roast the chicken for 1 1/2 hours, or until the juices run clear when you cut between a leg and thigh.
Remove the chicken and vegetables to a platter and cover with aluminum foil for about 20 minutes.
Slice the chicken onto a platter and serve it with the fruits and vegetables.
Penny Davidi's Cheesy Grits
yields 1/2 cup, 6-8 servings
"Throw in a little Southern charm and a side of grits (yes grits!!, breathe, its really simple to make, after all I am sure you are as bright as the folks cooking it up at L.A.'s Roscoe's Chicken and Waffles, didn't think I knew about that place did ya?"
Editor's note: we know serving cheesy grits and chicken is not kosher. While we know a number of our readers are kosher we also know that some are not.  We will try to showcase recipes that our kosher, and when we don't we expect our readers to understand the spirit of the recipes given as a celebration of their families and unique traditions.
2 cups whole milk
2 cups water
1 1/2 teaspoons kosher salt
1 cup coarse ground cornmeal
1/2 teaspoon freshly ground
black pepper
4 tablespoons unsalted butter
4 ounces sharp irish cheddar, shredded (freshly)
Place the milk, water, and salt into a large, heavy-bottomed pot over medium-high heat and bring to a boil.
Once the milk mixture comes to a boil, gradually add the cornmeal while continually whisking.
Once all of the cornmeal has been incorporated, decrease the heat to low and cover.
Remove lid and whisk frequently, every 3 to 4 minutes, to prevent grits from sticking or forming lumps, make sure to get into corners of pot when whisking.
Cook for 20 to 25 minutes or until mixture is creamy and gooey.
Remove from the heat, add the pepper and butter, and whisk to combine.
Once the butter is melted, gradually whisk in the cheese a little at a time. serve immediately.
Obviously, the chicken recipe with the cheesy grits is not kosher, and depending on your observance or tradition, corn may not be accepted.