Birdie G's Beets with Deli Flavors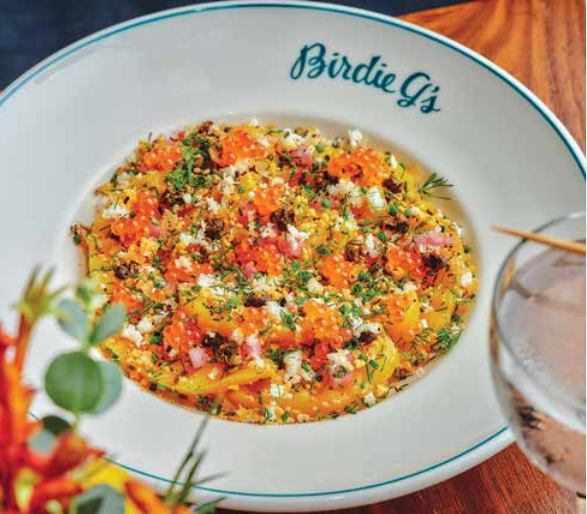 Birdie G's Beets with Deli Flavors
Pickled Golden Beets
20 baby golden beets
1 pint white wine vinegar
1 pint of water
1 cup granulated sugar
2 tablespoons kosher salt
3 bay leafs
1/2 teaspoon black peppercorn
1 teaspoon yellow mustard seed
Steam beets until easily pierced with a cake tester. Peel and cut beets (1/4in thickness) with a fluted knife so that they resemble pickle chips. Combine brine ingredients with all the aromatics in a sachet. Bring to a boil and pour over cooked beets. Refrigerate until ready to eat and-reserve any extra brine.
1/3 cup creme fraiche 
8 ounces cream cheese 
2 ½ tablespoon prepared horseradish 
2 tablespoons prepared horseradish brine 
Combine ingredients in the bowl of a stand mixer and whip with a paddle until light and fluffy
3 ½ tablespoons white sesame seed, lightly toasted 
1 tablespoon black sesame seed 
2 ¾ tablespoon poppy seed 
1 ¼ tablespoon caraway seed 
6 tablespoon dried onion flakes 
1 tablespoon dried garlic flakes
Mix all ingredients until well combined
1 cup red onion, fine dice 
1/2 cup red wine vinegar 
1/2 cup water 
1/4 cup granulated sugar 
1 teaspoon kosher salt 
Combine everything but the red onion and bring to a boil. Pour over the red onions and cover. Cool to room temperature and then refrigerate until ready to serve.
Drained pickled beets
Drained pickled red onion
Horseradish cream
Everything mix
4 oz smoked trout roe
4 tablespoon chopped dill
3 tablespoon sliced chives
Start with a dollop of horseradish cream on the base of the serving bowl or plate and arrange the beets evenly on top. Next, evenly top the beets with pickled onion, dill, & chives. Add the Smoked Trout Roe in dollops around the top of the salad. Sprinkle generously with the Everything Mix.
Serves 6-8