Birdie G's Southern Kugel with Chow-Chow and Sage-Pecan Brown Butter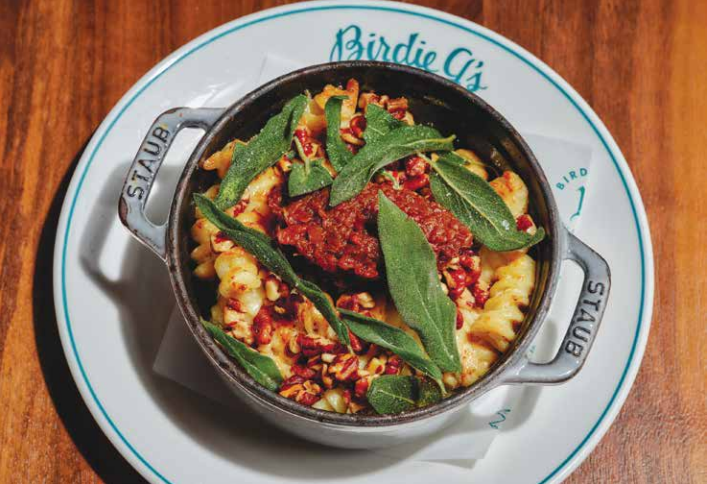 Kugel Custard And Pasta 1
10 oz cream cheese 
8 oz crème fraiche (or sour cream) 
8 oz fresh ricotta 
2 whole eggs 
1 egg yolk 
2 tablespoons granulated sugar 
1.5 oz grated parmesan 
1 teaspoon kosher salt 
2 teaspoon ground black pepper 
1 lb dried egg noodles (we make our own fusilli at Birdie G's)
In a mixer, whip the cream cheese until very smooth and fluffy. Add the remaining ingredients and mix thoroughly. Reserve at room temperature or refrigerate until ready to use. 
Cook the pasta in lightly salted water until al dente, then drain. Combine the cooked pasta with the custard and transfer to desired baking dish(es) and bake at 350F until hot all the way through. Remove from oven and turn oven to broil setting. Pour the warm sage-pecan brown butter (recipe below) over the kugel and return kugel to oven for 2-3 minutes to get nice and golden brown. 
Serve with the chow-chow (recipe below), either on top or on the side.
Chow-Chow (make the night before)
1lb 5 oz green tomatoes, cored 
1lb green cabbage, cored 
9 oz red bell peppers, free of seeds and pith 
5 oz white onion, peeled 
1 tablespoon kosher salt 
6 fluid oz white wine vinegar 
6 fluid oz apple cider vinegar 
11 oz granulated sugar 
2 tablespoons black mustard seeds 
1/2 teaspoon celery seed 
1/2 teaspoon ground turmeric 
1/2 teaspoon ground ginger 
1/2 teaspoon ground allspice
Rough chop the green tomatoes, peppers, onions and cabbage. Combine with the salt, mix well, and let sit under refrigeration overnight. Drain the vegetable mixture of all liquid and grind the vegetables in a meat grinder attachment or chop coarsely in a food processor. 
Combine the vegetables, vinegars, sugar and spices in a non-reactive pot (not aluminum) and bring to a boil and reduce to a simmer until the liquid reduces to 95%; it should be nice and thick/syrupy. Let cool to room temperature and drain any excess liquid so it resembles a relish consistency.
4 oz unsalted butter 
4 oz pecans, rough chop 
20 sage leaves
Add butter to a pan over medium heat, make sure the pot is at least large enough for the butter to foam up to 4 times its starting size. Let the butter slowly turn light golden brown and then add pecans and sage leaves to toast lightly. Pour over the hot baked kugel.
Serves 8-12 and is great reheated as leftovers