Birdie G's Jeremy Fox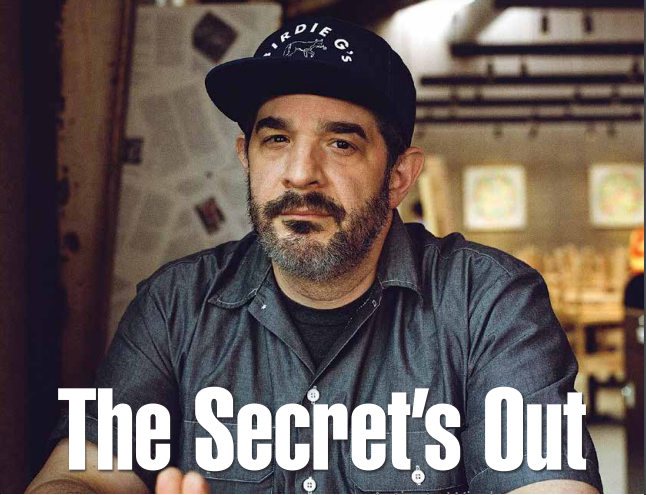 Birdie G's Jeremy Fox shines a light on Hanukkah in Santa Monica
When James Beard-nominated chef/owner Jeremy Fox was growing up in the midwest, Christmas was everywhere. It still is. 
"Hanukkah always felt different," Fox explains. "You go to the mall [at] Christmas time; it wasn't decorated for me." 
Fox, who lived in Cleveland, Ohio, until age of 13, recalls going to visit his grandparents in Philadelphia with his father and stepmother. It was one of the few times a year when the whole family – aunts, uncles, cousins – came together.
 "That was always really special," he says. "It felt like we had our own little secret holiday." 
The secret's out! 
For the second year in a row, Birdie G's, located 2421 Michigan Avenue in Bergamot Station, is elevating Hanukkah with an 8-day celebration. 
The "8 Nights at Birdie G's" dinner series is a celebration of Hanukkah, presented by Resy (an online restaurant-reservation service company), where Fox invites his awesome chef friends from across the country to cook special meals.
"The 8 nights at Bertie G's is my favorite Hanukkah tradition," Fox believes. "To go back to the kid, who felt like nothing was designed for him … to have something like this feels very rewarding."
This year's event runs December 4 to 7 and December 11 to 14. Confirmed chefs include Junghyun Park (NYC's Atomix), Sean Brock (Nashville's Audrey), Fox's mentor David Kinch (Mentone), and a reunion of his Bay Area friends and former colleagues Kim Alter (Nightbird), Mourad Lahlou (Mourad) and James Syhabout (Commis).
Plus, four of the eight nights will showcase some of Los Angeles' top chefs paired up for a one-night-only collaboration. This includes Mei Lin (Daybird) and Jon Yao (Kato), Ari Kolender (Found Oyster) and Gilberto Cetina (Holbox), the return of Katianna & John Hong cooking with Daniel and Caitlin Cutler (Ronan), and more.The idea was inspired by a dinner series Fox took part years ago at The Restaurant at Meadowood in Saint Helena, California. This was a 3-star Michelin restaurant that burned down about four years ago."The chef, Christopher Kostow, started something called the 12 Days of Christmas, even though he's Jewish," Fox explains. "He would invite chefs, from local to around the world, and they would each have a night and just cook a special menu."
"When it burned down, I think I had an attachment to it because I did the dinner there in 2010," 
Fox says. "It was a really bad time of my life, and I kind of burned a bridge with him. Then we kind of patched things up, and he invited me back in 2017." Fox says going back was a great experience. 
"I was in a much better place," Fox admits. "I wanted to pay homage to what that meant to me and I wanted something for Jewish people." 
Since there are special Christmas dinners everywhere, Fox wanted something for Hanukkah. 
"I wanted to create something [where] people could feel seen and appreciated and included," he explains, "I feel very proud about it, and I feel a great responsibility to make sure that it goes well." 
For those cooking at home, Fox shares recipes for three of his favorite Hanukkah dishes: Beets with Deli Flavors, Southern Kugel, and Corned Tri-Tip. By the way, these dishes are part of the December Hanukkah-inspired meal for Moveable Feast. Moveable Feast is a startup that offers a cook-at-home meal from a different high-end restaurant every month. 
One of their signature dishes, the Beets with Deli Flavors tastes like "beets walk into a Jewish deli and spill everything," Fox explains.
It's pickled beets, cut with ridges, with a horseradish cream sauce underneath and then topped with an everything mix, dried garlic and onion. fresh dill and chives, and smoked trout roe. 
"It does taste like you're eating the perfect delicatessen dish," he says. "It's bright, acidic, creamy, spicy, so it has all the things. 
The Southern Kugel, which is on the menu year-round, represents his journey, Fox explains. 
"At 13 I moved to Atlanta, Georgia, and I spent the next 12 years in the South, between Atlanta, Georgia, and Charleston, South Carolina, for culinary school," he explains. "To be able to do a kugel based on that was really rewarding." 
He adds, "It's a semi-traditional kugel. We make ricotta, and then we make a custard with that, and then we combine that with a bechamel [sauce]." 
They also make something called chow chow, which is like a Southern relish, made with peppers, cabbage, green tomatoes, lots of spices, vinegar, and then a sage brown butter with pecans to represent the South. 
Then, there's the Corned Tri Tip.
"We've probably tried to corn everything we can get our hands on in the last four years that we've been open," Fox explains. 
They've done short ribs and brisket. And the tri tip is really good corned and slow cooked. 
"The tri tip brines for three or four days and cooks in a couple of hours," he explains. "The flavor, the texture: it's perfect if you're doing a Hanukkah dinner and you don't have a ton of room to put up a whole brisket." 
Fox continues, "What's good about it is that you can cook the tri tip a few days ahead, and then just slowly warm it up. It doesn't have to be something you cook and babysit that day." 
Fox's tip for anyone who is cooking at home is to not stress about it. 
"In most cases the people who are coming over love you and are not gonna love you less if something comes out not exactly how you want it," he says. "If the kugel is too runny or the brisket is dry, no one's gonna love you less because of it, so don't stress about it." Have a good time, he suggests. And do your best.