Your Bar Mitzvah Suit is a Step in Tradition – Rudnick's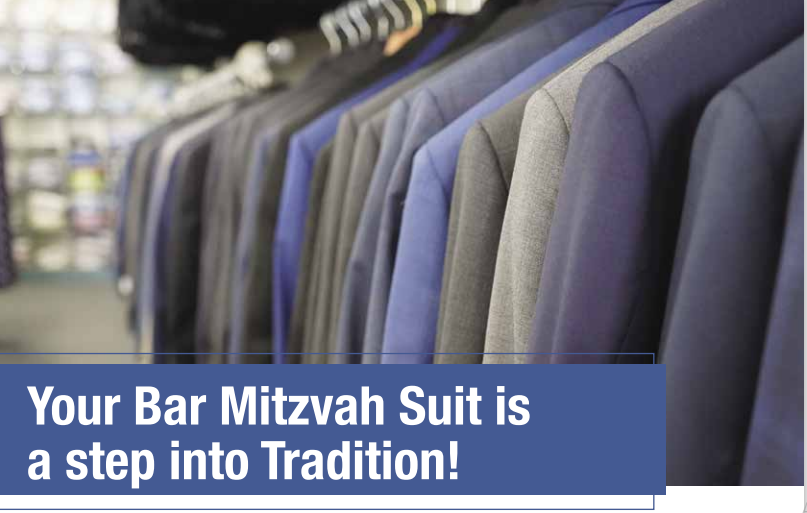 If you want the freshest sushi, you go to Nobu. If you want to feast your eyes on beautiful art, the LACMA is the go-to. If your son, brother, nephew or cousin is preparing for their Bar Mitzvah, Rudnick's is the obvious choice. Since its founding during Hollywood's Golden Age, Rudnick's has become an institution of sorts for menswear and, through the Yiddishe Grapevine has also become the place for young men to get their first official "grown-up" suit. 
I had the pleasure of catching up with Marty Rudnick himself, on a particularly busy week for the store. All were trying to square away their suit situation before the start of the Passover holiday. In between shouts of "we'll need to order that style" and "the DKNY slim cut in the navy", I managed to catch up with Marty and our conversation spanned the range from all the famous faces that have walked through his doors to his love and devotion to his customers. 
Ilana Fish: How did Rudnick's start? Were you always at the same location? 
Marty Rudnick: My father started the business in 1946. Originally, the store was a sporting goods store. We had everything imaginable for children. I still remember those cowboy outfits! Our original location was on Canon Drive in Beverly Hills. I was 10 years old when I started working for my dad in his store. 
Around 1954 or '55, we moved locations to 410 North Canon Drive and that's when we went into the childrenswear market. Around this same time, I went into the service. Upon my return, I began working at Rudnick's full-time and eventually expanded the business to several locations, including West Lake, Santa Monica, Beverly Hills and Encino. Our 1600- square foot location was an institution in Beverly Hills that I was very proud of. It was almost like a little department store. The Rudnick men, (aka my father and I) made another move in 1981 from Canon Drive to Bedford Drive. 
When my father passed away in 1985, I decided I no longer wanted such a big store, so I closed the others, migrated to Beverly Drive and made that store my only location. I loved that place and didn't want to leave but, unfortunately, the rent became so high that I had no choice. 
I still have customers who come to our current Encino location from Beverly Hills. The kids that grew up at Rudnick's in those days, their kids, shopped at Rudnicks's and now their kids are making the trek to Rudnick's. We go way back with the same families – it's truly amazing. 
Ilana: Wow, what a history. So, it's safe to say that there is fierce customer loyalty. 
Marty: Oh my gosh! I have the most loyal customers and they are so lovely. We've also done a lot of work with studios and television shows, which is always exciting. 

Ilana: Any in particular that come to mind?
Marty: We've worked with The Love Boat and Dynasty among others. Thomas-Spelling Productions worked a bunch with us in general. Rudnick's was a very, very popular store. It's probably the most well-known store in LA. When it's time for kids to get Bar Mitzvah'd and their mothers don't know where to go, one of their friends always says, "You gotta go to Rudnick's!". I have customers who come from as far as San Diego. 
Ilana: What a perfect segue into my next question! How did Rudnick's become known as the unofficial Bar Mitzvah suit capital of Southern California? 
Marty: Well, we had always done Bar Mitzvah clothing, and, like any other business, it's always been word-of-mouth. We pride ourselves on taking great care of our customers. When people have positive shopping experiences, they are eager to share with friends and family about it. So, over the years, this is how our reputation grew. Come to think of it, I don't really advertise anymore. Despite the drastic change of the retail landscape over the years, it's still a popular and well-known establishment. 
Ilana: How, if at all would you say your business model has changed over the decades? 
Marty: The biggest difference is, I no longer carry womenswear. Since I'm only down to one store, I must be more selective with my inventory. My main business over the years has been Bar Mitzvah suits and menswear, which still holds true today. 
Ilana: What would you say has been the most challenging part about owning and operating a family business? And what's been the most rewarding part? 
Marty: The rewarding part? That's easy. I love seeing the same customers over the years. Many of them have become my friends. As for the challenging part; staying in business! It's very difficult to stay in retail nowadays. The manufacturers don't deliver like they used to and it's more difficult to get inventory. It's all about getting the right merchandise into the store that your customers want. On that front, I definitely succeed in taking care of them, since I know them so well. If I don't have an item in stock and my customer wants it, I'll go out and get it for them. 
Ilana: That's wonderful. Certainly more care and attention than one would receive at a big box department store. It's very touching that young men who've gotten their Bar Mitzvah suits have now brought their children to Rudnick's and have passed the torch in a way. Marty: It's become a tradition, for sure. I've heard so many times, "Oh my grandfather bought his suit at Rudnick's, I have to get mine there as well". Rudnick's has become a thread in the Jewish cultural fabric of the Greater Los Angeles area. That said, I don't know how much longer I'll be doing this, but for now, I'm not planning on going anywhere. It's way too busy! 
Ilana: That's good to hear. Especially considering the current tough environment for small businesses. 
Marty: Business is great now. Kids haven't gotten Bat Mitzvah'd in over two years, so they're all eagerly coming in now. Ilana: I guess you can call them the backlogged boychiks. Have any of your customers ever invited you to a milestone celebration of theirs? 
Marty: Oh, yes! Back in the heyday when the store was in Beverly Hills, I used to get invited to a couple every weekend! I still get invited to a few here and there. It's very kind of them to think of me. 
Ilana: Being located where you are, have any famous faces ever walked in to get a suit for themselves? 
Marty: Many, many of them! You name them, they've shopped in the store. One that immediately jumps to mind is Don Rickles. He was such a great guy, I loved him. Arlyn Phoenix also used to come in to get her children's clothing for years and years. Most actors and actresses that walked through my doors were a pleasure to work with. Some were a bit difficult to help, but we got through it. 
Ilana: Would you say that you have an equal amount of inventory for the Bar Mitzvah-age crowd as you do for men? 
Marty: No. We definitely cater more to the young men. What usually happens is the teenager and his parents walk in with the goal of getting a Bar Mitzvah suit, and a lot of the time they walk out with a suit for the father as well. 
Ilana: If they're already there and are having a great experience – it makes sense. Given the "next-day shipping" society we live in today, people find it refreshing and even find themselves missing the personal touches of friendliness and care that come with small, family-owned businesses. 
Marty: You are spot on. The thing that we provide – that cannot be replicated by the Amazons of the world – is service. People walk into the store and immediately feel comfortable. They appreciate the level of expertise that I and my employees provide. 
Ilana: Have any of your employees been with you for a while? 
Marty: Of course. One of them for over 40 years! As a matter of fact, back in the '70's, we had a lot of young kids working in the store (to help with the booming jeans business) and several of those youngsters ended up getting married from working together at the store! 
Ilana: Wow, so you're a matchmaker too! 
Marty: Haha, I guess so! The folks I meet and the customers that have become my friends are truly the best parts of this job. I love to call them and catch up. When I retire, that's undoubtedly going to be what I miss. 
After briefly discussing his retirement plans, (Cabo, Marty is coming for you!) and how some of his ties are older than I am, we wished one another the best of luck and a Happy Passover. 
With so many small businesses disappearing every day, it's reassuring to know that loyalty, knowledgeability and tradition are timeless pillars. If you have a special person in your life who is heading for the joyous Jewish milestone that is the Bar Mitzvah, consider adding Rudnick's to your preparations. You'll walk out with a great experience, a quality suit and maybe even a new acquaintance.