Tom Aviv's Couscous Beef Bourguignon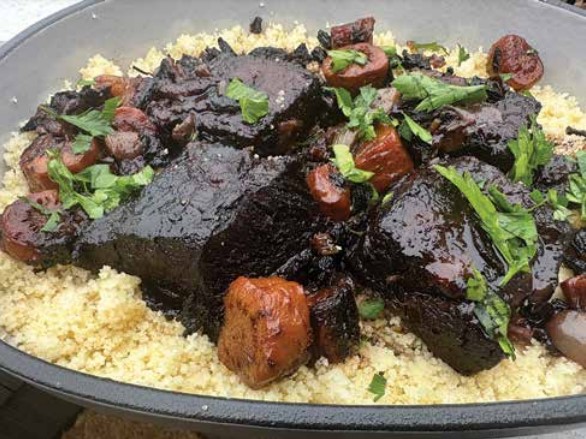 Ingredients 
1 box of couscous, cooked as package recommends 
1 ¾ lbs of pulled short rib 
2 white onions, cubed 
2 big carrots, cut into rounds 
4 sticks of celery, diced 
1 bottle of quality red wine, if you can get a wine from Bourguignon, but any red is fine. Avoid an overly cheap wine, as it makes up a lot of the flavor of the dish 
½ cup of Brandy, Calvados if possible (optional) 
1 bunch of parsley 
2 ¼ cups of water 
Salt and pepper to taste 
1 tablespoon Ras el Hanout, a Moroccan Spice Mix, you can substitute with garam masala 
½ tablespoon Cumin 
½ tablespoon Anise/Fennel seeds or 2 star Anise 
1 cup of canola oil
Directions: 
In a large deep non-stick pot, add canola oil. Once hot, add in short ribs. Cover the pot, cook for 5 minutes and take the ribs out. Add carrots, onion, celery, and only the parsley stalks to the pot. Combine all, coat in the oil, and let them sizzle. Add in the spices. 
Once vegetables are caramelized, add the meat back in and cook it together for five minutes, stirring to avoid burning. Add brandy and give it time to evaporate without leaving any liquid. It's important to scrape the pot to incorporate the bits that are sticking to the bottom of the pan, as this brings out a lot of flavor. Add wine, until it covers the meat, or all of the bottle, let it cook until half of the liquid evaporates and then Add water to cover the meat. 
Bring to a boil, and then, once boiling skim the fat off the top the liquid. Place pot onto a baking sheet and cover. 
Cook in oven at 450 F between 2 to 3 hours, depending on the meat. Check it every hour, cook until the liquid reduces to a quarter of the original. Once you see the meat is falling off the bone, you know it is ready. Take it out and chill. 
Pull the meat off the bone and put it back into the sauce, mix together. and let it cook together for 10 minutes in the oven and serve over the couscous. 
Garnish with parsley leaves and finish with a drizzle of olive oil.