L'Dor V'Dor – Regina's Kugel
During the Jewish holidays our house was always filled with the smell of cinnamon and raisins. My grandmother made this kugel for every holiday and she always cooked it in a glass baking dish. It was quite a treat to peek in and see the sides start to brown. This dish is still one of my families favorite things to eat, and we often eat it right out of the casserole dish. When I make this now, my kids know it's Nina's Kugel recipe, and it connects us as our family and our traditions.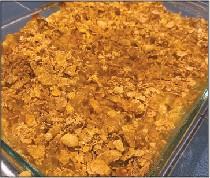 Regina (Gold) Kleiner was born in Zamosc, Poland where she lived until she was nine years old when the Germans invaded her town. She and her parents went on the run for two years constantly fleeing and escaping. Their path took them east through many locations including Latvia, Kobna, Ukraine, Poltava, Russia, Chelyabinsk, Kazakhstan, Uzbekistan, Tashkent, Osh Siberia, Chelyabinsk, Central Asia, Kyrgyzstan, Uzbekistan. The family ended up in Siberia in-hiding for the remainder of the war. After the war they went back to Warsaw, Poland for a year and a half. Trying to obtain immigration to the United States, they left Poland and went to Prague and then to Paris. Despite having relatives in America the immigration process was very difficult. While her American relatives paid $1,200 for each family member to arrive it was not enough and the American Joint Committee helped pay the balance. Through this long process the family proceeded to Spain and was settled in Havana Cuba for 3 years before finally making it to Miami. In 1951 the family happily settled for good in Los Angeles.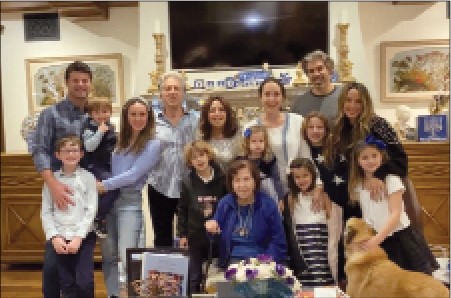 Butter, for
greasing the pan
16 oz. wide egg noodles
5 large eggs
1/2 cup butter, melted
16 oz. sour cream
8 oz. cottage cheese
3/4 cup sugar
1/2 tsp. cinnamon
Topping:
1 ½ cup Corn Flakes, crushed
4 Tbsp of Butter
1 Tbsp of Sugar
2 Tsp of cinnamon
Preheat the oven to 350°. Grease a 9" x 13" baking dish.
In a large pot of boiling water, cook pasta until al dente, 5 minutes. Drain.
In a large bowl mix together eggs, butter, sour cream, cottage cheese, sugar, and cinnamon then stir in noodles.
Pour into prepared dish.
For the topping, mix the cornflakes, sugar and cinnamon and sprinkle over the kugel. Add small pats of butter over the and bake until set, 1 hour.
Cover with aluminum foil if the top starts to get too dark.
Grandma sometimes added pineapples (without the juice), orange or apricot jam or golden raisins.