LIT XP's Hanukkah Experience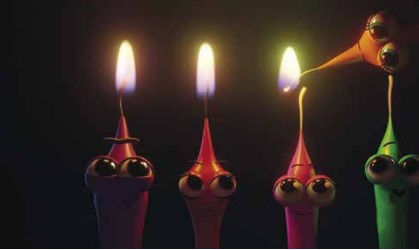 After spending his childhood yearning for lights and decorations during Hanukkah, acclaimed writer and producer Mike Lam needed an outlet.
"Hanukkah is supposed to be fun, it's a party," Lam exclaimed. "I always thought, 'we should be allowed to put lights up.'"
Now, with the opening of "Lit XP's Hanukkah 'A Festival of Light" Lam has given himself, and members of the Jewish and non-Jewish community, a means of connecting to Hanukkah through a unique form of light entertainment.
Lit XP's Hanukkah 'A Festival of Light is the brainchild of writer and producer Mike Lam, who has established this "in-person Hanukkah art immersive" as a way for guests of all cultures and ages to merge together amidst a projection mapped space filled Hanukkah themed art projects, food, entertainment and a projection mapping installation by master projection artist Bart Kresa.
Mike Lam initially produced Lit: A Drive Thru Hanukkah Experience in 2020 as a touchless drive thru experience. The exhibition brought countless people of all ages together at a time when the world craved some extra light due to COVID-19.
This Hanukkah 2021, Lit XP's 'A Festival of Light is an in-person event at Vibiana, one of the city's most historic architectural gems, Lit Hanukkah 2021 is Mike Lam's incarnation of what he had originally hoped to bring to the Jewish community.
"For Lit A Hanukkah Experience, we intentionally avoided telling the story of the Maccabees. I looked to extract the message of the holiday – reded ication. Each exhibit used various light sources as an expression of the overall message," Lam told JLiving Magazine.
This year is an all-new experience. Beyond the lights, guests have access to interactive activities such as cookie decorating, Hanukkah-inspired art projects, live music, selfie rooms, and an extensive menu of food and cocktails. This multi-sensory experience also includes custom-designed dreidel sculptures, as well as a projection mapping installation by master projection designer Bart Kresa that bring this extraordinary exhibition to life.
With a full-service kitchen by Redbird, the exhibition offers a Hanukkah-inspired food menu curated by Chef Neal Fraser and an extensive assortment of cocktails by Tobin Shea, who has garnered awards such as Time Out's Best Restaurant bar Program in 2017.
The exhibition space itself is bright, interactive, and overall an enthralling environment to take part in.
Last year's event featured Lam's critically acclaimed short film, "The Broken Candle," starring Tiffany Haddish, Tom Kenny, Vanessa Marshall, Dave Boat, Keili Lefkovitz and Mark Feuerstein. The film is presently in an Academy Awards campaign!
Modeled after Pixar's Toy Story film that anthropomorphizes inanimate objects, "The Broken Candle" follows Nira (voiced by Marshall), an orange Hanukkah candle, on her journey from the wax factory to the home of a young Jewish family. She and her candle friends hope to fulfill their destinies as a Shamash, the extra light used to light the other eight candles.
"[Director Felix Kiner and I] were talking about Hanukkah, and he said, 'There's always one broken candle in a Hanukkah box… that's the story!'" Lam said.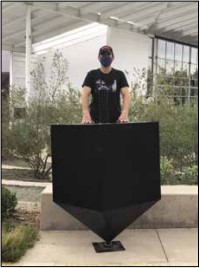 To Nira's dismay, before even making it into the candle box (voiced by Derbez), Nira the candle suffers a devastating fall and breaks in half. Fortunately, with the aid of her fellow candle friends, Nira makes it to her new home, but not in one piece. Limping and injured, she worries she'll never make it on the Hanukkiah, let alone become a Shamash because "nobody wants a broken Hanukkah candle."
On the eighth night of Hanukkah, a hopeless Nira is taken from the box, only to reveal her dangling, broken figure. However, to her surprise, rather than being tossed in the trash her new family uses what's left of her broken figure and appoints her as the Shamash. Nira's friends celebrate her new status and Nira's hopelessness turns into light that radiates the room.
"Last year with COVID bringing darkness to our world, we really wanted to get the message across that we're all broken in some way, but we still have the ability to share a positive light with the world," Lam said.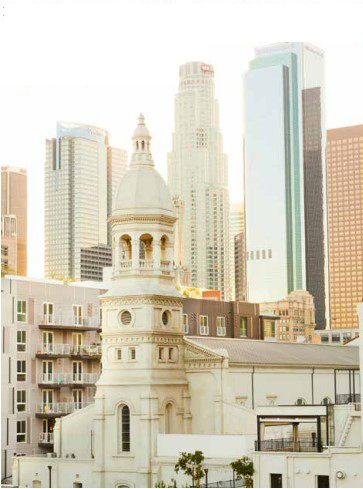 He added, "I hope Lit XP's 'A Festival of Light' can be a unifying event that gives the Jewish community something to be proud of and support. It is also meant to be accessible to all, giving our non-Jewish friends a window into Jewish culture."
Lit Hanukkah is now located at the historic Vibiana in Downtown Los Angeles. The exhibit is open from November 28 thru December 1, 12pm to 10pm on Sunday November 28, and 5pm to 10pm on November 29 to December 1.
For more information, visit www.instagram.com/thelitxp.