Chef Doug Weinstein's Challah Recipe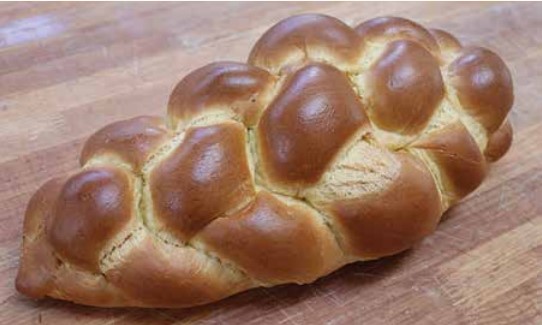 6 cups flour 
2 1/2 teaspoons salt 
4 tsp dry yeast (2 packages) 
2 eggs 
4 tablespoons oil 
2 tablespoons honey 
1 3/4 cup warm water
Mix flour and salt in a large bowl. 

Combine water, eggs, oil, and honey in a bowl, sprinkle the yeast on top and let the mixture sit for 5 minutes. 

Add water to flour and mix into dough. Knead until smooth. 

Let the dough sit covered for 1 hour or until it has doubled in size. 

Remove the dough from the bowl, de-gas (push out the air) and divide into 3, 4, or 6 equal parts, depending on what you know how to braid. Shape the parts into loose balls and let them sit for 15 minutes. 

De-gas again the dough again and shape it into strands. Braid into shape. 

Brush the dough with an egg wash and let sit in an off oven until it has doubled in size again. 

Remove from the oven and apply another egg wash. Turn on oven to 375°F. When the oven is hot, put the shaped challah into the oven and bake until the internal temperature reaches 210°F when inserting a thermometer or until the challah is hazelnut brown. 

Let's cool and enjoy!
Yields: 1 large challah or 2 medium challot