Lucas Englander 'Unstoppable' in "Transatlantic" Role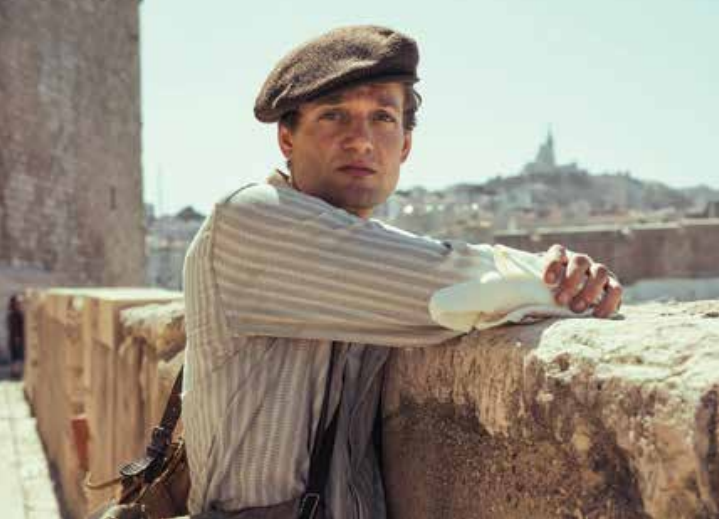 Lucas Englander 'Unstoppable' in "Transatlantic" Role
In the Netflix mini-series "Transatlantic," Lucas Englander (previously known for roles in "Catherine the Great," "The Witcher" and "Parlement") plays a fictionalized version of Albert Hirschman – a right-hand man to Holocaust rescuer Varian Fry – who outsmarts the Gestapo and leads groups of Jews and dissidents on perilous treks over the Pyrenees to freedom from Nazi-occupied Marseille. His portrayal is both soulful and charming – characteristics that Englander himself exhibited during a recent Zoom interview from Berlin, where he was completing dubbing work for the series. 
When a reporter complimented the Vienna-born actor's performance, the affable Englander quipped, "I can't deal with this interview. This is too much kindness," while pulling his jacket over his head until it reached his plaid cap in faux embarrassment. 
The 30-year-old Englander went on to say that he was "unstoppable" in seeking out his "Transatlantic" role, in large part because of his reconnection to his own family history. While his maternal grandfather, Alois Englander (whom he affectionately called Deda, or "grandfather" in Czech), was one-quarter Jewish, Alois' parents had converted to Christianity and kept their heritage "very low-key' to avoid anti-Semitism. 
Englander's mother, Juno, as well as the actor himself, were effectively raised without any religion in their childhood homes. "But my grandfather was an avid anti-Nazi who worked with resistance cells [hiding] in the subways," Englander added. When Alois was in his 20s, he learned that Hitler was planning to visit his native Prague. "He waited on a street corner with two revolvers to kill him," the younger Englander said. "But unfortunately, Hitler didn't take that street that day," he added with a rueful laugh. "My grandfather then fled to the States as an impoverished refugee, eventually working as a New York City firefighter as well as a volunteer with an organization that helped other Austrian refugees escape to America. He often took immigrants into his apartment and "shared everything with them," Englander said. 
While reading lines with his mother to prepare his "Transatlantic" audition tape, Englander remembered that he "just couldn't stop crying" as she reminded him of Deda's heroic exploits. While later working on the series with a friend, "I needed between five and ten minutes of a break after every take, because I suddenly realized that my family is not Jewish anymore. It's OK, but it wasn't our choice." 
Even so, Englander feels a profound connection to the culture. "I relate closely to Shabbat, to the teachings of rabbis and Kabbalah," he said, earnestly. "And when I meet Jewish people, there's some kind of connection without having to say you have anything Jewish about you… So what drew me to this role was being able to feel my own heritage to a certain extent." 
No wonder his journey to "Transatlantic" was fraught with emotion. When Englander was approached about a possible role in "Transatlantic" in 2021, he added, "I couldn't look at the script for 10 days because it was too much." But when his mother reminded him of his Deda, he "felt like, oh my God, I have to tell this story," he said. "When I got the call that I had the part, I was screaming around my room into the phone, jumping, dancing, crying." 
Englander told the series' co-creator, Anna Winger, that he couldn't perform his role without himself helping modern-day refugees. Thus, he became a spokesperson for the International Rescue Committee, formerly Fry's Emergency Rescue Committee. "I actually sent them an email today saying, 'I need more work,'" he said. 
Of "Transatlantic," he concluded, "on a lot of levels, this is the most important work I've done so far."