A Fresh Take on Tradition – Judaica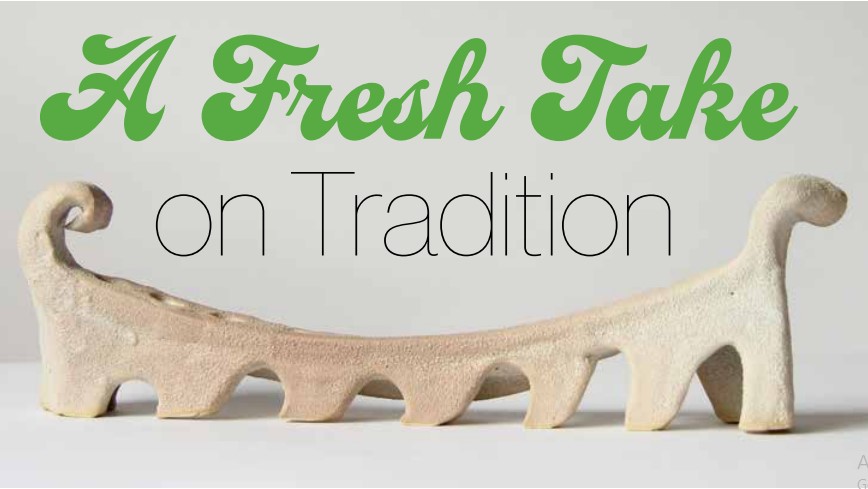 Creative young Judaica brands bring new interpretations to ancient objects
While the functional aspect of nearly all sacred ritual objects is timeless, its aesthetic appeal can be relative. Those chunky brass shabbat candlesticks dating back from your synagogue sisterhood might not personally resonate anymore. Thankfully, creative entrepreneurs are reconsidering and reimagining Judaica for design savvy clientele.
"I believe Judaica should be accessible," says Dana Hollar Schwartz, founder of Via Maris. The New York City-based lifestyle communications specialist and Toronto native founded the company in response to the difficulty of obtaining mezuzot, kiddish cups, seder plates, menorahs and chanukiot that stylistically fit her own sensibility and home. There's also a practical element. "Most Judaica stores have tclosed and it isn't easy to find the stuff," she notes.
Jesse Kivel of Judaica Standard Time had a similar revelation a couple years ago when talking with other friends who wanted to engage with Jewish life. They had shared disappointments, too. A musician and DJ by trade, Kivel and Michael David, his business partner in their Dart DJ events firm, by coincidence had bought the exact same menorah. In photographs the item looked "design-y, and then we didn't really like it. It was like 20 pounds and it wasn't what we had in mind," Kivel recalls.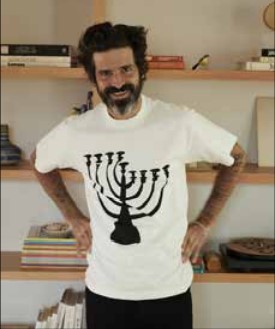 So, Kivel, David, and third partner, photographer David Kitz, decided to figure out how to offer "elevated Judaica that's more welcoming and more coherent with contemporary style." The venture would be a vehicle to collaborate with noted artists and artisans they admired, including L.A.-based ceramic artist Bari Ziperstein's BZippy line and Ariela Nomi Kuh of ANK Ceramics in Maine.
Not all of Judaica Standard Time's output is intended for religious use. The website sells hand tie-dyed socks by Kathryn Herrman, and the latest line of Bendy Menorah t-shirts and Shabop Shalom cork slipmats for record turntables designed by boundary-pushing musician and artist Devendra Banhart.
Via Maris, named for the Bronze Age trade route that ran along the Mediterranean through much of the Middle East, aims to find the balance between being what Hollar Schwartz identifies as "design-forward but not so precious." She works with makers in Israel and designer Jamie Wolfond in Toronto, among others. The Trace chanukiah is sleek with an elegant silhouette rendered in steel, while the Block model is relatively solid, as its name suggests, with room to store candles. Via Maris added a stoneware seder plate and handblown kiddish cups to its roster this past spring. Hollar Schwartz also uses female soferets to make the mezuzah scrolls in Israel, and 1% of the company's revenue is donated to a charitable organization selected every year.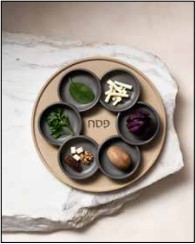 Judaica Standard Time takes a different approach with an earthy, modern bohemian aesthetic that reflects its Californian origin story. The distinct points of view of the designers and makers behind each object are apparent, whether it's Ziperstein's blocky modular menorah and highly tactile ceramic kiddish cup, or artist Michelle Blade's hand painted seder plate embellished with delicate blue floral and fauna motifs. Some objects are limited editions that when sold out are no longer available; others will remain in production, such as the newly launched unadorned ceramic mezuzah that's available in three neutral colors, and the wood Wave mezuzah, all made in Los Angeles. Challah covers are hand woven in Oaxaca.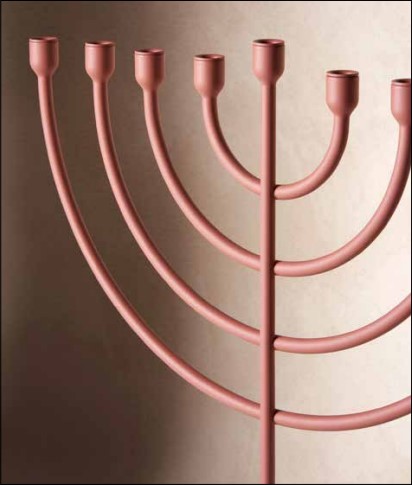 Both brands launched around fall 2020 at a time when people were intensely considering their own environments and their rituals, among other pressing existential concerns. The timing proved challenging for manufacturing and supply chain issues, but also came with a silver lining. "After being in our homes for so long we know our objects intimately and what makes us feel good," Hollar Schwartz reflects. "I think we're a lot more clear on the objects that surround us."
This type of entrepreneurship is a unique passion project for all involved. Hollar Schwartz and Kivel and partners have other full-time jobs, making this a deeply personal side hustle. "I think Judaica is a meaningful piece, and there's a purpose behind buying it," Hollar Schwartz says. "We get a lot of feedback from people about what this means to them. We're a part of life moments. It's the most wonderful part, getting these stories from people of how they use the products," whether it's communicated through personal emails or direct messages sent via Instagram.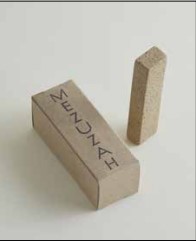 Kivel mentions the surprising accolades Judaica Standard Time has received, including some extremely impressive Jewish hipster street cred.
"Haim put a menorah in their music video last year. That was pretty crazy," he says about the sister pop-rock trio from the San Fernando Valley. Kivel and team reached out to Banhart's management company to gauge his interest in delving into unconventional Jewish product design, and he was game. Seeing how "people would take the time to work creatively or shout us out…was the most valued thing," Kivel adds.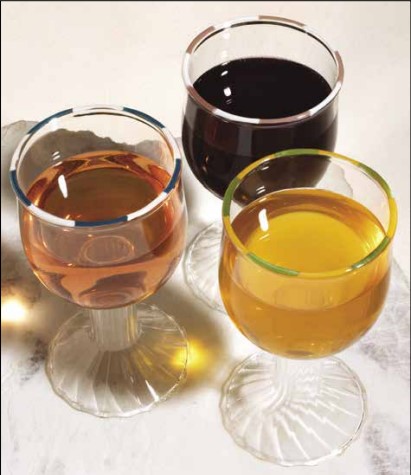 These projects aren't the first efforts at reconsidering Judaica. Artists, designers and crafts people throughout the ages have turned to this genre to explore themes of spirituality and heritage, along with individual personal creative expression. The Jewish Museum shop inventory is an intriguing snapshot of the myriad ways that ancient traditions have been updated and respectfully tweaked. (The Manhattan institution is Judaica Standard Time's only wholesale customer, while Via Maris is available at retailers such as Nordstrom, MoMA Design Store, Design Within Reach, West Elm and digital lifestyle platform Food52.)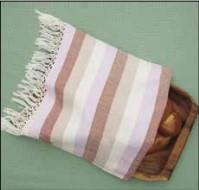 Los Angeles architects Marmol Radziner have created a minimalist walnut wood and brass chanukia, for instance. At a more affordable price point, Justina Blakeney of the popular Jungalow blog and decor brand included a dove-shaped menorah for her latest Target collection. Designer Jonathan Adler revels in applying his cheeky, irreverent interpretations of the modern Jewish-American experience, making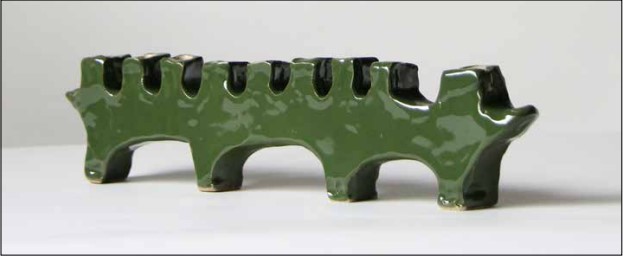 menorahs in the shape of animals or on top of a ceramic human head figure so that when full, the candles evoke a mohawk hairstyle. Having more choices in the marketplace is always a good thing, but these products tend to be parts of larger collections or designer experiments as compared to companies whose overall mission is tied to the evolution of contemporary Jewish life, with careful intentions and values.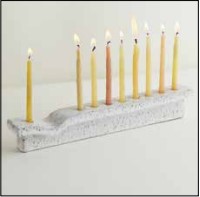 New Judaica ultimately can be a positive exercise in uniting generations instead of being an either-or proposition. In other words, there's no need to feel torn between your grandparents' chanukiah and one that you authentically love and want to buy for your own household.
"Hopefully you have enough Judaica heirlooms you like and can pick from, and then buy others to make new traditions," Kivel observes. "It's a beautiful thing to add to that legacy and not just live in memory. They can live side by side, and that's cool."