Dani Goldblatt: Holy Smokes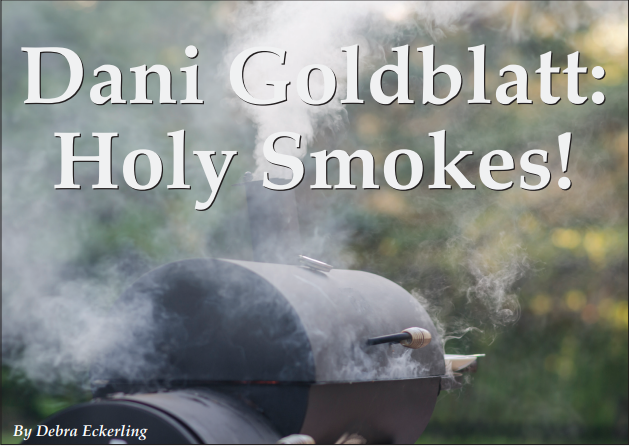 Have you ever seen an orthodox female pitmaster? You have now. 
Dani Goldblatt, the creative force behind Holy Smokes Kosher BBQ, believes all bets are off when it comes to creating savory, delicious meat. 
Goldblatt, 32, grew up in the valley, where she now lives with her husband and sons, ages 7 and 5. Holy Smokes specializes in Texas style BBQ, and is available out of Mega Glatt Mart in Tarzana, which is Certified Kosher by the Rabbinical Council of California. Goldblatt offers meals for shabbat takeout, pop ups, and catering in Los Angeles, as well as classes, demos, and private chef services. 
With a few exceptions, Goldblatt believes there's a way to make a kosher version of even the most non-kosher items. 
"Pork is a big thing in barbecue, but we have [an ethically sourced, kosher] veal that replaces it," Goldblatt says. "I do a shredded veal with a mustard sauce, which … people say it's very similar to barbecue, pulled pork." 
Someone once told Goldblatt they were shocked to be served pork in her kosher home. Goldblatt assured her it was veal. And then there's bacon.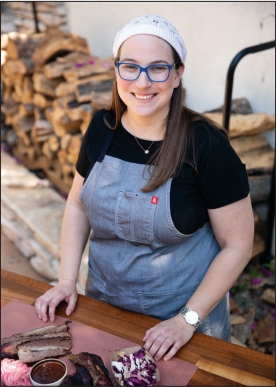 "We've got beef bacon, we've got lamb bacon, you could even get duck bacon," she says. "You can get duck schmaltz. You can make chicken schmaltz. There's nowhere that sells beef tallow, but it's super easy to make. You just render down the fat." 
Goldblatt has loved meat since she was a kid. She says there are pictures and videos of her devouring meat. 
"We grew up kosher style, so going on vacation, it'd be a lot of fish and vegetarian stuff," she recalls. "After five days, we're like. 'All we want is steak!".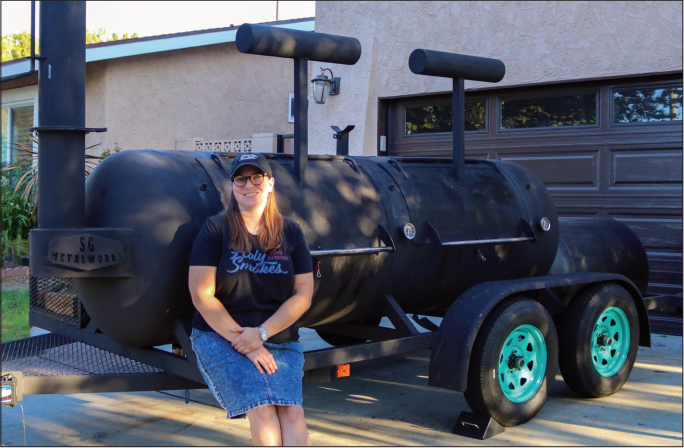 Some people just aren't big meat eaters. Goldblatt isn't one of those people. "It's a taste thing," she believes. 
Goldblatt had always been a foodie. But when her husband got her a sous vide for her first Mother's Day, that first solus vide roast set her on a whole new path. She started working on dry brining and trying different marinades on different cuts of meat. 
"It all started with experimentation," she recalls. "I started to play with the sous vide. And then I got an electric smoker. Then I got a charcoal grill. I got a pellet grill. And it just evolved. It was just a journey of having fun." 
Last summer, Goldblatt took the leap from teaching high school to cooking BBQ full time, after six years of juggling both. 
"I loved teaching. I still love teaching," Goldblatt says, "So leaving teaching was a really tough decision. I did not set this up to be a business, but we knew there was an audience." 
When Goldblatt started her barbecue journey, she met up with Jeremy Yoder, a wellknown YouTuber, called Math Scientist Barbecue. Yoder, an Evangelical Christian, needed to do something Kosher. Goldblatt, a Jewish studies teacher, reached out. 
"We did some cooks under kosher supervision for somebody, and it just kind of blew up from there," she says. "He ended up moving back to Kentucky, and I continued selling out of my home on the side and at the same time teaching.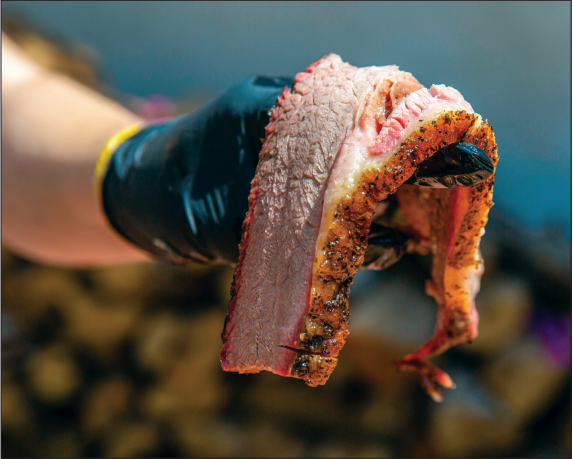 With Covid everything was taking a toll. 
"I had a really rough year of teaching, and I was coming home with nothing left in the tank for my little boys," she says. "I needed to make a change. We did some calculations, had a lot of talks to make sure this was a good decision, and went for it." 
While Goldblatt is not a fan of labels, she comfortably identifies as Orthodox. For her, Judaism is about her commitment to the big three: "family purity laws, Kashrut and Shabbos observance." 
People tend to have preconceived notions of what orthodox looks like … and what a pitmaster looks like. Goldblatt is not typical of either; she is one of a kind. 
"I still hold religious gender norms to a degree. But my religion doesn't say I can't be a pit boss," she says. 
"Stereotypically, men are at the grill, Jewish or not Jewish, right? People are always shocked when it's a woman. And when it's an orthodox woman, they're like, 'Whoa.' I say, 'Why not?'"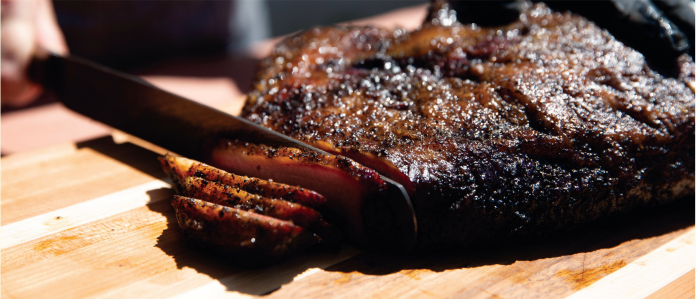 While there are a growing number of women pitmasters in the non-kosher world – and the barbecue competition world – Goldblatt believes she may be the only one who does barbecue kosher. There's a want and a need for it, and she is happy to fill the void. 
Goldblatt lives her Jewish life like she prepares her food. She does what she believes makes sense for her and shares it with