Diamond Bakery Challah Bread Pudding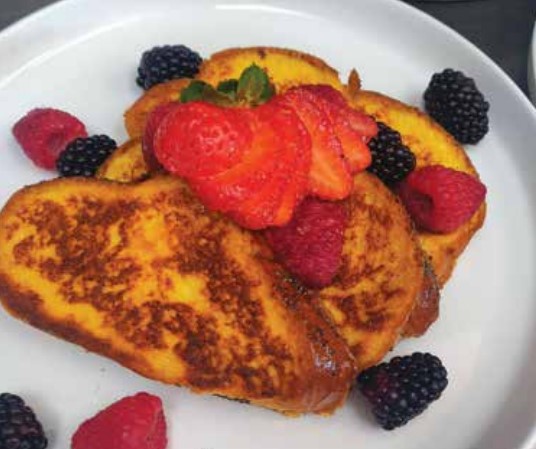 3/4 of a loaf Diamond Bakery Challah sliced 1 inch thick 1/2 cup butter plus 1/2 cup melted butter for brushing on bread 
¼ cup lemon marmelade 
1 cup brown sugar 
2 tablespoons corn syrup 
8 eggs 
4 yolks 
1 1/4 cup milk 
1 1/2 cups cream 
1 Vanilla bean split and scraped or 1 tablespoon vanilla extract 
1/4 cup granulated sugar 
1/4 teaspoon salt
Cut bread into 1 inch thick slices and brush with melted butter spread and lemon marmelade cut diagonally in half, and set aside. 

Combine ½ cup butter, brown sugar and corn syrup in a small saucepan. 

Cook over medium heat, stirring often. Simmer until smooth and bubbly, about 5 minutes. 

Pour mixture into a sprayed 9×13 inch baking pan. 

Tile in the triangles of bread, so the points are up, on top of the brown sugar mixture and press down slightly. 

In a medium saucepan, whisk together milk, cream, vanilla and salt, heat to 160 f. 

In a bowl whisk together eggs, yolks and sugar. 

Slowly add steeped milk to the yolk mixture while whisking, Pour over bread. 

Cover with plastic and refrigerate for a few hours or overnight. 

Take it out of the fridge and let it come to room temperature. 

Pre-heat oven to 325 degrees. 

Remove plastic wrap, place bread pudding on the center rack of oven. 

Bake for 45 minutes. Pudding is done when the top is golden brown and the pudding is firm. (check with toothpick) 

Let's cool and enjoy!