Mishegoss – Mezuzah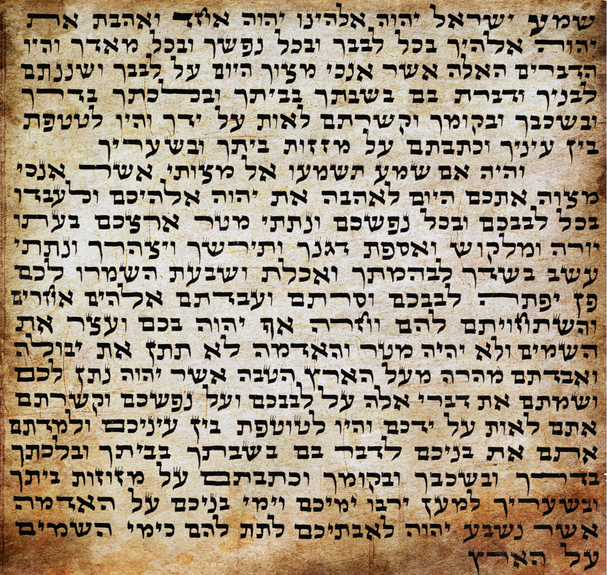 A Mezuzah which is the Hebrew word for "doorpost" is just a scroll. As commanded, the scroll must contain the 22 lines of Torah text – Deuteronomy 6:4-9 (Sh'ma) and Deuteronomy 11:13-21 (V'ahavta). According to Jewish law, the scroll must be written on the parchment of a kosher animal that was prepared to be used as a sacred object and handwritten by a sofer. If just one of the 713 letters that make up a scroll is missing or shaped incorrectly the Mezuzah is invalid and the commandment is unfulfilled.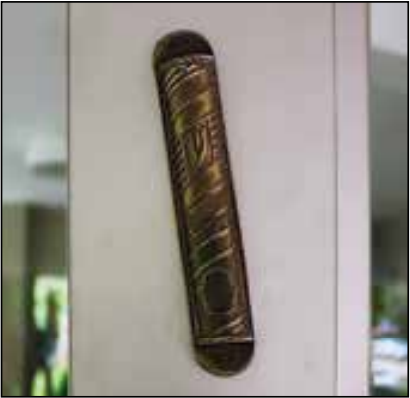 When you move into a new home you are commanded to install a Mezuzah within the first 30 days. The Mezuzah should be placed on the right-hand doorpost (as you enter). The Ashkenazic tradition is to place it at a slight angle with the top leaning towards the house. The Sephardic tradition is to hang the Mezuzah vertically. The debate of how to affix the Mezuzah is recorded in the Arbaah Turim, the compendium of Jewish Law. The work cites Rashi who proposed that it should be placed vertically while his grandson Rabbeinu Tam taught that the Mezuzah should be placed slanted similar to how Torahs were arranged in the Holy Ark. 
The Shulchan Aruch (Code of Jewish Law) states that your Mezuzah needs to be checked by a sofer twice in a seven-year period. The parchment needs to be inspected to make sure it is free of any wear or defects from weather or age. Mezuzahs are often checked before Rosh Hashanah to make sure that you start the new year right or when there are problems in the home (injuries, illness) as the Mezuzah is supposed to protect you from such things. Likewise when one is pregnant the Mezuzah is checked to have the utmost protection for the family.
On July 30, 2019, Gavin Newsom the Governor of California signed Senate Bill 652, the "Mitzvah Bill" into law. The bill ensures that landlords and HOAs can no longer prohibit families from putting religious items on their doors. The bill gained attention as a homeowner in San Diego was forced to remove his mezuzah to meet the HOA rules. The vote passed without a single vote of dissent. In honor of the bill's passing, the Legislative Jewish Caucus celebrated, putting up mezuzahs on their office doors.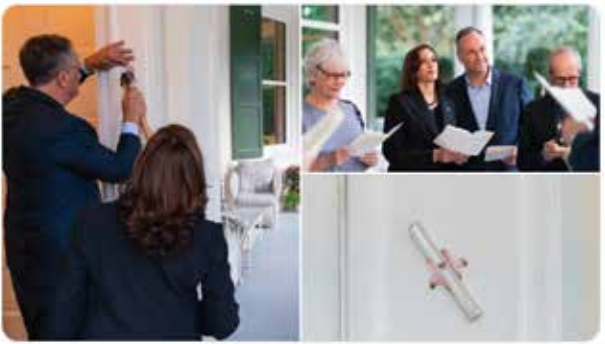 When Kamala Harris and her Jewish husband Doug Emhoff moved to Washington D.C. they made history on October 7th when during a private ceremony they affixed a mezuzah to their executive residence. 
After a national search looking for a mezuzah to be meaningful and with historical significance, the family selected a mezuzah loaned from The Temple in Atlanta. The temple's mezuzah was selected to acknowledge its history of fighting antisemitism as Leo Frank was a member and the temple had been bombed by white supremacists. It was also selected to support the temple's commitment to civil rights and social justice. For the ceremony The Temple's Rabbi Peter Berg flew to Washington and led the blessing and recited the Shehecheyanu prayer. A few weeks later, Emhoff posted photographs of the ceremony on Twitter, saying: "For us, and for everyone, Thanksgiving is a time for reflection on the past year. One of my favorite memories was when our family visited and together we hung a mezuzah on the front door of the Vice President's Residence."