RC Provisions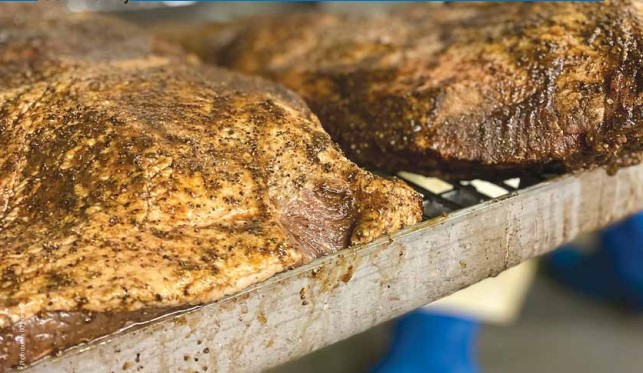 Do you know where your pastrami comes from? If you've enjoyed the smoky meat at a number of Los Angeles delis, it probably came from the same place. Located in Burbank at the corner of Burbank and Victory Boulevards is RC Provisions, the vendor behind some of the best meat in town. Holocaust survivors Alex Russak and Lou Cholodenko took inspiration from their own last names when founding RC Provisions in 1958, originally focused solely on Jewish deli cuts. Today, RC continues to blossom, supplying high-quality meat to delis, restaurants, and grocery stores in Southern California and beyond for the last 65 years. 
Cholodenko sold his share of the business to a fireman and exited the company while Russak stayed behind. Eventually, Russak bought the fireman out but had a hard time keeping the operation going. In 1966, he sold RC Provisions to Ron Fisher and Harvey Goodman, who worked with wholesale and regional distributors to scale the business. 
By the time 2000 rolled around, the business changed hands once again. Bill Giamela, a friend of Fisher's and owner of Giamela's Submarine Sandwiches, was the new man in charge. At the time, his son Matt Giamela was working with Giamela's and other family businesses but stepped in to run things at RC in 2010. 
Until 2010, RC had been focused on the core of their business – pastrami, corned beef, and chili, but have since expanded to offer tritip, turkey, barbecue brisket, and more over the last 13 years.
"We make the chili base for Original Tommy's and Pink's Hot Dogs, so that's a concentrate we make for them and they add their spices and seasonings and all that," Matt shared. Even with their expansion into other items, chili has remained a staple and is sold around the country at ballparks, sports arenas, and amusement parks. 
"As people move out of California, they call us trying to find our product in their state, whether it may be George or North Carolina, Oklahoma… we get calls every week from different states around the country where people are moving, it's pretty exciting for us," Jim Cozzie, RC's National Sales Manager, explained. 
Although you can find quality meats by RC throughout the city, from the Capocollo in Bay Cities' famed Godmother sandwich to an Italian roast beef at the fast-casual chain Mendocino Farms, the pastrami is what truly put them on the map. 
"A lot of those are individuals that miss the chili or miss the pastrami and can't find it in these places. Not only that they can't find it – they can find pastrami – but they can't find our pastrami, and they compare and then they want ours," Cozzie said. "But we get calls from all over the country from individuals trying to figure out a way to get our products into their mouths and into their kitchen."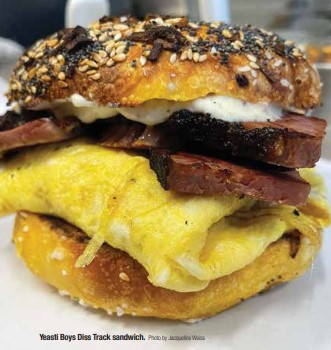 On South Alvarado Street in the Westlake neighborhood of Los Angeles sits Langer's Deli, one of RC's longest-standing and most famous customers. Established in June 1947 by Albert and Jean Langer, they opened with the help of a $10,000 – $15,000 loan in products from Chicago's Vienna Beef to get started. 
Eventually, Albert Langer and Alex Russak met, but it wasn't exactly love at first sight. "My dad did not like the formula that Alex was using for his pastrami," Norm Langer, Albert's son and owner of Langer's, said. 
"He worked together with Alex to develop a formula he liked, that appeased my dad's taste buds. And my dad was very very critical of what this product was going to taste like," Langer added. 
What was developed by Alex and Albert decades ago is the same beloved recipe used today, even as RC has changed hands over the years. And it's not going anywhere, Langer assured: "Not only am I using the same product, but I have a commitment from the Giamela family that they will not sell that product with that recipe to anybody else."
Today, Norm and Matt are the "best and closest of friends," and treat each other like family. "I will do anything in the world for him and he will do anything in the world for me," Langer shared. 
After establishing a solid working and personal relationship with Matt, he said goodbye to working with Vienna Beef for two reasons: their friendship and "he's able to provide the quality products that I need." 

Rightfully so, the No. 19 at Langer's has been deemed "a work of art" with "an exquisite combination of textures and tastes" by film maker Nora Ephron for The New Yorker, "the best pastrami sandwich in America" by food critic Jonathan Gold in LA Weekly, among numerous other accolades. 
Evan Fox, who opened Yeastie Boys in 2014, wholeheartedly agrees that "it's the best pastrami on earth" after "eating there for years." Yeastie Boys has six trucks located throughout Los Angeles that have been slinging up bagels since 2014. 
After sourcing pastrami through his friends' company, it became clear to Fox that he needed to expand his horizons as Yeastie Boys continued growing. He turned to RC Provisions for a custom 30-hour smoked pastrami and hasn't looked back. 
Fox describes it as "a very heavy smoked, almost Texas-style brisket, but pastrami. It's a fusion between a New York deli and a Texas-style smoke. It's one of the best things we use in our company."
'The Reubenstein' is their take on the classic sandwich, featuring their pit-smoked pastrami from RC, melted Swiss cheese, kraut, and Russian dressing served on a hand-rolled everything bagel. The pastrami can also be found on 'The Diss Track,' which also includes egg, American cheese, house-made schmutz sauce on a hand-rolled egg everything bagel, and is available in limited quantities each day. 
And he would know what makes a quality sandwich – he's related through marriage to Reuben Kulakofsky, one of a few individuals who have been credited with the creation of the Reuben sandwich. "My aunt, my dad's sister, married Reuben Kulakofsky's grandson. So we're basically family, I would say," said Fox. 
"We get calls from all over the country from individuals trying to figure out a way to get our products into their mouths and into their kitchen."
– Jim Cozzie, RC Provisions National Sales Manager
Like many other Jewish immigrants, Fox's family on his father's side immigrated from Russia to Omaha, Nebraska, which is where his aunt would meet her husband, Kulakofsky's grandson. 
So the story goes, at the Blackstone Hotel in Omaha, Kulakofsky (a grocery store owner and weekly poker game attendee) requested a special sandwich from Bernard Schimmel who ran the kitchen. He asked for corned beef and sauerkraut, but Schimmel drained the kraut and mixed it with thousand island dressing, layering on Swiss and corned beef before grilling it all on dark rye bread. 
While other legends exist about the creation of the iconic sandwich, Fox knows one thing for sure: "RC Provisions are the best in the business and we're lucky that we can have access to that type of quality."
While you might find it to be a trek to get over to Langer's or a Yeastie Boys truck in Los Angeles traffic, imagine being states away from their meat magic. Luckily, they're now supplying meat to businesses in Florida, Massachusetts, Texas, Washington D.C., Texas, Oregon, and Washington. 
East Coasters will also be happy to find a natural smoked pastrami brisket in the case at Wegman's. "We've actually gotten calls from restaurateurs that have shopped at the grocery store anwd loved the pastrami more than their own so now they want this pastrami in their restaurants," Cozzie said. 
And closer to home, RC has also done special projects at Gelson's and is now offering a "pastrami flat," a very lean and not fatty pastrami at Ralph's.
Though they've grown their operation and offerings, things at RC have stayed relatively the same since it was founded in 1958. Matt Giamela recalls hearing of concerns from vendors who had a relationship with Ron Fisher that things would potentially get "twisted around" or corners would be cut with the formulation and their recipes, especially of pastrami and corned beef. Some things may change, but they don't plan to anytime soon.