CJA's Split Pea Soup Recipe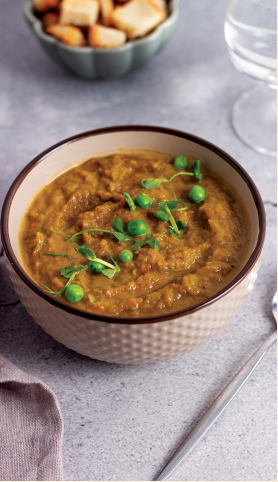 INGREDIENTS
1 Large onion diced
1 Cup of chopped carrots
3 Celery stalks
1/2 Cup chopped fresh parsley
8 oz Dried green split peas
64 oz. of Vegetable stock
3 Tablespoons of Olive Oil
2 Teaspoons of garlic herb seasoning
1 Teaspoon of Cajun or blackening seasoning
Salt and Pepper to taste
DIRECTIONS 
Cut onion, carrots and celery and sauté in a large soup pot with olive oil. Season with salt, pepper, garlic powder and cajun spices. Once onions are translucent, add the roughly chopped parsley and the split peas. Continue to sauté for another minute, lightly toasting the split peas. 
Add the stock, stir and then bring the mixture to a boil. Once a boil has been achieved, lower heat and simmer for 30-40 minutes. Once the split peas have broken down, using a blender, blend the soup until it's the texture you want (stick blenders are great for a more rustic consistency but if you want a smoother soup, use a stand blender – but be sure to tightly hold the top down with a towel and be careful about splattering hot liquid!). 
Once the blended soup is smooth and creamy, make sure it's the consistency you want. If you like your soups a bit thinner add an additional 1-3 cups of stock. Return the soup to the pot and bring it back up to temperature, taste for seasoning and serve.