Rachael Narins American Gefilte Fish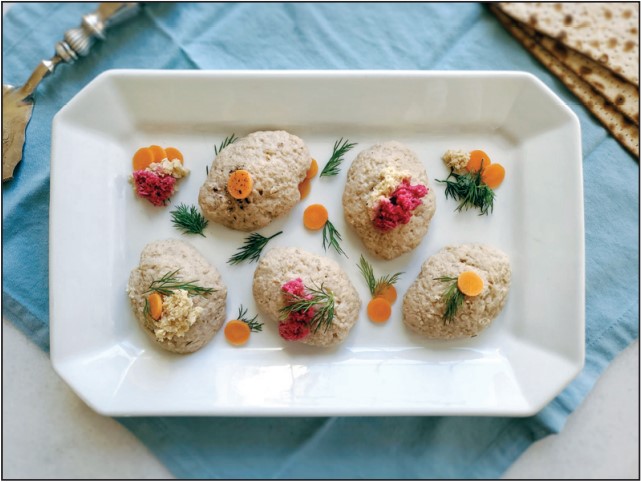 My favorite family Passover story is so vivid and evokes such a strong sense of time and place…
And on Passover, as families around the world gather together to tell the story of the Exodus, my family also tells the story of Uncle Moshe and his first experience with gefilte fish jelly when he was 2 years old. On that day, as the large meal was being lovingly prepared, tiny Moshe broke free from his older sister's arms and had dashed into his Bubbe's busy kitchen. In a flash, he'd pulled a heavy chair over to the counter, climbed up and was only then spotted joyfully splashing his pink hands into the carefully arranged platter of fish and gelee.
A gasp went up, but instead of accidentally knocking over the large platter, as everyone there feared; into his mouth the jelled broth went. An enormous smile broke out on his little face, he swiveled around and declared "Mommy! It's so yucky!" and with a twinkle in his eye, he took another enormous, happy mouthful.
The gefilte fish was safe, Moishe had a new favorite food for life and the laughter has lasted for generations.
INGREDIENTS
1 large brown onion, peeled, trimmed and halved
1 tablespoon vegetable oil
1 tablespoon sugar
1 pound each whitefish, carp and pike. boned and skinned
1 teaspoon kosher salt
2 eggs
1/2 cup matzo meal
4 cups fish stock
2 cups water
2 carrots, peeled and sliced into rounds
dill or parsley and horseradish for serving
DIRECTIONS
In a food processor, add the onion and oil and chop until fine.
Add the fish fillets and salt and grind until it's a coarse paste.
Add the eggs and pulse until just combined.
Transfer the mixture to a large bowl and gently fold in the matzo the meal just to incorporate.
Cover the bowl and chill for at least 8 minutes and up to 4 hours. When ready to poach, bring the four cups of fish stock and water to a gentle simmer in a large, wide stockpot.
When the stock is simmering, remove the fish from the refrigerator.
Using slightly damp hands, form the fish into small egg shapes (quenelles) and gently lower into the barely simmering stock. repeat with the remaining fish.
You should have around 16 quenelles. Cover and poach at a low simmer for 20 minutes.
Using a slotted spoon, remove the quenelles from the poaching liquid and place in a single layer in a large container.
Raise the heat to medium and let the liquid continue to simmer for another 30 minutes to concentrate.
After thirty minutes, add the sliced carrots to the poaching liquid and remove from the heat.
Taste and add salt as needed, then pour enough over the quenelles to submerge. allow to cool, cover and refrigerate until ready to serve.
Serve with dill or parsley and lots of horseradish.