Fiddler on the Roof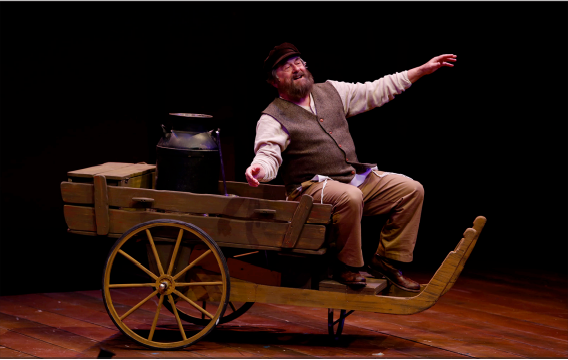 If you open Netflix and click on the 'Classics' category, you'll find movies from the 80s, 90s, and early 00s. So, what do you call a movie released in 1971? 
Tradition! 
Released over five decades ago, Fiddler on the Roof is an iconic representation of a period in Jewish life and history given the Broadway musical treatment and then turned into a film. Based on short stories by Sholom Aleichem, Fiddler on the Roof brings a Jewish village in the Pale to life with vibrancy and joy. The sorrows and frustrations are present, of course, but what Fiddler brings to musical theatre and to film is joy. Ebullience. That this joy is Jewish joy, and the ebullience is Jewish ebullience—in a world that often depicts Jews as very much other than joyful and ebullient—is an act of love on the part of all those who created it. 
That the love for Fiddler on the Roof has not subsided is evident in its enduring cultural presence. The American Film Institute place it on their list of the Top 100 Most Inspiring Films. In the last decade alone, there has been a steady flow of books and documentaries released that explore its past, context, and craft. Some of these are Wonder of Wonders: A Cultural History of Fiddler on the Roof by Alisa Solomon (2013), Tevye's Daughters: No Laughing Matter: The Women Behind the Story of Fiddler on the Roof (2019) and Diamond Fiddler: New Traditions for a New Millennium—Why "Fiddler on the Roof" Always Wins (2021) by Jan Lisa Huttner, Fiddler's Journey to the Big Screen, directed by Daniel Raim, and Fiddler: A Miracle of Miracles directed by Max Lewkowicz. There's even a Fiddler on the Roof coloring book! 
The documentary Fiddler's Journey to the Big Screen is narrated by Jeff Goldblum. Released in late 2021 for the 50th anniversary of the film, it explores the process of making Fiddler on the Roof and is filled with poignant details and anecdotes about the preparation and production of the film version of the musical. Not only was the film helmed by celebrated director Norman Jewison—nope, not a Jew—it boasted two other Hollywood legends: production designer Robert Boyle and conductor/adaptor/orchestrator John Williams. Boyle, who was best known for his work with Hitchcock, counted on his beloved wife Bess as his most trusted resource while making Fiddler. Bess had been an actor in Yiddish theatre, spoke Yiddish, and knew the history of the area and the people. Williams was still near the beginning of his career, but of course, he has gone on to become the preeminent film composer of his generation. 
The Pale 
Fiddler on the Roof is set in 1905, in the fictional village of Anatevka in the real-world location of Ukraine. The village is one of many "market towns" in what was known as the Pale. 
In 1791, Catherine the Great decreed the settlement of the Pale, ordering the Jews in newly acquired Russian territories to live in restricted areas, often also limiting the trades they could practice. Jews from Russia were also sent to live in the Pale. Though certain types of privilege exempted some Jews from expulsion, the majority of Russia's Jews would find themselves living there eventually. 
The market towns became known as 'shtetls. In the early part of the 19th century, Russian pogroms began raiding these villages. Pogroms took place throughout the century and into the early 20th century, ramping up at the time we meet the villagers of Anatevka. As Abraham Foxman, former National Director of the ADL, defines it in the documentary Fiddler: A Miracle of Miracles, Jews in the shtetl were, "living life on borrowed time, on borrowed courtesies from the nobleman, the tsar."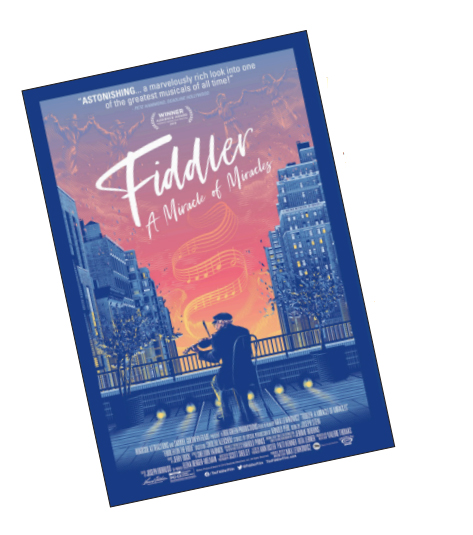 This feeling of permanent impermanence permeates Fiddler on the Roof. The strong desire for tradition is u n d e r s c o re d by a knowledge that everything can change on a m o m e n t ' s n o t i c e . S p e a k i n g in Fiddler: A Miracle of Miracles, journalist Calvin Trillin emphasizes that what Fiddler does for the shtetl is to make it, "more than just a place that you fled." 
Fiddler brings the shtetl alive in a way that touches audiences with the authenticity of joy in even the most unsettled and perilous circumstances. Michael Bernardi, the son of Herschel Bernardi—both of whom played Tevye on Broadway— sums it up with, "It's about displaced peoples." 
Watching Fiddler in 2022, it's impossible not to think of Ukrainians leaving their own country behind to survive. It's alarming to see history repeating in this way only a little over a century later. This increased relevance has sparked new productions of the musical in high schools across the United States. As they work on the show, they are also learning the history of the region and the repetition of displacement. 
Bending tradition 
Though tradition is loudly and enthusiastically proclaimed throughout the show, the reality is that change is happening all around Tevye, his family, and his village. Intergenerational change is a key theme in the storylines of Tevye's three marriageable daughters, each one challenging their Papa in a unique way. 
In Fiddler: A Miracle of Miracles, Santipat Santichaiananta speaks of the relatability of the intergenerational story. Part of a production at a music college in Thailand he says there are, "two kinds of society in Thailand. We have our parents. They're a little bit conservative, and we have these new generations, where technology plays a lot, and sometimes those traditions doesn't go together." And, he says, "We have a lot of Perchiks. We have a lot of Chava. We have a lot of Tzeitel in our community, even though we're not set in Jewish community." He finds it, "really fascinating that a published work of 58 years old is still resonating and they're still speaking in the context of what is still happening today.
1905 is a world without cell phones, email, Zoom, landline telephones, air travel, or automobiles. The villagers of Anatevka live in poverty. When Tevye waits for the train with Hodel, there is a sense of ending. When Hodel gets on that train, it might be forever. Never may be when they see each other again. And when Chava tells the family that she and Fyedka are going to Krakow, our sense of history tells us that they may never see each other again. As author Alisa Solomon observes, "The holocaust looms over Fiddler on the Roof." 
Universally loved and performed
"Since Fiddler on the Roof opened on Broadway September 22, 1964, the show has been performed every day some where around the world." This stunning statistic closes Fiddler: A Miracle of Miracles. Recent performances of Fiddler around the world include productions in Canada, Thailand, and the Chichester Festival UK. There is a new 2022 – 2023 national tour directed by Bartlett Sher that will land in Thousand Oaks in March of 2023. Despite being a Jewish story told from a Jewish perspective, Fiddler on the Roof transcends cultures. A legendary production in Tokyo took place in 1967, with an all-Japanese cast. Local audiences identified strongly with the themes of family and tradition.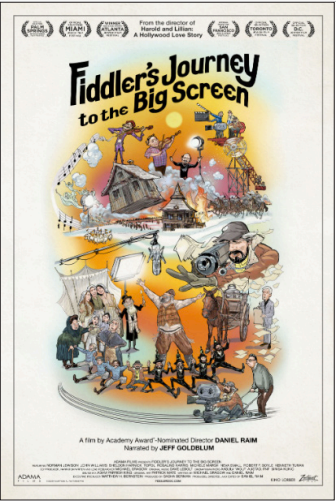 Knitting Factory Records, an alternative music label founded in New York City, released an album of Fiddler on the Roof covers in 1999. Entitled Knitting on the Roof, it included a Magnetic Fields' ukulele version of "If I Were a Rich Man." Another cultural phenomenon is the Sing-along Fiddler on the Roof screenings. Since 2008, Laemmle Theatres have presented Christmas Eve singalongs at multiple theatres, providing lyric sheets and costume contests. The shows have become their own tradition and sell out quickly. 
Resilience 
So, what makes Fiddler so popular and appealing almost 60 years after its debut on Broadway and over 50 years after the movie was released? For many, it is the example of resilience that is most profound. The way that Tevye, his family, and his village bounce back. Move on. Continue. Says Alexandra Silber, who played Tzeitel on Broadway and Hodel in the West End, "we have pieces of theatre like this to remind us we're not alone in the world and in history." 
In many ways, Fiddler on the Roof is a template for modern storytelling. Whether it's in novels, films, television series or on stage, uncovering and celebrating our family stories to understand our present, our identity, and our relation to the greater whole is the perspective from which we tell stories now. It is how we celebrate our resilience. Fiddler on the Roof did this on Broadway stages and movie theatres internationally more than half a century ago, and it shows no signs of stopping anytime soon.