Andrea Ruth's Spiced Zucchini Potato Kugel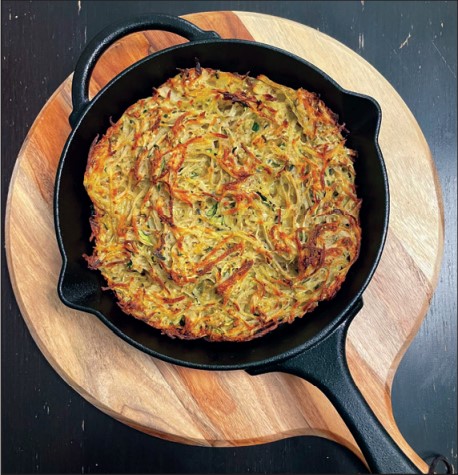 East meets, well, further East in this new take on the classic Ashkenazi side dish. I love
potatoes and really with just salt, pepper, and onion, this potato Kugel, like so many I
have had on my family's Seder table, is just delicious already. I love Ashkenazi food!
But the spices I encountered when I lived in Israel opened my palate and my mind to a
literally a new world of flavor. I ate a potato bureka on the side of a dusty desert road that
was green from so many spices! I have spent the last 30 years trying to recreate the heady
fragrant combination of spices in that one teenage street food experience! I may never get
it right but I've had a delicious time trying.
This recipe combines the basics with my favorite spice blend; cumin, coriander and
fennel seeds, plus a dash of cayenne. Or more than a dash if you think you, (and your
guests) can take it! Serve with apple sauce or a dollop of greek yogurt, or completely
naked alongside your brisket or chicken to soak up the juices.
Note: This method is excellent even if you do not want it spiced. Just leave out the seeds and cayenne and you have a classic Ashkenazi kugel that tastes great with just salt and pepper!
1/2 pound onions (plus 1 extra for onion oil- optional)
2 pounds russet potatoes, peeled (around 5 large potatoes)
1 pound zucchini (one large, two or three small)
3 tablespoons potato starch
1.5 teaspoons kosher salt plus more for serving
1 1/2 tsp of seed blend*
1/8-1/16 teaspoon cayenne pepper (or to taste)
lots of freshly ground black pepper
3 large eggs
3 tablespoons olive oil or onion oil**
* to make our seed blend combine 1 tablespoon of cumin, coriander and fennel seeds in a small skillet and gently shake over medium heat until toasted. they will get slightly darker, and fragrant.this takes just about a minute or two.
crush coarsely in a mortar and pestle or a spice grinder or put in a heavy duty zippered bag and roll over it with a rolling pin.
save in a spice jar or any covered container and sprinkle on everything from soups to hard boiled eggs.
can be made way ahead. keeps for up to a year.
optional
onion oil: heat on medium about 1/2 cup of good quality olive oil in a large (10-12 inch) frying pan or skillet.
cut Onions in half and then in to thick slices so it doesn't burn. (1/4 inch)
Pour the onions into the oil and move them around occasionally to brown evenly. let them get deep
golden brown but not crispy. about 20 minutes. you can
do this while you prep everything else in the kugel, so this doesn't add a lot of time to the recipe.
remove the onions to a small plate or bowl with a slotted spoon and drain out the excess oil back into your pan. use in the kugel or reserve for other use.
later, after the kugel is in the oven you can pour the cooled oil through a very fine strainer or coffee filter and keep unrefrigerated, to use in anything that uses olive oil. you can also do all of this up to a week ahead as the onions will keep a week or more in the fridge and the oil will keep indefinitely.
move a rack to the middle position of your oven and heat the oven to 350°F.
using a hand grater or a food processor grate first the onion, then the zucchini and then the potatoes. in a big mixing bowl quickly toss together so that all the potatoes come in contact with the onions. the onion juice will keep them from oxidizing.
using a clean kitchen towel squeeze out the liquid into a separate small bowl and return the vegetables to the mixing bowl.
sprinkle the corn starch, seeds, cayenne, salt and pepper evenly so you don't wind up with any pockets of one thing. add the fried onions if using. mix using a big spoon, two forks or your hands. 
add the eggs and mix everything until well combined. you can use your hands for this purpose and it's my favorite way! but the cayenne pepper can irritate some people's skin, or reveal to you where you have a tiny cut! just be ready to wash your hands immediately and you should be fine! or wear gloves.
heat two tablespoons of oil in a large cast iron skillet until hot. carefully spoon the mixture into the pan. it will spatter. don't smooth the top down. you may want to even create some swoops and peaks to get nice and brown and crispy!
drizzle or brush the last tablespoon of oil over the top. transfer to the oven and bake for 75-90 minutes.
if the top is not as brown and crispy as you like switch the oven to broil for a minute or two, but keep the kugel on the middle rack and watch carefully that it does not over brown, or burn.
remove from the oven and let it cool a bit in the pan. you can serve it from the skillet or slide it out onto a platter.
sprinkle with coarse salt before serving.
Notes: to make a smaller kugel every ingredient has been modified to be divided by 3. if you have a 6 inch pan you can make a tiny kugel for 2 or 3.
bake for 60-75 minutes and then brown the top if you like under the broiler.
this can be made with schmaltz but it's very rich that way, and while it is delicious, if you are making lots of brisket or a rich chicken to go with it, it's probably better with onion olive oil. this method is great even if you do not want it spiced! just leave out the seeds and cayenne and you have a classic ashkenazi kugel.