L'Dor V'Dor – Yetta's Hamentashen
I was born (3 weeks late!) on Purim. Every year, my Bubbe Yetta would tell the story of getting "the call" just as her Hamentashen were coming out of the oven. She and my Zayde (z"l) made their way 400 miles north in a hurry with fresh Hamentashen in tow. They arrived at the hospital just after I was born and everyone had worked up a good appetite. Ever since, she's always made sure that her Esther Eidleh (my Hebrew name) had Hamentashen, "made with love", for Purim. We still make them together for my kids. Even though it is not the tastiest of our tradition's treats (IMHO), it is my favorite.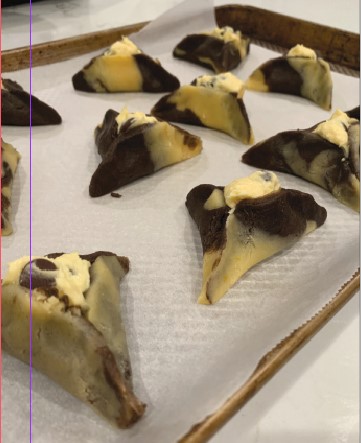 My Bubbe, Yetta (née Istrin) Kane was born in Miadziol, Poland in 1932. Before the war, she and her family had a warm shtetl life, surrounded a tight-knit community. They had a little farm and her father, Zelik (z"l) ran a dry goods store. Because her father traveled regularly to Vilnius (the largest nearby town) to get items for the store, when the war broke out he had heard murmurings of what was to come. When the Nazis arrived and requested that all of the Jewish men come to the local shul for a "meeting", Zelik and his family hid in the woods. Everyone who attended the meeting was murdered. The family fled, joining a partisan caravan with other families and children. They survived unimaginable conditions, freezing temperatures, and – of course – the German's grasp, who were always menacingly close by, eventually making their way to a Displaced Persons (DP) Camp in Siberia. After the war, Bubbe and her family came to Los Angeles. There, she met my Zayde, Rabbi David Kane (z"l) – also a survivor – at a refugee dance. The rest, as they say, is history. The two married in 1952, and built a beautiful life in Long Beach, CA where they raised their three children. Despite all of the horror she experienced as a young child, my Bubbe has an unshakable belief that she's been blessed – a statement you'll hear most often when she's surrounded by any one of her nine great grandchildren.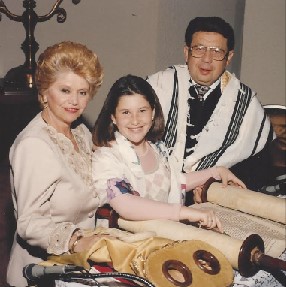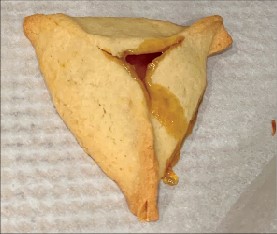 3 eggs
1 cup neutral oil like grapeseed
1/8 cup orange juice
1 TBS orange zest
1 cup sugar
Pinch of salt
4.5-5 cups of flour to feel
1 tsp baking powder
Add all wet ingredients (first four) and sugar in a bowl and blend well until smooth and you get a glassy consistency.
Add in the baking powder, salt and flour (start with 4.5 cups flour, and add more if needed for dough like consistency – as Bubbe says, you can't take it back once it's in).
Cover the dough and chill for at least 2 hours (can be made up to 2 days ahead).
After it's chilled, roll out dough
"as thin as you like it".
Cut out circles with a glass.
Using any filling you like
(ie: prune, apricot preserves, poppy seed, etc. (my kids' favorite is a chocolate chip + cheese cake filling) put
a spoonful in the center of your circle of dough.
Once all circles have filling, pinch each circle into triangles to make your "Oznei Haman" shape.
Brush on egg white if you desire a glazed look
(we skip this part usually).
Put in prewarmed oven @ 350 until golden brown, about 20 minutes depending on your oven (keep an eye on it).