Challah with Baked T'Shuvah
Rosh Hashanah would not be complete without a beautiful tasty round challah! JLiving teamed up with Jackie Elkins at Baked T'Shuvah: a social enterprise of Beit T'Shuvah, a non-profit addiction recovery treatment center, community, and congregation in the heart of Culver City, California to help bring a challah to your table. Jackie, along with two chefs developed this recipe after several iterations and trials from the taste buds of their community. We want to thank them for sharing the secrets to baking this challah with us and our readers. Baked T'Shuvah artisanal challah is also available for ordering each week by going to :
https://www.bakedtshuvah.com
By purchasing a Baked T'Shuvah challah, you are helping rebuild the lives of those impacted from addiction in the Jewish community. As Baked T'Shuvah reminds us, "From job training in the bakery, to the money that provides treatment to those who can't afford it, this is a cause worth eating for. Oh, and the bread is downright addicting. And trust us, we know all about addiction."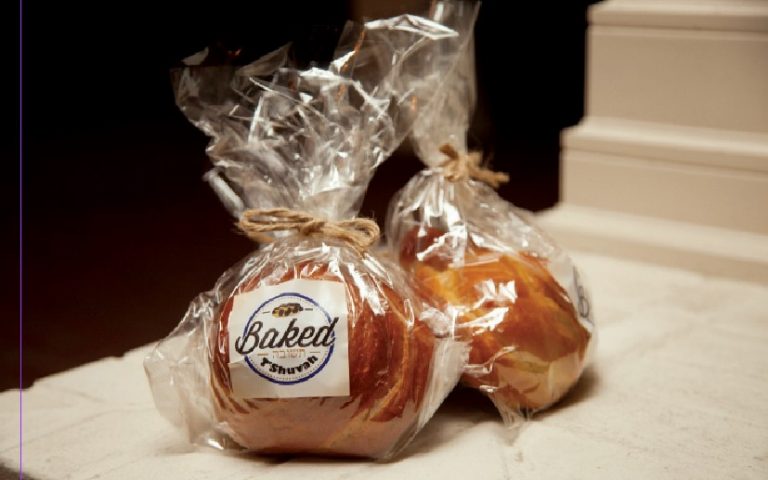 Recipe by Jackie Elkins at Baked T'Shuvah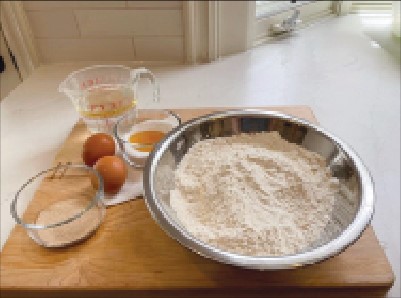 • 56 grams vegetable oil (1/4 cups oil)
• 75 grams sugar (6 tablespoons)
• 25 grams honey (2 tablespoons)
• 178 grams room temp water (3/4 cups)
• 8 grams instant yeast (1 pkg. or 2 1/4 teaspoons)
• 2 large eggs plus 1 egg for glazing top
• 500 grams all-purpose or bread flour* (4 cups) + more until flour pulls away from bowl
• 12 grams salt (2 teaspoons)
• Mix-ins: such as chocolate or raisins, if desired (should be 20% of challah weight, about 3 oz/pound of dough)
Notes:
• Mise en place = Measure ingredients before preparing. If possible, invest in a kitchen scale. They're inexpensive and yield much more consistent results. 
•You can make this with or without an electric mixer. If you use a mixer, it must be a heavy duty one like a Kitchen Aid. 
•Bread flour is preferred as it's higher in protein and therefore will give you a higher rise.
•You can substitute butter for the oil, making it more like brioche, but always use the best ingredients possible.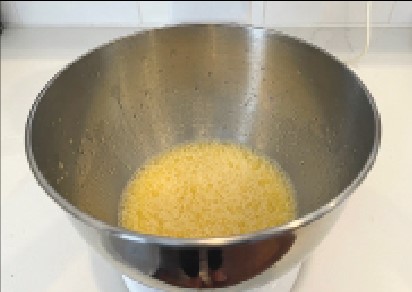 1. Mix oil, sugar, honey, water & yeast by hand or mixer (using beater attachment).
2. Add eggs one at a time to oil mixture and mix by hand or mixer until the eggs are incorporated.
3. Remove beater attachment and replace with dough hook if using mixer.
4. Whisk flour and salt together in separate bowl then add to bowl with liquids, turn on mixer to speed level 2, kneading dough for ten minutes. Alternatively, knead by hand on a lightly-floured board until smooth. Dough should be tacky, not sticky and smooth and taut.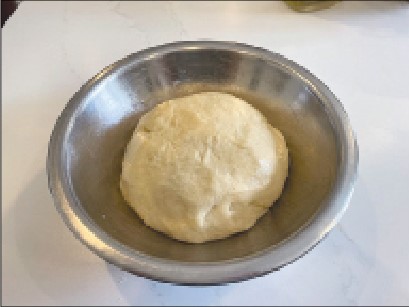 5. This is the point where you'll add in mix-ins if you want. Add about 20% of dough's weight in mix-ins. If adding dried fruit like raisins, make sure to soak them in water for 10 minutes then drain well before adding to dough. Dried fruit on its own will absorb moisture from dough leaving you with a dry challah.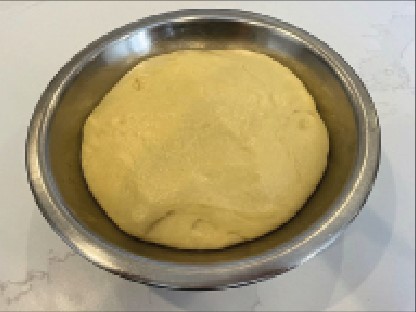 6. Put dough into oiled bowl, knead dough a few times to get a smooth, taut texture and cover bowl with a dishtowel or plastic wrap and let dough rise until at least doubled in size. This can take anywhere between 2 and 4 hours, depending upon variables like room temperature and humidity. Alternatively, put dough, covered, into the refrigerator overnight (which develops flavor and makes dough easier to braid).
7. Remove dough from bowl and cut into two sections. Using a scale, weigh each piece and adjust so that each piece weighs approx. 454 grams (1 pound) or eyeball it so each piece is about the same then put 1 of the pieces back into bowl and cover to avoid drying out. Alternatively, you can make one large, two-pound loaf.
8. Now you can make a round challah (symbolizing the continuity of life and traditionally made for the Jewish New Year) two ways: The turban, and the crown.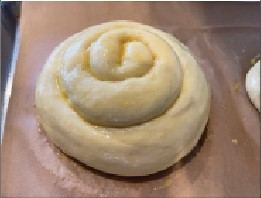 a. To make the turban, take one pound of dough and roll it out to make one long strand, 25 inches or so, and twist it up into a spiral, tucking the end under the bottom of the challah.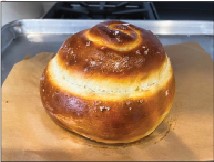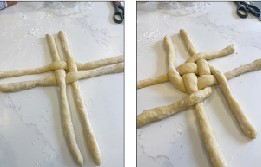 b. To make the crown divide 1 pound of dough four sections. You will need to weigh each piece so that the pieces are approximately the same weight (or again, make sure the pieces all look about the same). Roll each piece into thin 20-25 inch strands. To braid the crown challah, place two of the strands next to each vertically on a board. Weave the remaining two strands horizontally, one strand over and under and the other strand under and over the vertical strands. The result should look like a plus sign with little space between the strands. There should be two strands pointing in each direction.
i. For each direction, take the strand on the left and cross it over the strand on the right leaving no space between the strands.

ii. Next, do the same action going the opposite direction.
iii. Repeat crossing the strands over each other, alternating directions until you run out of dough. Take the ends and pinch them closed and tuck the under the loaf.

9. Put on parchment lined cookie sheet, cover with plastic wrap, and let rise for about an hour. Dough will rise but not double. To determine if challah is ready to bake, do "touch test"; lightly poke dough and if dough does not bounce back, it's ready.

10. Preheat oven to 375°
11. Beat one egg with 2
teaspoons water and a pinch of salt.
12. Brush challah with the beaten egg and bake 25 minutes at 375° on middle rack of oven until nicely browned all over. Oven temperature varies widely so if you don't have a thermometer, watch your loaves carefully for even browning as challah may need less time. Challah temperature should be 185°-190°.
See the video "The Story of Baked T'Shuvah" here: http://vimeo.com/234592506