MODI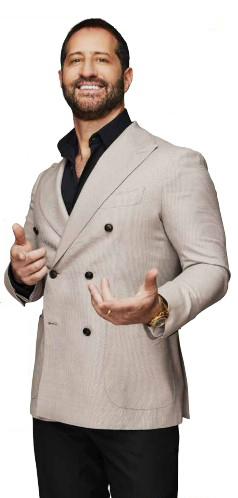 The comedian Mordechi Rosenfeld, who goes by the stage name, Modi, is an Orthodox Jew who happens to be married to a man, and whose distinctly Jewish act and intricate knowledge of Judaism draws sold out audiences from Reform to ultra-Orthodox communities as well as non-Jews all over the world. The New York Times has called the 53-year-old comic – who will perform at the Saban Theatre in Beverly Hills on June 8 – "the next Jackie Mason." The Hollywood Reporter lauded him as one of the top ten comedians in New York; and Jamie Masada, owner of the Laugh Factory in Los Angeles, has said that Rosenfeld elicits the same kind of adulation as Robin Williams and Richard Pryor. Not to mention that in 2018 then-New York mayor Bill de Blasio declared June 26 "Mordechi 'Modi' Rosenfeld Day" for his artistry and contributions to the community. 
During a recent Zoom interview from the New York home Rosenfeld shares with his husband and manager, Leo Veiga, the comic wore black, his signature short beard and a reserved manner compared to his bold standup persona. The comedian said he carries a small copy of the Zohar in his pocket during performances. "I'm not a comedian who happens to be Jewish; I'm a Jewish comedian," he said. "Onstage, I'm far more Jewish than gay." 
He hilariously riffs on the cultural differences between Sephardic and Ashkenazi Jews, as well as the Jewish perspective on TV shows such as "Succession" and "The Crown." 
Rosenfeld also addresses issues of Holocaust denial and anti-Semitism. In a joke that went viral online, he quipped that it's not so smart to arrange for anti-Semites to visit Holocaust museums: "It just gives them ideas," he said. As for his recent DNA test, he said, "Nazis and Kanye are my number one health risks." 
Asked if there are any boundaries he won't cross in his act, he said, "I won't cross a line if it isn't funny."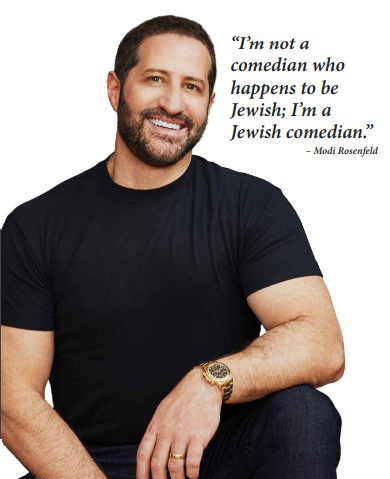 Even so, Rosenfeld carefully tailors his sets to suit his patrons on a particular night. For non-Jews, he explains more about his Jewish content. And for the ultra-Orthodox, he draws on his extensive grasp of Jewish law and culture – in part derived from his attendance at a Chabad-Lubavitch yeshiva as a young man. "They don't need gay material," he said, of his observant fans. "They need material for their own audiences." 
Even though ultra-Orthodox communities view homosexual relationships as sinful, Rosenfeld said, he hasn't experienced any kind of criticism except the rare troll online. If an organization told him they were uncomfortable with him being gay, he added, "They won't get me to perform for them." 
Rosenfeld moved with his family from Tel Aviv to Woodmere, Long Island, NY, when he was 7. He said he grew up in a traditional, "kosher-style" Israeli home. Modi was drawn to Judaism from an early age. "I used to love to go to listen to the cantor in a Conservative synagogue in our area, because it was like watching an opera every Saturday," he recalled. "I always found books to read about Judaism and Torah and synagogue; I was drawn to it more than the rest of my family was. It was just in my neshoma, my soul." 
Growing up, he said, he'd watch the Chabad-Lubavitch Rebbe Menachem Mendel Schneerson speak whenever he recorded a televised version of his farbrengens. "I was mesmerized by them," Rosenfeld said. "I really felt a connection to the Rebbe." Never mind that Schneerson believed that gay love was off limits. "What I love about Chabad is that in broad strokes it's about helping other people," he said. 
On Rosenfeld's podcast, "And Here's Modi," co-hosted by comedian and author Periel Aschenbrand – with appearances by Rosenfeld's husband, Veiga — one real treat was interviewing the Rebbe's Yiddish-to English translator, Rabbi Manis Friedman, he said.
Rosenfeld attended a Chabad yeshiva while also enrolled at Boston University. "It was almost like I was in both of them at once," he said. 
His journey to comedy was more unconventional. He began his career as a vice president at Merrill Lynch in New York. "I was working in the international division, where there were many people with different accents," he recalled. "I would imitate them to my friends when we hung out. And my friends said, 'You should do this onstage.'" Rosenfeld decided to try his luck at a standup comedy club on an open-mic night, a performance he vividly remembers. "I was there in a suit because I had come from work…and I was watching the other comedians as they were bombing," he said. "And then I went on and something felt very natural and great…The club's owner said, 'You should come back and do this again.' And that's how it all began." When someone suggested that he perform in resorts in the Catskills mountains – a traditionally Jewish vacation destination – he replied, "Just call me Moses." After balancing stand-up and Wall Street jobs for some six years, Rosenfeld went into comedy full-time. He said his career started taking off in spades when he incorporated more of his Judaism into his act some years ago. Since then, he's been selling out venues worldwide – including in Israel and for Jewish groups such as Young Israel congregations and the Republican Jewish Coalition. He's also performed on mainstream platforms, including CBS, NBC, HBO, Comedy Central, and the Howard Stern Show, where he and the shock jock sang the blessing that is chanted before a Torah reading. "Howard is a big Jewish soul," Rosenfeld said. 
His approach to his diverse groups is "to know your audience," he continued. "I feel what the room needs, what jokes should be able to work, and deliver them." As for his non-Jewish audiences, he performs "the Jewish material that they would understand. It's often more…feeding off of some stereotypes they might have about Jewish people and taking it from there." 
Rosenfeld has joked about everything from JSwipe to his Israeli mother. During a recent performance in south Florida, he quipped of Jews, "Why does the world hate us? We're the only religion not looking to recruit people. Every other religion's main goal is that you join. We're the opposite. "Our main goal is, 'Just leave us alone,'" according to the Boca Raton Observer.
Rosenfeld is also a chazzan, having studied at the Belz School of Jewish Music at Yeshiva University, and sometimes sings at his modern Orthodox shul, The Sixth Street Community Synagogue in the East Village. He lays tefillin daily and keeps Shabbat as well as a kosher home with his husband, Veiga, who was raised Catholic but now knows considerably more about Judaism than the average Jew. 
Onstage and off, the comedian hopes to channel what he calls "Moshiach [messiah] energy into the universe….It's about working to bring light into the world," he said. "Hopefully, I can bring positive Jewish energy to both Jews and non-Jews. Comedy, he added, "is a calling. It's a way to help people spiritually, which is what the Talmud talks about. I'd say it gives me a high."
For information about Modi and his upcoming shows visit www.modilive. com. To tune into Rosenfeld's weekly podcast, check Apple Podcasts, Spotify, Amazon Music, and YouTube, among other sources.