LA's Bagels Scene is on A Roll

In the spring of 2021, two articles from legacy New Yorkbased media outlets made lightning-speed rounds among Jewish food lovers and their friends. First came the accolade that landed in my text message queue multiple times within hours of hitting the internet. When New York Times food critic Tejal Rao declared "The Best Bagels Are in California (Sorry, New York)" in March, she roused the zombie that is the L.A.-vs-NYC conversation and helped soothe the West Coast inferiority complex.
Satire soon followed. In April, The New Yorker published a Daily Shouts column online by Joanna Bradley offering "A Guide to Purchasing Your Very Own Los Angeles Bagel," poking fun at the comical scarcity that characterizes some artisanal bagel operations that are decidedly not about volume. "Half the charm of a Los Angeles bagel is the long, byzantine process of attempting to acquire one," the piece states.
Like many caricatures, it contains a grain of truth. Do not rely on any of the bagel businesses mentioned in the Times story for your crowd's Yom Kippur breakfast needs. And early birds get the worm.
L.A. doesn't have a shortage of reliable bagel bakeries that operate on a large scale. Western Bagel, The Nosh of Beverly Hills, Bagel Broker, Brooklyn Bagel, and the Original Brooklyn Water Bagel Co. in Beverly Hills continue to feed hungry families and deliver heaping platters to large gatherings. But there's a new movement on the rise.
Operations such as Courage, Pop's, Belle's, Hank's, Maury's, and Yeastie Boys appeal to a population that craves comfort and nostalgia. These customers are also likely to care about the ethics, history, and ingredients of what they eat — and what looks good on Instagram.
"There's a demand in general for artisanal made [foods] and a focus on quality, and moving away from chain restaurants and moving towards local producers and family owned businesses," says Trevor Faris, co-owner of Hank's. In many cases, they are located outside the traditional geographical clusters of the Jewish community in Los Angeles, reflecting L.A.'s own internal diaspora that has a presence in neighborhoods like Silver Lake and Highland Park.
It's no secret. People love bagels — and bialys! — more than ever, and this oldnew trend overall reflects a fascinating evolution of our food culture. Thankfully, we've got pros in town eager to satisfy the growing appetite with meticulous care. "The quality of every ingredient is important so if you have the proper filtration to make your water taste good, you use exquisite quality flour (we mill much of our own organic flour), exercise patience with slow, flavor-developing fermentation, use careful and measured handling of the dough, boil and bake using ages-old methods and bake fully with an artisan's eye, then you should be able to make delicious, traditional bagels anywhere," explains Brad Kent, food scientist and chef/baker.
So, clear your calendar and go get your very own Los Angeles bagel at the following shops and quasi-delis.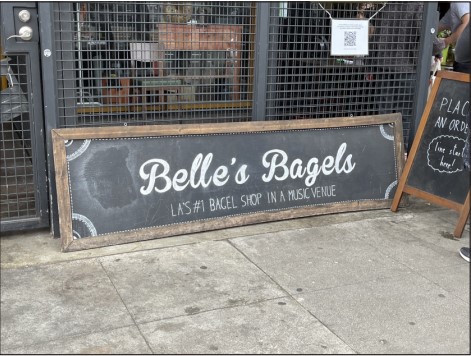 Like a lot of young bagel bakers, James Rocchio and Nick Schreiber's origin story behind Belle's Bagels includes an unconventional, scrappy millennial path involving home baking and pop-ups in unorthodox settings. The Westlake sandwich gives a nod to Langer's, using pastrami from RC Provisions (the distributor of choice for many L.A. delis), while the North of York sandwich caters to the neighborhood demographic with avocado (of course), and Sbez hot sauce from Silver Lake restaurant Eszett to add spice to cucumbers, radishes, sprouts, and pickled onions. An expanded deli menu and bar is in the works in its relatively new, bigger Highland Park digs.
5022 York Blvd., Highland Park
(323) 739-6336 | bellesbagels.com
Instagram: @bellesbagels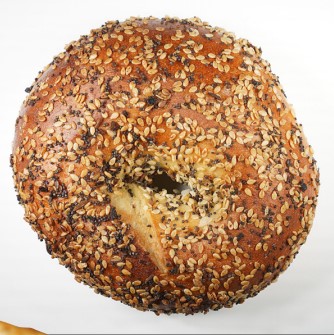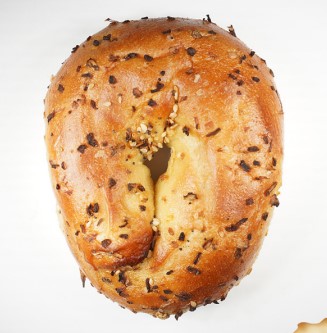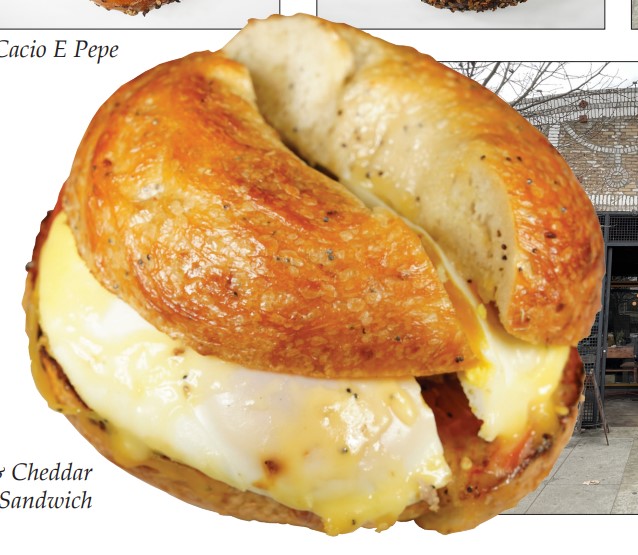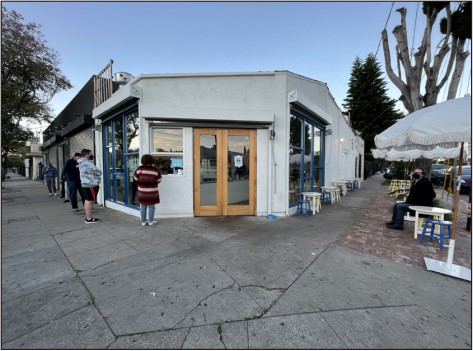 A few years ago, my husband happened to buy a couple of Montreal-style, extremely unique bagels from an earnest baker who was selling them from her bike parked by Intelligentsia Coffee in Silver Lake. Flash forward a few years, and this story is somewhat akin to saying you saw a major rock band in a small club before they became an arena act. Said baker was Arielle Skye, founder of Courage Bagels on Virgil and the stuff of Instagram legend. And once I had one of her Montreal-style bagels again, I got why fans who can spare an hour-plus put in the time to get the platonic ideal of a blistered and charred crust. The springy interior supports open-faced sandwich toppings that range from California sun-kissed perfectly ripe tomatoes to wild salmon roe, composed like mesmerizing bold color field paintings.
777 North Virgil Avenue
Virgil Village
couragebagels.com
Instagram: @courage_bagels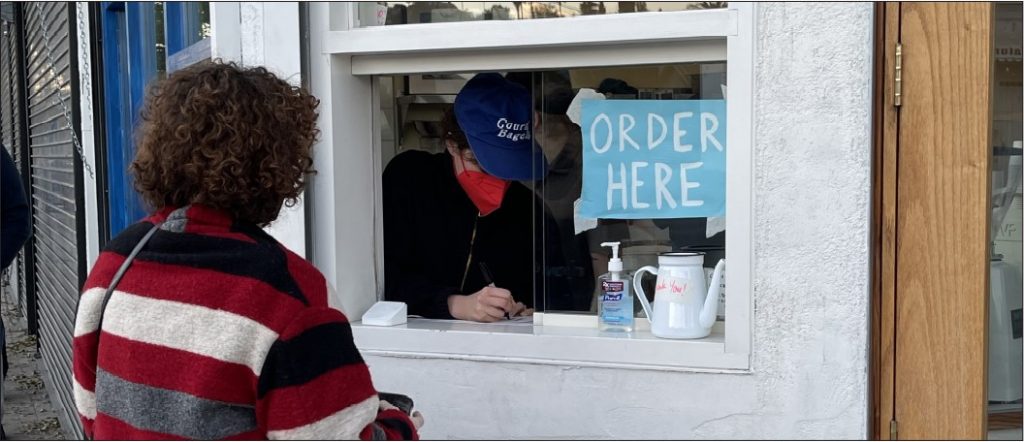 Despite the initial intention to open a sandwich-focused breakfast and lunch spot, "it became clear within the first week that no one cared about anything else but the bagels, so I shifted our whole focus," says Trevor Faris. Along with his wife, Kelley, he opened Hank's — dubbed "a deli of sorts" — in Burbank, and added a larger Sherman Oaks location in February 2021. "I wanted to give people what they wanted," so the business specializes in wild fermented, slow-rising dough for its bagels and bialys, and using flour from smaller farms and mills. Faris notes that Hank's most popular items are the #1 sandwich, a high quality riff on bacon and cheddar with a touch of maple syrup and house-made aioli (this is obviously not a kosher kitchen), and the #3, a Californian's dream of a gravlax bagel sandwich, loaded with scallion cream cheese, fresh tomatoes, sprouts, radish, salted cucumber, and pickled onion.
4315 W. Riverside Drive, Burbank
13545 Ventura Blvd., Sherman Oaks
(818) 588-3693
hanksbagels.com
Instagram: @hanksbagels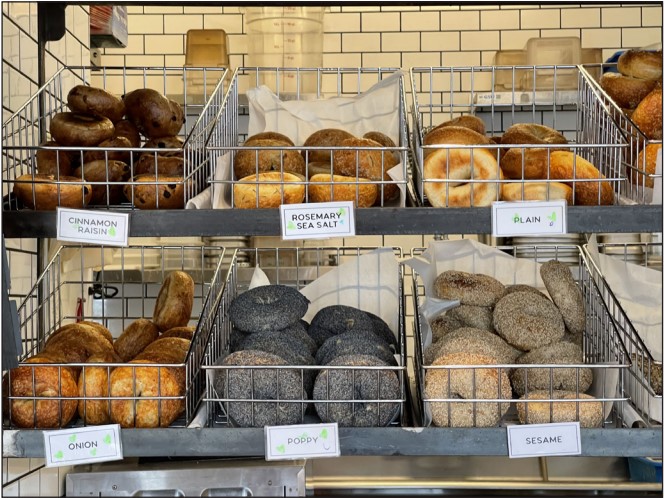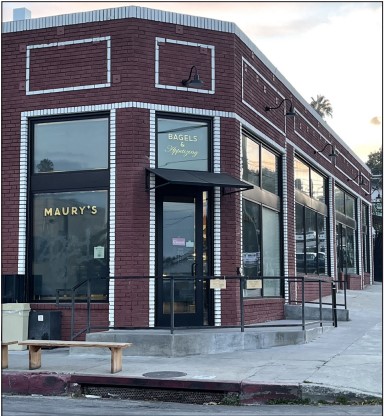 After finding a loyal following at the Hollywood Farmers' Market, Jason Kaplan opened Maury's bagel shop in a low-slung vintage brick building at the southern swath of Silver Lake. These are bagels with a particularly salty, malty tang, and its gluten structure and well-defined crumb (in bread geek speak) is evident from the first bite. Maury's also stocks the full suite of fish topping options, including kippered salmon, and dips into the well of other Jewish baked goods, with a limited supply of golden braided challah on Fridays and rugelach on weekends.
2829 Bellevue Avenue, Silver Lake
maurysbagels.com
Instagram: @maurys_losangeles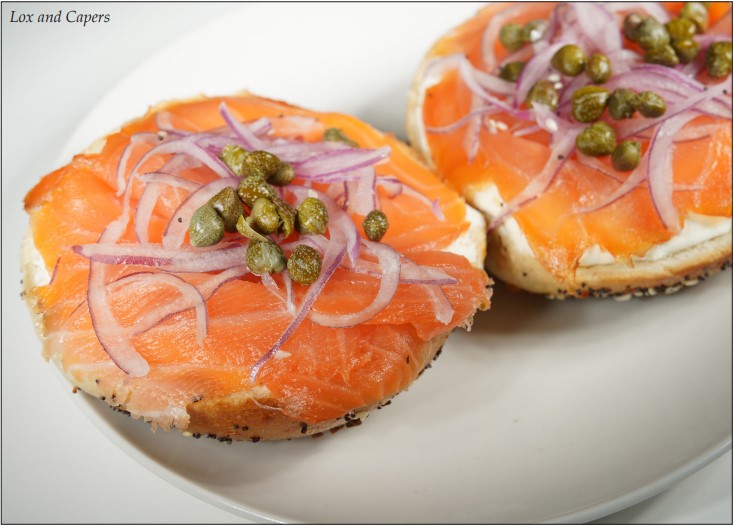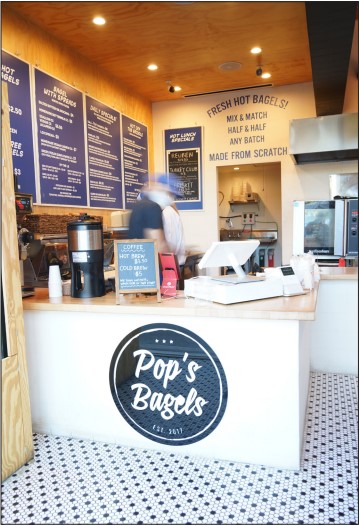 Like many other passionate bakers in the L.A. bagel scene, Zach Liporace started Pop's in 2017 to make a bagel that satisfied his own standards. This collective kvetch is now our gain. Liporace moved from his first Culver City storefront to Brentwood, and will be returning to his Culver City beginnings this year with an additional outpost. In addition to the classics, Pop's dietary restriction-friendly repertoire includes gluten-free bagels and house-made vegan cashew cream cheese, and ships nationally via online gourmet food platform Goldbelly. At lunch, go big with a BBQ brisket melt bagel sandwich.
11928 San Vicente Blvd., Brentwood
popsbagelsla.com
Instagram: @popsbagelsl