The Village by Cornerstone
The way a community treats people with disabilities is very telling.
In the Beverlywood area of Los Angeles, there's a growing understanding that meaningful interaction with adults who have developmental disabilities uplifts everyone.
"When I was growing up," Hendel Schwartz said, "I never saw anybody with a disability. There was some sort of stigma attached, but we're not living in those times now."
Individuals with differences are integrated into so many aspects of community life—from schools to workplaces—but there's still a long way to go.
"We can't sit on our hands," Hendel adds, "especially when we realize what the future could be."
This New Year, celebrate renewal and community with a fi rst-of-its-kind inclusive housing project located in the heart of Beverlywood!
Hendel and Eric Schwartz are among a group of families who have successfully raised children with intellectual or developmental disabilities (I/DD) and are working hard, through a charitable organization called Cornerstone Housing for Adults with Disabilities, to ensure the creation of The Village in the heavily Jewish greater Beverlywood area of Los Angeles on Pico Boulevard, near Beverly Drive. They envision a fully inclusive, new 64-unit apartment community that will provide housing, support services, social enrichment, and job opportunities for a mix of adults who are able to take care of their own basic needs.
"There's a need for this," Eric Schwartz says. "We will impact the larger conversation about people with disabilities and serve as a model nationally."
Hendel and Eric's son, Daniel, has been working at a supermarket in Beverly Hills—a job he loves—for fifteen years. Diagnosed with cerebral palsy, Daniel benefited from many special services as a young boy.
"When you have special needs, you can feel very isolated," said Daniel's mother, Hendel. "Now an adult, Daniel needs both privacy and the opportunity to be social with friends. The Village will provide people like Daniel with much[1]needed community."
Aviva Krieger, whose husband Scott serves on the Cornerstone board, adds that the location of The Village in the middle of a vibrant Jewish community is a major factor in providing quality of life.
"This will really allow both the participants and the community to benefit," Aviva says. "What's in the location now is not very attractive. People are excited about a beautiful new building with lovely common areas, landscaping, and an exciting ground floor retail space. It will elevate the whole neighborhood!"
Dr. Ernie and Frieda Katz became involved with ETTA when their son, DANIEL SCHWARTZ Jacob, now thirty-eight, was just eight years old. Jacob attended Santa Monica College and now has a job as an office assistant at the local YULA Boys High School, which he walks to every day.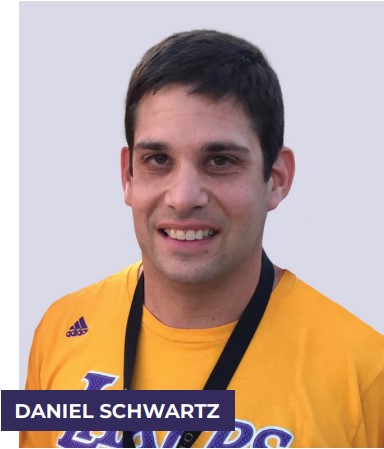 "When we heard that The Village would be right in our backyard, where Jacob is familiar with everything, it's an incredible thing!"
"Not only will it give the residents of The Village an opportunity to interact with and be part of the community. It gives the community a chance to come in, participate, and see people with special needs being included", said Dr. Katz.
Jacob's parents describe him as the unofficial mayor of Beverlywood, with strong connections throughout the community, largely through ETTA and its volunteers.
"Through ETTA programs and his job in the office of the YULA Boys High School, Jacob has worked with hundreds of young adults, seeing them grow throughout the ranks" Frieda said. "Not only did it make an enormous impact on Jacob, it was an important experience that the high schoolers and program participants cherished as well. That's why it's so important that a project like The Village be included in the fabric of the greater Beverlywood neighborhood."
Discover what some potential residents of The Village have to say about the exciting new development.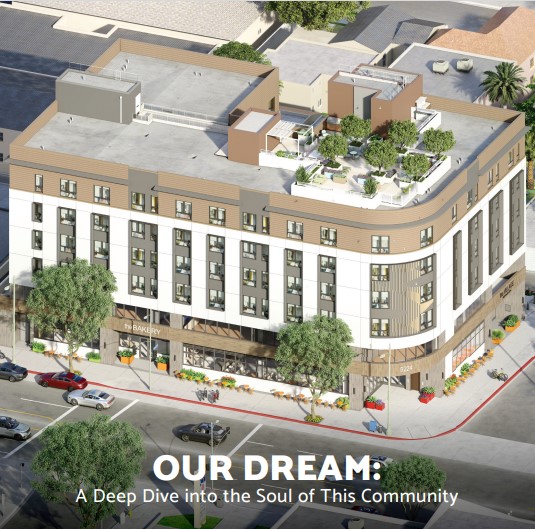 The dream began thirty years ago with the creation of ETTA, a nonprofi t dedicated to providing support and services to Jewish people with developmental disabilities.
Psychotherapist Dr. Michael Held continues to lead the board and staff of ETTA, now the largest agency of its kind in Southern California, serving upwards of seven hundred individuals every month. The next frontier in the evolution of the dream is the creation of The Village: A supported, independent apartment community in the heart of Beverlywood built by a newly created 501c3, Cornerstone Housing. Dr. Held serves as the project's Executive Director.
"Our vision of inclusion has always involved the surrounding neighborhood, so that those we serve can lead full, integrated lives, as independently as they are able," said Dr. Held. "A person who has a learning or developmental disability has the right to be in a community that feels natural—which is usually the community in which he or she grew up, where family and friends live, where they worship and volunteer.
What we mean by inclusion is that when residents walk down the street, other people know them, and they know others."
Dr. Held points out that, over the decades, autism has become the prominent form of intellectual and developmental disability (I/DD) and that while each person with autism is unique, many struggle with social interaction and communication.
"Our vision of inclusion has always involved the surrounding neighborhood, so that those we serve can lead full, integrated lives, as independently as they are able."
"To best meet the housing needs of this tsunami of young adults coming of age, we're focused on the emerging model of supported independent apartments." Dr. Held explained that this project is geared to serve those who don't require overnight staff to ensure their safety. "These apartments are for individuals who can manage their own personal needs and seek both housing and community."
He describes The Village as a community within a neighborhood, in which the ground floor will be devoted to retail and employ adults with various disabilities where feasible. The second floor will be a community space with a kosher dining hall, a fitness center, and laundry facility, plus a coffee bar for both residents and neighbors, as well as a beautifully terraced indoor/outdoor gathering space for programming of all kinds.
"Residents will lead the way in creating their environment," Held said, "and the professional staff will be there to support and assist them. We're even planning a podcast studio!"
Purchasing the land and building this apartment community in the center of Beverlywood was very intentional. In fact, the board and staff of Cornerstone Housing, the 501C3 that will build The Village, see its location in a city center as a national model. If you're going to be fully inclusive, the thinking goes, you must provide housing opportunities for people in their own neighborhoods, particularly when so many in this population are unable to drive.
"This is going to be a beautiful building, with two subterranean floors of parking, two stories of retail and community space, four floors of 64 apartments, attractive landscaping, and a 5000 square foot rooftop with an unobstructed, panoramic view. This addition will completely enhance and elevate the neighborhood and will make people feel good," Held said with pride.
While The Village is designed to meet the needs of adults with I/DD, it will be populated by a mix of adults who understand what an inclusive community like this can mean for enhancing one's life.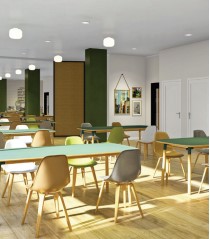 "We're already hearing from community members who want to be involved," Held said with palpable enthusiasm. "A chef and published author offered to teach Challah and dessert making; a retired librarian said that she'd like to coordinate events. We have so many talented people in this community – from a cellist to an origami expert – who will bring exciting opportunities to our residents."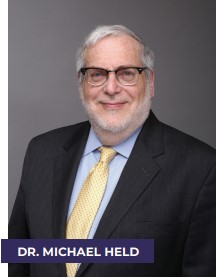 Today, Dr. Held wants to share this story. He and his team are confident that people will be attracted to the goal and nature of the community being formed and will want to support its development in whatever way they can. Demolition will start this fall, with groundbreaking anticipated for the spring of 2022, and potential opening occupancy in April 2024.
When asked what initially drew him to serve this population, Dr. Held was hesitant to generalize. "I met people diagnosed with developmental disabilities who were so honest and open, with absolutely no guile, people who had a tremendous capacity for gratitude. I was deeply inspired and continue to be filled with joy." Dr. Held is absolutely certain that there are countless people whose lives will be enriched and whose souls will be elevated by living in a community of neurodiversity.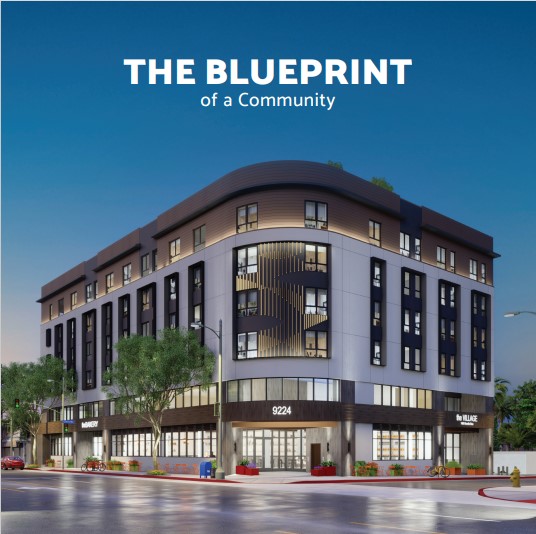 A rooftop terrace juxtaposing an oasis of nature with breathtaking city views. A sunlit activity room where residents and community members watch an art teacher demonstrate painting techniques. From the start, every element of The Village's visionary design has pursued a single purpose: to create joy and community.
The Village will provide homes for more than 60 neurodiverse and neurotypical individuals, offering a space where residents and neighbors, friends and family, can celebrate each other's company. With one floor of public shopping and dining, one floor of common spaces, and four floors of apartments, The Village will form a gathering place and a destination that will add beauty and life to Los Angeles's bustling Pico neighborhood.
"From the beginning, every conversation has been about being inclusive, bringing people together, making people feel good, wanting people to socialize with other people, "says architect Ewa Opasinski, principal at Urban Architecture Lab. The interior design team, led by Ariel Johnson of Ariel Fox Design, envisions the Village as a "circle of wonder," describing its ambience with words like "together," "curiosity," "balance," and "independence."
A project of this magnitude takes, well, a village. Altogether, about 50 different professionals are working to bring this building to fruition—but the owner, the architect, and the interior designer are the heart of the project, collaborating on a nearly daily basis.
Envisioning and championing this project are Cornerstone, ETTA, and Ensemble Real Estate Solutions and Investments. Partnering with them are Richard Solares's Urban Architectural Lab, and Ariel Fox Design, with Hannah Askey as project manager. Ewa and Ariel gave generously of their valuable time to share what it is like to work on such an ambitious and innovative project, and to offer a sneak peek at some of the building's most original features.
While both Urban Architecture Lab and Ariel Fox Designs specialize in multifamily developments, this project presents the exhilarating challenge of uncharted territory. "The charge was how to create a community that is really the first of its kind in LA," says Ariel. And not only in LA, adds Ewa. "Projects like this are very rare, especially in urban environments."
Being the pioneers carries an awesome responsibility; The Village's team is consciously designing not just a building, but a model. "I really hope this is setting the bar very high for inclusive developments," says Ariel. "This is going to not only help the community, but it's going to help the communities in the future."
"Projects like this are very rare, especially in urban environments."
Ewa echoes this sentiment. "We're creating a catalyst that, if this building is successful, hopefully other developers, other communities, other foundations, will look at this project and say, 'Hey, it worked in their case. Why don't we develop something like this?'"
But for this to happen, more legal inf rastructure will have to be developed. "As far as I know, there is no piece of legislation that allows for streamlining or expedited approval for the community of people with special needs," says Ewa. To get their entitlements and permits for The Village, the team had to blaze a two year long, laborious legal and regulatory trail. "I hope someone will lobby city and state officials to create some kind of help, speed up the process, and create ways for more projects like this to happen."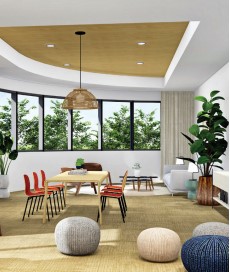 Ewa and Ariel immediately embraced the challenge of catering to an unfamiliar audience. Says Ariel, "One of the greatest joys of this project was learning about this community [with intellectual and developmental disabilities, or I/DD]—what they needed, what they love—and then learning some things about ourselves in the process."
Cornerstone provided some guiding principles about creating a space that would be comfortable for everyone, no matter how their brains process information. These include bright, gentle lighting; soothing colors without stark contrasts; and layout that facilitates accurate depth perception.
"The idea is they can have huge events up here, for family events, holidays, movie nights, whatever. It can be a real active community space."
"The use was the topmost priority for us in breaking down everything in the program," says Ariel. "How do we create a community that supports a healthier lifestyle? How can we create spaces that can really assist in creating opportunities, whether it's educational opportunities or learning a skill of some sort?"
In addition to making the spaces comfortable and functional, the team also thought about how to create joy. Ariel says, "We did a lot of research about sensory rooms and spaces— which is so fun! I want to put these in every project now."
A year into the project, before breaking ground, Ewa, Ariel, and their teams have already given their hearts and souls to The Village. "I think about the project when I go to sleep," says Ewa. "I think about the project when I wake up. It doesn't stop." And the results promise to be magnificent.
In keeping with the mission of bringing people together, the entire second floor comprises indoor and outdoor space people can share. And for every space, says Ewa, the team asks itself, "How can we design this so people want to come here and socialize with other people?"
These spaces include a coffee bar, three activity rooms that offer classes to residents and community members, a fitness room that opens onto the terrace, a podcast room, open offices, and more. "There will be a kosher kitchen, and the residents will be able to dine together here," says Ariel. Residents will be able to celebrate Shabbat and Jewish holidays together in the dining room as well.
The rooms are meant to accommodate every mood—some lend themselves to sitting quietly with a book or iPad, surrounded by friendly neighbors who come over to say hello. Others encourage small groups. And the spaces are flexible enough to accommodate large gatherings. For instance, the three activity rooms are partitioned by bifold walls that can open to create a single large area, spanning the length of the floor. Says Ariel, "The idea is they can have huge events up here, for family events, holidays, movie nights, whatever. It can be a real active community space," almost like a JCC.
The next four floors are residential, with spacious, sunlit studios and one- and two-bedroom apartments. Dr. Held, the project's Executive Director, insists that The Village's apartments should be comfortable for anybody, regardless of their challenges.
On the seventh floor is one of Ewa's favorite spots: the roof deck. "It literally takes a third of the entire roof footprint. We worked with the landscape architect to create this wonderful space with lots of planters and trees and a trellis. There are string lights, so at night it's going to be this beautiful, beautiful place to be. You can see the entire city, so I think it allows you to take a breath and just relax. There's a firepit up there, too.
"The roof deck is big enough to hold bigger gatherings, but the furniture can be rearranged so that on a regular day, we're creating a bunch of private pockets where people can go read a book, or meet a friend, or just hang out. I can't wait for this space to happen… it's going to be wonderful."
The owner, architect, and interior designer communicate almost every day, and have for more than a year so far. And throughout the project, Ewa's and Ariel's admiration for the Cornerstone team has only grown. Everyone "really, truly cares about the people who will live in the building," says Ewa. "You can sense it right away from the conversation."
For Ariel, one of the highlights of the project was a rare live design development meeting. "Dr. Held has an energy around him of incredible love and wisdom. You feel it when you're in the room. It is quite evident why so many people have followed his lead." Meeting Ewa face to face was also a treat. "In person, her energy is just explosive—so excited, so curious, so supportive." Ariel appreciated Ewa's obvious enthusiasm over the table of finishes she had brought. "We don't expect fireworks every time, and she was giving us fireworks."