Look at Jewish Bakeries in Los Angeles
It is early afternoon on a Wednesday and Fairfax is quiet. Not too long ago, it was a bustling street. Post-pandemic Fairfax has an eerie feel—you can even find a parking spot. 
Diamond Bakery looks quiet on the outside. Its bold, blue-painted façade stands out against the cement-grey sidewalk on a sunny day. As soon as you open the door, though, you see the line of people waiting to be served breads and pastries by the two women working behind the counter. A few customers chat with each other at small bistro tables. 
Cake and conversation are not a new tradition for Jewish bakeries. Back in the day—and by that I mean the late 19th century and early 20th centuries— Jewish bakeries were gathering spots, much like cafes and coffee places are now. They were not just places to stop in and buy challah or hamantaschen, but places to socialize, run into friends and neighbours, and share information. 
In his 2009 article for The Atlantic, "The Secret History of Bagels," Zingerman's co-founder Ari Weinzweig writes that in 19th-century Poland, bakeries, "seem to have served much the same role cafés did in other countries—they were where young people in the Jewish community would gather to discuss new, radical political ideas." 
Since bakeries were a part of everyone's daily life, they were safe spaces. Weinzweig notes, "one didn't have to make excuses for being seen there. People of all political stripes and all ages went to see the baker regularly, so stopping by to score six bagels or a loaf of rye was as normal as could be. But dreams, visions, and generally unacceptable (if not often outright illegal) ideas about socialism, communism, Zionism, and anarchism were rising along with the bagel dough." 
Eastern European Jews brought this notion of the Jewish bakery as gathering place and de facto community center with them to the United States. As the population moved west, so did the Jewish bakery and its culture. In Los Angeles, the history of Jewish baking goes back more than a century.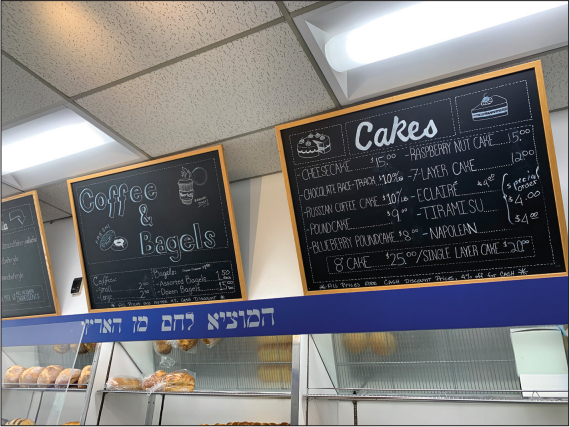 When Jewish people first migrated to Los Angeles, they settled on the east side of the burgeoning city, in the Boyle Heights-East Los Angeles area. In her Ph.D. thesis, Visions of a Jewish Future: the Jewish Bakers Union and Yiddish Culture in East Los Angeles, 1908-1942, Caroline Luce notes that, "by the 1920s, the commercial district between Brooklyn Avenue and East First Street in Boyle Heights became the epicenter of the Jewish food chain, home to dozens of Jewish-owned food-related businesses serving some ten thousand Jewish residents. Bakeries, delicatessens, restaurants, butchers, pickle barrels, fishmongers and groceries lined both Brooklyn Avenue and East First Street and the streets between them."
This concentration of Jewish immigrants and migrants in the eastern part of the city created a burgeoning ethnic enclave economy. Writes Luce in Radicalism in the Ethnic Market – The Jewish Bakers Union of Los Angeles in the 1920s, "Most Jewish bakers in Los Angeles continued to work in small retail bakeries, a few skilled bakers working alongside semi-skilled apprentices and unskilled bakery helpers. In many cases, the proprietor of the bakery would himself work in the bakery alongside of his workers and serve as foreman, salespeople, clerks and other supplementary staff positions most often filled by their children, wives and other relatives. The intimacy of the bakeshops ensured that some bakers were treated like family." 
For their skill and specializaion, workers were often rewarded. According to Luce, "the preparation of challah, matzah, and particularly bagels requiring special techniques and recipes bakers inherited through apprenticeships. While their ability to bake bread would have helped them to find employment in non-Jewish shops, like the butchers, the Jewish bakers' specialization had little relevance to non-Jewish employers."

Not every bakery treated their workers well and not every owner toiled alongside their employees. Conditions began to worsen for some bakers. On the east coast, awful working conditions had led to unionization. In the 20th century, says Weinzweig, "bagel bakers worked under very difficult conditions, often in airless basements, toiling fourteen hours or more, six or seven days a week. Bagel bakers, and later bagel bakers' unions, were rather prominent in left wing politics."
In Los Angeles, the Jewish bakers joined the only bakers' union in the city, Local 37 of International Bakery and Confectionery Workers Union (B&C) of the American Federation of Labor (AFL). Local 37 grew in strength by organizing all of the bakers in Los Angeles—not just particular demographics. They recognized the Jewish bakers in their ranks by creating a Hebrew baking branch of the Local around 1918. Responding to pushback from bakery owners, the Jewish members of Local 37 formed their own bakers' union in 1924, Jewish Bakers Union Local 453.
Local 453 adopted labelling to signal to their customers that a loaf of bread or a cake had been made by a union baker and not by what was known as "the bread trust" which included national brands like Wonder bread. This allowed Local 453 to reach women, who did the bulk of the buying. Though women were not typically included in work or political spaces, opting to buy union bread was a simple way to support their community. In Visions of a Jewish Future Luce writes, "By encouraging local residents to "buy Jewish," the Jewish food vendors and merchants of Boyle Heights attempted to reconstruct the shtetl market and maintain their role in the Jewish food chain."
As we face questions about food justice, consuming local and organic foods, reducing our footprint in food production and distribution brought on by climate crisis, there is already a local, fair-trade, community-based model—one from a hundred years ago—in the successful history of Jewish bakeries of Los Angeles and its union. "By the 1940s,' writes Luce in Radicalism in the Ethnic Market, "Local 453 ranked 15th … in sales of union label goods, having sold over 29 million breadstuffs with union labels between 1941 and 1946, despite being significantly smaller than both their parent union and larger industrial baking unions in eastern cities."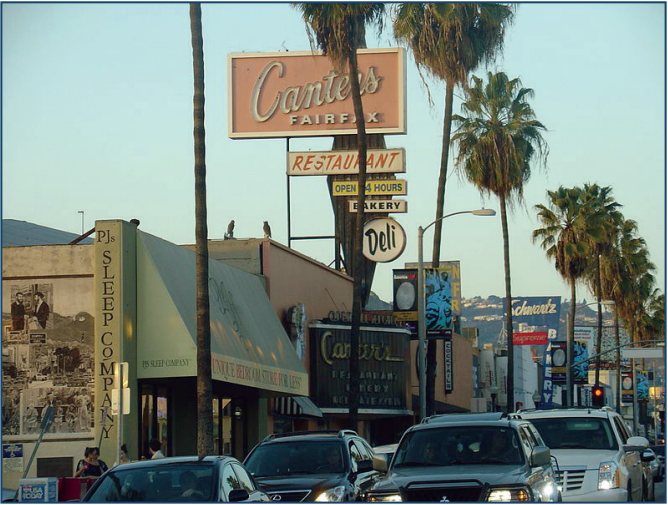 It was during this time that the Los Angeles Jewish community began migrating further west in the city. Though fairly desolate in the 1920s, the Fairfax district bloomed in the 1930s and 40s. The area came to life when first a football stadium was built (currently CBS Television City). The original Farmer's Market began in 1934, with its famous clock tower rising in 1948. There was also an earlier version of the Fairfax High campus and the Silent Movie Theatre.
The Fairfax district became the new Los Angeles hub of Jewish businesses and life. Bakeries that have come to define the idea of traditional Jewish bakeries sprung up in the area; many founded by Jews who came here during or postWorld War II. Some of the earliest ones, like Diamond and Schwartz's, sat alongside Judaica shops, Jewish markets, and other businesses run by Jews or central to Jewish life. Canter's relocated from Boyle Heights to 439 Fairfax in the late 1940s and moved to the larger space at 419 Fairfax in 1953, where it became a deli, bakery, and a cultural space. 
There are still Jewish shops among the boutiques and cafes of Fairfax, though in the ensuing decades, Jewish businesses have sprung up from Pico-Robertson through to the edges of Los Angeles country. Last year, one of the most beloved local Jewish bakeries closed its doors. After 65 years, Beverlywood Bakery went out of business. This closure was felt deeply by the community, but luckily, they can still get their favorite treats, now made blocks away at Factor's Famous Deli. 
Some local bakeries have diversified in order to thrive. Kosher bakery Schwartz's first opened on Fairfax in 1954. In 1979, the bakery was sold to the Sibony family, originally from Morocco. Now partnered with Circa NY, Schwartz's is no longer just a bakery. They have five locations, which include a market place (meat) and cafés, as well as online ordering. 
When you ask people where they get their challah, the response is very often Viktor Benês. The story goes that the owner of Gelson's regularly bought his bread from the original 3rd Street bakery. One day, he proposed that Benês sell baked goods in Gelson's five locations. They came to an agreement and Viktor Benês maintained in-store bakeries at Gelson's, eventually shuttering the original West 3rd Street location. As Gelson's expanded into more locations, so did Viktor Benês. Originally opened by Czech immigrant Benês in 1966, according to their website, "In 1973, Viktor Benês passed down his recipe for success to two entrepreneurial bakers from Italy, Ugo Mamolo and Ruggero Terzuolo." In addition to Gelson's, Vicente Foods, founded in Brentwood in 1948, has been selling Viktor Benês products for over thirty years.
Professor, journalist, historian, and poet Mike Sonksen, author of Letters to My City, recalls fondly visits to Katella Bakery in Los Alamitos with his grandfather.
While it may be a bit off the beaten path, Katella Bakery has been serving customers since 1964. A family business, it was started by a couple who came to the US from Eastern Europe and is now run by their sons. Though they have grown and changed with the times, they remain true to many of their parents' recipes and state that, "A portion of the original mother dough still starts each and every loaf we bake." 
The same is true at the Diamond Bakery—the rye starter has gone for 70 years without interruption. Though under new ownership since June 2021, the bakery hews close to tradition. Journalist Natalie Windsor, a loyal customer, takes care to point out the Hebrew lettering of the HaMotzi painted on the wall behind the bakery counter. Although it seems like it has been there forever, it's new. COO/co-owner Doug Weinstein added it in order to place "the prayer over the bread"— literally. 
Bread is a huge reason people love Diamond Bakery. Weinstein has stories about the bread. One he heard from the daughter of a man who ate a sandwich at Greenblatt's in 1955 and fell in the love with the bread. They wouldn't tell him where it came from, so he staked out the bread delivery truck and followed it back to Diamond. Another involves someone booking an intentional layover at LAX so they could get into a taxi and come to Diamond and fill up an empty suitcase with loaves of bread to bring home. 
Running a bakery is a complicated business. Weinstein explains that there's a "bread crew" that works late afternoon to midnight so that the bread is ready to be sliced in the morning and shipped or sold. The crew consists of a mixer, a shaper and a baker, though they sometimes overlap roles. The morning shift is the "sweet crew" working on the cookies and cakes. They come in at five and work until opening. There are packers and drivers delivering from Orange County to the Valley and everywhere in between. And of course, the staff, who serve the customers in front. 
Diamond, the only remaining stand-alone Jewish bakery on Fairfax, relies on the shop and the products it provides to local restaurants. When restaurant partners close, like Greenblatt's in August 2021 after 95 years in business, it can be a big blow. Weinstein emphasizes that he, "didn't buy this place to get rich," but to, "save the legacy of Jewish baking, to keep that alive for a younger generation." He says, "There are no cupcakes," to emphasize Diamond's commitment to traditional recipes and flavors. 
As with most businesses, Diamond saw a dip in sales during the pandemic. Before, says Weinstein, the line would go out the door. He's hoping to see that long line again as more customers return to the bakery. While retail may be the heart of the business, wholesale is the anchor. Weinstein has plans to reinvigorate the business and hopes to resume Diamond's wholesale business with Trader Joe's by implementing the food traceability procedures that are now necessary to sell to retail chains. (He encourages customers to get involved by writing to retailers like Trader Joe's to request they carry Diamond products again.) 
So, are local Jewish bakeries endangered? 
Luce counts generational upward mobility and shifts in traditions and customers as reasons why the classic Jewish bakery may have been in decline in recent decades. She points out that The New Deal raised minimum wage and improved working conditions for many. With this came a shift in geographies, culture, and rituals. "Eating like Americans" offered assimilation via the consumption of processed foods and national brands. Over time, a lack of interest in the food culture developed. New Jewish populations from varied locales streamed into the city, opening their own synagogues, shops, restaurants, and bakeries. Tastes changed and so did bakery culture. 
Changes in demographics and eating styles can feel like a threat to the ecosystem of foods we love to eat, but maybe feel a little guilty about indulging in too often. Those comfort foods we all turn to when times are tough or when friends and family gather together for celebrations. The foods we expect to always be there. 
Happily, several beloved local bakeries like Diamond, Schwartz's, and Viktor Benês are still going strong. New entries like Mensch, on Beverly, and vegan deli Mort & Betty's, with downtown and at pop-up locations, are reclaiming and reimagining baking traditions for a new generation. The Los Angeles Jewish food chain continues evolving, changing with times and tastes, and always has a good nosh waiting for you.