Rosh Hashanah Menu – Cafe Leza

Apple Roasted Butternut Squash Soup -V serve warm or chilled
Herb Mixed Green Salad with Roasted Beets Persian Cucumber,
Candied Pecan &
Gorgonzola Cheese (optional)
Lemon Pomegranate Vinaigrette
Braised Short Ribs in a Red Wine Redux
Roasted Chicken Quarters & Breast in Savory Apricot Soy Glaze
Persian Basmati Rice with Caramelized Cinnamon Carrot & Onion
Apple Rosette Pastries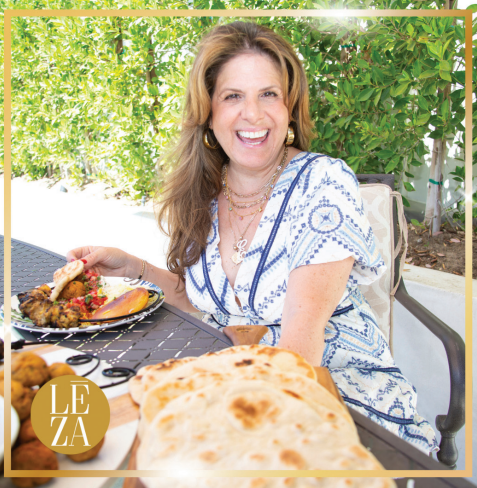 As a child of immigrant parents, I did not fit the mold of what was expected of me. I was not interested in being married off by the time I was 21, nor did I want anything to do with my parents' "old-fashioned ways". Bah, humbug. I wanted lights, camera and action. Well, guess what? I found it! Yep, right back in the delicious roots of my heritage. I know, I know, how funny. The apple does not fall too far from the tree, no matter how hard she may try. What can I say? These dishes are my roots, they are my memories, my Neshama; they make up the essence of who I am. At the very core, these traditions are made up of incomparable hospitality, perseverance, grit, and flavor.
My mama was born and raised in Tehran, Iran. Her parents left southeast Russia, Azerbaijan, Uzbekistan as teenagers to settle in Tehran. There my grandmother raised four children, taught them Russian at home, Farsi was learned in the streets and French was taught at school. My dad's family traveled across the Silk Road, from Mashhad, Iran to be among the first settlers in Israel in the 1800's. After my parents were married, they eventually immigrated to the US; Hollywood, California. A few years later I came into the picture. Truly, I think I came into the world singing, "Don't Rain on My Parade." Mom must have been listening to a lot of Barbra Streisand. I somehow have a Brooklyn accent that no one can explain. As you can imagine our holidays were always filled with incredible food, family, and friends. My grandmother, Babu (short for Babushka) was the ultimate chef. My mother, too, inherited her culinary skills, going further by teaching herself how to bake French Style pastries and cakes at home. Every year during the holidays. I had a reserved seat at both their kitchen tables. Like so many young Jewish children, we witness the forming of our family's tradition from the point of view of an eight-year-old peering just over the top of mama's and nana's stove tops and counters.
Today, I am a personal chef, and caterer. Owning my own company, LĒZA. I am proud to bring you my family's traditional dishes with a twist. You cannot grow up in Los Angeles and not be inspired by our Latin American and Asian American friends. Their flavors, herbs, and spices, I have discovered (to my unbridled delight) marry so beautifully with Middle Eastern Flavors.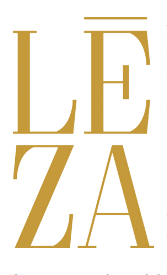 Without further ado, I bring you recipes that honor Rosh Hashanah's prayers for gathering – Rimonim, using pomegranate seeds and vinegar in our salad course. Sweetness is added with Tapooah, Apples, in our elevated soup course of Apple Butternut Squash soup. Try it chilled, it's delish. Perfect for the hot days that always fall around the High Holy Days. Celebrating the autumn harvest, continues, with beets, and nuts. For dinner, I offer another autumn harvest vegetable, the humble carrot, in our Caramelized Cinnamon Carrot and Onion Basmati Rice. The cinnamon beckons us to exotic lands and the warmth of the season. This dish is the perfect pairing with our twist on the familiar roasted chicken and braised short ribs. I know we love a good brisket. But these short ribs, will melt in your mouth and are super easy to prepare. To end this wonderful journey, the apple rosettes. You will be amazed at how easy these are to make. We will be calling you Chef! Enjoy these delicious, but not so-traditional dishes this year. If you try them, I would love to hear from you.
Roasted Beet Herb Salad with Pomegranate Seeds, Candied Pecans & Gorgonzola
Servings: 4 – 6
Prepping time: 20 min
Cooking time: 0 min
Ingredients:
2 Bags Herb Salad Mix
2 heads Roasted Beet
1 Cup Pomegranate Seeds
1 Cup Red Onion – Julienned (long strips)
1.5 cups Persian Cucumber sliced on the diagonal
1 Cup Candied Pecans 1/2 crumbled Gorgonzola *optional
Dressing:
1/4 C Fresh Lemon Juice
1/4 Pomegranate Vinegar
1 tsp. Dijon Mustard
1-2 cloves garlic, minced
1 shallot, minced
2 tsp. Honey or Agave (to taste)
1 Cup Extra Virgin Olive Oil
Salt & Pepper to taste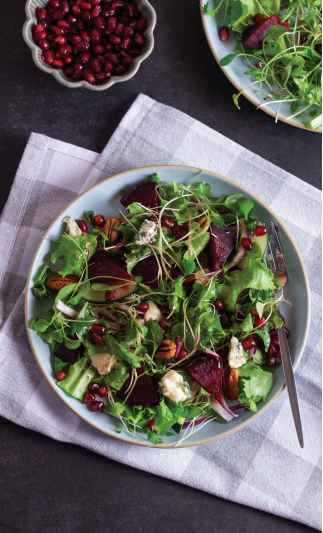 Directions:
1.Do Ahead: Roast trimmed and washed beets in 400 oven for 40 minutes, or until fork tender. Let cool. Peel & quarter or slice as your heart describes; set aside. 2 Pour 1/4 – 1/2 of dressing in bottom of salad bowl. Layer all ingredients in bowl, beginning with sliced onions, except pomegranate seeds, pecans and cheese. Cover. Keep refrigerated until ready to serve. 3. When ready, add candied pecans and gorgonzola (if using), toss from bottom up to incorporate dressing. Top with Pomegranate seeds. Add more dressing to taste or serve on the side for guests to add as desired.
Dressing Directions:
Pour all ingredients into a mason jar. Shake well. If it tastes bitter or sour, add more honey. Adjust seasoning. Will keep in fridge for up to a month. You can also easily double this recipe for more!
INDIAN SUMMER APPLE & BUTTERNUT SQUASH SOUP
Serve Chilled or Warm
servings: 4 – 6
prepping time: 30 min
cooking time: 30 min
Ingredients:
1 Med Size Butternut Squash, seeded, cut into squares 2 Large carrots chopped
2 Granny Smith Apples divided, peeled and cubed.
1 medium onion chopped
3 cloves garlic, peeled, leave whole
2 T Butter or butter substitute
1 thumb size knob of ginger, peeled sliced
2 stalks lemongrass, white part, thinly sliced
1* Jalapeño, diced, seeded (optional, leave in for more heat)
 Thai Curry Paste, 1/2 teaspoon (more to taste)
1-2 tablespoons of curry powder (to taste)
*Sesame Oil (optional)
Salt & Pepper (to taste)
Lime juice
1 Can Thai, unsweetened coconut milk
42 oz Vegetable Stock or Chicken Stock
Cilantro leaves, diced apple, *jalapeño and pepita
seeds for garnish (*optional)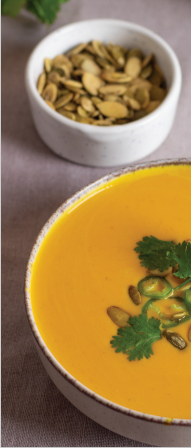 Directions:
1 In large pot, sauté onion, carrots & curry powder in butter, till soft and translucent. Add squash, 1 diced apple, ginger, garlic, lemon grass, Thai curry paste & jalapeño (if using), drizzle with sesame oil. Sauté till tender. 2. Add salt and pepper to taste. Squeeze of lime or lemon juice. Add stock. Bring to boil. Simmer for 10 min. 3. With an immersion blender or juice blender, blend soup. (You may have to do this in batches). 4. Return soup to pot, add coconut milk, bring to simmer. Taste for seasoning. Serve immediately with diced apple, pepita seeds, cilantro and *jalapeño if using. If serving chilled., make a day ahead, refrigerate. Proceed with serving suggestion.
Braised Short Ribs in Red Wine Redux
Servings: 4 – 6
Prepping time: 20 min
Cooking time: 3.5- 4 hours
Ingredients:
2 tablespoons Olive oil 
5 pounds bone-in short ribs, at least 
1 1/2 inches thick – you want beefy ribs 
Kosher salt and freshly ground pepper 
2 large heads garlic, halved crosswise 
1 medium onion chopped 
4 ribs celery chopped 
2 medium carrots chopped 
3 tablespoons tomato paste 
2 cups dry red wine.
2 cups beef stock or bone broth (use 
beef bouillon dissolved in water if 
unavailable; (chicken stock will work 
in a pinch), plus more as needed 
4 sprigs thyme 
1 cup parsley, coarsely chopped 
½ cup finely chopped chives 1 
tablespoon finely grated lemon zest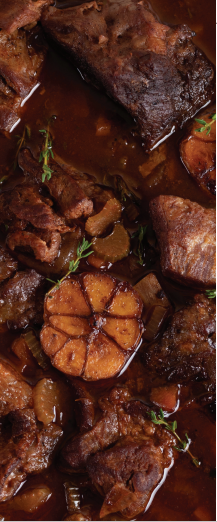 Directions:
Heat oven to 275 degrees. Heat oil in a large Dutch oven over medium-high heat. Season short ribs on all sides with salt and pepper. Working in batches, sear short ribs on all sides until deeply and evenly browned, 6 to 8 minutes per batch. Transfer browned short ribs to a large plate and continue with remaining ribs. Pour off all but 2 tablespoons of remaining fat, leaving the good browned bits behind. Reduce heat to medium, and add garlic, cut side down and cook, undisturbed, until golden brown, about 1 to 2 minutes. Add onion, celery and carrots and season with salt and pepper. Toss to coat and continue to cook until vegetables are softened but not yet browned, about 5 to 10 minutes. Add tomato paste and stir to coat. Continue to cook, stirring occasionally, until tomato paste has started to caramelize a bit on the bottom and up the edges of the pot, about 2 to 3 minutes. Add red wine and, using a wooden spoon, scrape up any browned or caramelized bits. Let this simmer 2 to 3 minutes. Stir in beef stock along with thyme. Using tongs, return short ribs to the pot, along with any juices that have accumulated, nestling them into sauce so that they are submerged (if they are just barely covered, nestle them bone side up so that all the meat is submerged, adding more beef stock or water as necessary to cover). Bring to a simmer, then cover and transfer to oven. Cook, undisturbed, until short ribs are meltingly tender and falling off the bone (you should be able to shred the meat with a fork), 3½ to 4 hours. Using tongs, remove the ribs from the pot, taking care not to let the bone slip out and transfer them to a large plate. (While you could serve the short ribs right out of this pot, the vegetables have all given up their flavor and texture and aren't worth much now, so feel free to strain the sauce for easier eating.) Scatter parsley, chives and lemon zest over the top of the short ribs. Separate the fat from the sauce, season with salt and pepper and serve alongside.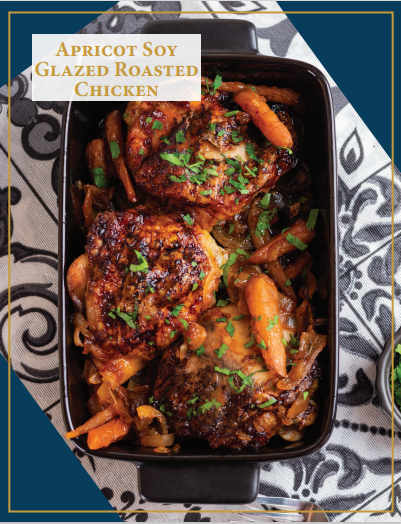 Servings: 4 – 6
Prepping time: 30 min
Cooking time: 45min
Ingredients:
4 lbs. Chicken Thighs & Breast; bone in.
1 t ea. Paprika, Garlic Powder
1 1/2 Cup Apricot Preserves
2/3 cup rice vinegar
2 oz Soy Sauce
2 T grated fresh ginger
4 clove garlic, minced
1 t red chili flakes
Kosher Salt Freshly ground pepper
1 T Olive Oil
1 T Sesame Oil
Juice of 1 lime
1/2 C chopped cilantro
1 2 bags peeled baby Carrots
1 large onion quartered
2 cups croutons
4 cloves garlic, whole
Directions:
Pre-heat oven 450f. Line roasting pan with foil. Lay out carrots, quartered onion, garlic cloves, and croutons in a single layer. Drizzle with 1 T Olive oil. Salt & Pepper to taste. Place the apricot preserves, vinegar, & or lime juice, soy, ginger, garlic, and red pepper flakes in a small bowl and whisk to combine; set aside. Pat chicken dry with paper towels. Drizzle 1 T Olive and 1 T Sesame Oil, add Salt & Pepper to taste, paprika and garlic powder, massage into chicken pieces. Lay chicken on top of vegetable bed. Roast uncovered until golden brown, about 20 min. Next: Pour half of Apricot glaze to coat all of chicken. Continue to roast until deep golden brown – another 20-25 minutes. If chicken is getting too dark, reduce temp. to 400f and tent with foil, for remaining time. Serve remaining sauce as a side or pour over chicken after done. Chicken should be tender and juicy. If using chicken breast, remove from oven 8 minutes after being glazed, tent and set aside. Plate with thighs. Sprinkle with chopped cilantro. Serve!
Persian Basmati Rice with Caramelized Cinnamon Carrot, & Onion with Potato Tah-Dig
Servings: 4 – 6
Prepping time: 30 min
Cooking time: 30 min

Ingredients:
3- 4 cups Basmati Rice 
1.5 cup Shredded Carrots ½ cup Grated Onion 
1 T Cinnamon tsp. ea. Salt & Pepper 
1 Large Russet Potato – washed, not peeled 
1 t Turmeric powder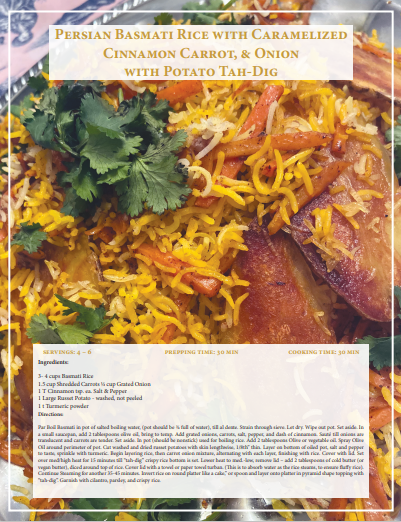 Directions:
Par Boil Basmati in pot of salted boiling water, (pot should be ¾ full of water), till al dente. Strain through sieve. Let dry. Wipe out pot. Set aside. In a small saucepan, add 2 tablespoons olive oil, bring to temp. Add grated onions, carrots, salt, pepper, and dash of cinnamon. Sauté till onions are translucent and carrots are tender. Set aside. In pot (should be nonstick) used for boiling rice. Add 2 tablespoons Olive or vegetable oil. Spray Olive Oil around perimeter of pot. Cut washed and dried russet potatoes with skin lengthwise, 1/8th" thin. Layer on bottom of oiled pot, salt and pepper to taste, sprinkle with turmeric. Begin layering rice, then carrot onion mixture, alternating with each layer, finishing with rice. Cover with lid. Set over med/high heat for 15 minutes till "tah-dig" crispy rice bottom is set. Lower heat to med.-low, remove lid – add 2 tablespoons of cold butter (or vegan butter), diced around top of rice. Cover lid with a towel or paper towel turban. (This is to absorb water as the rice steams, to ensure fluffy rice). Continue Steaming for another 35-45 minutes. Invert rice on round platter like a cake," or spoon and layer onto platter in pyramid shape topping with "tah-dig". Garnish with cilantro, parsley, and crispy rice.
Rosh Hashanah Puff Pastry Apple Rosettes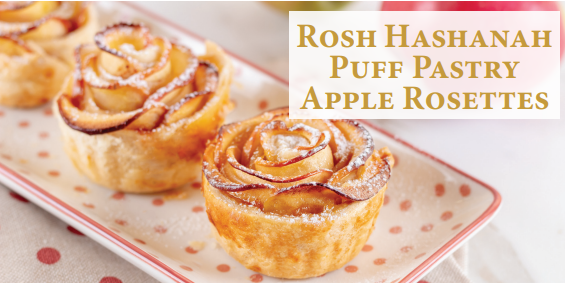 Servings: 4 – 6
Prepping time: 30 min
Cooking time:35min
Ingredients:
 4 Fuji, Honey Crisp or Gala Apples 
1 Sheet Puff Pastry 
Cinnamon Sugar 1 T Cinnamon T Sugar 
3-4 T Apricot Preserves 
1 Egg yolk beaten for Egg Wash – 
(add a tiny drizzle of water to loosen, if needed)
Directions:
Pre-heat oven to 375f. Wash and slice apples into thin half-moon, crescent shapes. Place in microwave safe bowl cover with water. Microwave till just bendable. 3-5 min Roll out 1 puff pastry sheet onto slightly floured surface. Just to smooth out folds. Cut 1.5 – 2 in strips across top of short side of pastry. Brush with apricot jam. Add a drizzle of water to loosen if necessary. Whisk, then spread. Pat apple slices with paper towel. Overlap layers of apple crescents across top edge, just so tops of apple hang over edge of pastry. Sprinkle with cinnamon sugar. Roll into rosettes. Insert with wooden toothpick to prevent unraveling while baking. Place on lined baking sheet Brush with egg wash. Bake for 30-45 min When cooled, dust with powdered sugar, serve with your favorite berries. (Remove wooden tooth pick!)