Mensches Among Us

Our hearts are with Israel. The horrendous attacks on October 7 have united Jews across the globe, as they look for ways to empower Jews, as well as assist evacuees, fighters, and families in Israel. 
So many have contributed, whether it's financially, by volunteering their time and expertise, and/or rallying others to come together to help. 
There are so many Mensches Among Us. These are just a small sampling of people doing good in this challenging time for Jews around the world.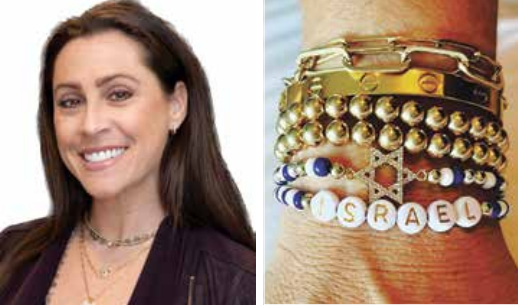 Erin Cohen, Designs by EMC, Bracelets for Israel
My business is called Designs by EMC, where I make gold-filled, sterling silver, and rose gold-filled jewelry. 
Shortly after the October 7 attacks, one of my customers asked, 'Are you doing anything? Do you have any bracelets for Israel?" And I didn't at the time, but I thought it was an amazing idea. 
I wanted to support the people of Israel in this horrible, horrible time, so I created two bracelets. One has gold and silver ball beads with blue and white seed beads with a gold Star of David in the middle. The other bracelet has the blue and white ball beads, and then gold and white letter beads that say, "Israel." The set is $55, and I am donating a huge amount of the proceeds to Israel through Friends of the IDF. 
When people discover that I'm doing this, they are so grateful. Not only do they say it is amazing that I'm giving back, but they love the jewelry as well. 
I'm just happy that I can do something to give back to the people who are suffering so much right now. 
To learn more, go to @DesignsbyEMC on Instagram.
Danielle Bloch & Gaby Kaplan, Raising Money for Kfar Adumim
The atrocities that occurred on October 7 rocked us to our core. My sister, Gaby Kaplan, and I (Danielle Bloch) reached out to all our friends in Israel asking what we can do… we were compelled to do something! 
Our friends in Kfar Adumim, a community outside Jerusalem on the outskirts of the West Bank, told us they needed medical supplies. They said the soldiers wanted power bars to keep them going throughout the day and some military equipment. The military equipment was impossible to get, but we were able to secure the other items. 
We started to make phone calls, and found so much support: 
A medical supply company was willing to sell us supplies at a further reduced wholesale rate 

A warehouse donated hundreds of protein bars. 

Someone negotiated to bring 20 bags on an El Al flight. Everything got to Israel safely and within a week. 
It was the kindness and drive of many that made this possible.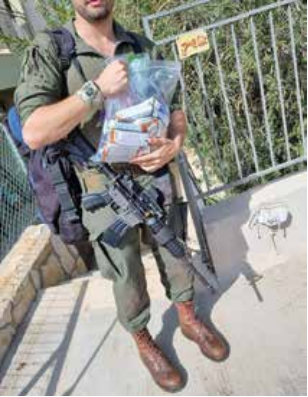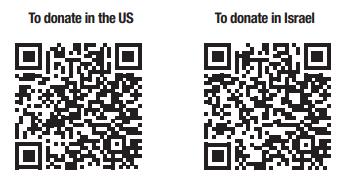 Lisa Ansell, Teaching Hebrew
On October 7, every Jew around the world received a "tzav shmone" or an order to urgently report to military service. Some returned to bear arms, others fought with activism in whatever forum their voices resonated the loudest. We have donated as much as we can financially, packed supplies for battalions, marched in support of Israel despite the vitriol of the counter-narrative standing across the street. However, we still feel the pangs of detachment of visceral experience, of authentic communication limited by a life lived through translation. I am not wealthy, nobody goes into academia thinking that they will somehow be able to afford even the most modest of homes in Los Angeles. However, my contribution, beyond what I can afford to give monetarily, will be a service to our community that will hopefully remain as a feature of Jewish life long after the immediate crisis at hand.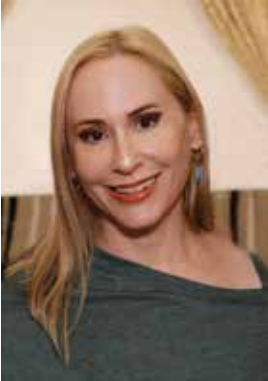 What if I were to suggest that in addition to the tangible support we provide through donations, we take up the sacred task of learning Hebrew as global diasporic communities with the dual goal of being able to send letters of support to our soldiers and surviving families and to attempt to connect or reconnect with the language that has bound us together across the globe for centuries from wherever our history of expulsion and genocide has displaced us?
I have spent the last several weeks carving my coat of arms as I join the battlefront from Los Angeles. I can't engineer an actual weapon since my math and science skills leave much to be desired. This coat of arms comes in the form of a digital textbook, a mouse, and a virtual whiteboard (that I know how to use thanks to Covid). Our battle cry is our voices in unison reciting the beauty of Hebrew as a community of learners from across the world. Hebrew sustains us breathing life force into our Jewish souls.
My weekly hour-long Hebrew language learning sessions are held over Zoom on Sunday evenings at 5 p.m. PST. Come march with me towards Jerusalem, placing the Hebrew language at the center of our commitment to stand beside our brothers and sisters in arms. 
Lisa Ansell, Associate Director of the USC Casden Institute and lecturer of Hebrew Studies at Hebrew Union College-Jewish Institute of Religion Los Angeles. To learn more about Lisa's classes, email lansell@usc.edu
Eric Elkaim, Partyworks Interactive, Israeli Flags
My name is Eric Elkaim and I am a proud Jew. I recently returned from a trip to Israel with friends, where I visited family. I saw all that Israel has to offer. It is a land that is home.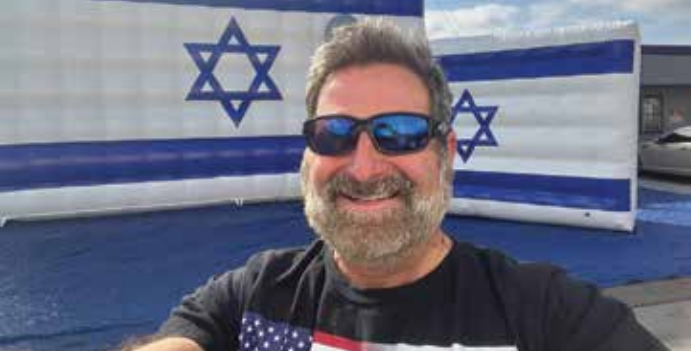 When Jewish people around the world are scared to have a mezuzah on their door or to wear a Star of David around their neck, I am pained. It is simply not acceptable to hide who we are. 
As the owner of an event planning company, called PartyWorks, I designed, built, and paid for three 20' tall and 30'-wide Israeli flags. 
Are you organizing a Jewish gathering and want to showcase your support for Israel? Please message me. These flags are available for use at zero cost. 
For information or to arrange usage email eric@partyworksinteractice.com.
Ilana M Fish, Sababa Creative and JLiving Contributor Stitched Together Project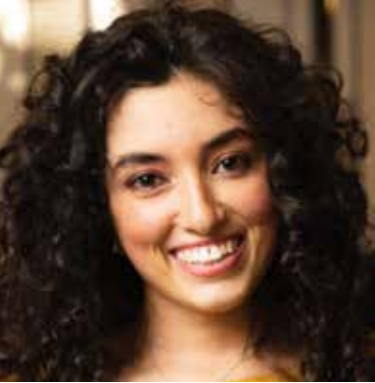 Since the terrible day of October 7th, I have been crying, donating resources, going to pro-Israel rallies, and using my social media to keep this situation in people's feeds. Despite all of this, I still felt a bit helpless here in the United States. Many of my friends, family, and followers were asking how we could help. All of this has inspired me to create the Stitched Together Project. This initiative aims to highlight the Israeli fashion industry by sharing personal videos of these designers and brands with a direct link to their websites to shop. 
Israel has been part of my identity for as long as I can remember. While it may be known to many as a Start-Up Nation, It's been my passion and goal for Israel to be recognized as a fashion capital and destination as well. There are numerous talented and innovative designers with fresh perspectives that deserve to have their work seen internationally. I figured what better time than now to shine a light on the Israeli fashion industry, as the current situation is not only putting a strain on them emotionally, and financially as well.
learn more, please follow me on Instagram @sababa_creative
Orly Star, Dance with Orly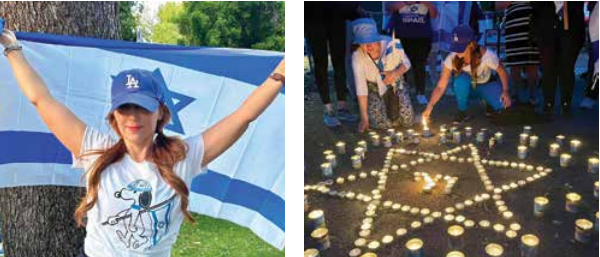 Dance with Orly, often referred to as a heartbeat of our community, is not just a dance class. It has always been an experience and deep-rooted relationship with our nation. Dani Dassa, a pioneer of "Rikudei-Am" portrayed Israeli folk dancing as praying with our feet. Through the steps, we are praying for peace inside us and around us. Praying for the safe return of our soldiers and hostages. We are praying for all of our brothers and sisters in our Jewish homeland and around the world. 
As Jews living in the diaspora, we are called to duty and perhaps we have a greater obligation to "Tikkun Olam." We are all God's spiritual soldiers called to help repair the world through good deeds, Jewish activities, donations, prayer, and speaking up.
As a leader in the community, it is my responsibility to once again instill hope and healing from the shattered destruction that took place that day and continues to endure. To make our dancers feel empowered and inspired to create something meaningful from the evil crevices of antisemitism.
The week of the massacre, most Israeli dance sessions were closed. We were all grieving. So this is what I decided to do. Keep the sessions open and donate 100% of the proceeds to Israel. We sang to the prayers as we expressed our anguish in unison. We said Kaddish for our perished people and a Tfila for our soldiers. We sang HaTikva and Oseh Shalom.
Dance with Orly has raised $3,250 for Israel. This sum was donated to multiple Jewish organizations. 
I also understand that some people are not able to help financially, but have so much to give to Israel so I collected 230 letters of support, from my Kindergarten students all the way up to my adult dancers – written with love to our Israel Defense Forces, our heroes on the front lines – letting them know that they are not alone and we are standing with them. I continue to update my dancers on rallies and avenues of support each week. 
I will be having my annual T h a n k s g i v i n g marathon on Wednesday, November 22 at Adat Shalom. We will dance with pride for our Jewish identity and homeland. There will be a special tribute to the hostages that evening as we will be dancing with photos of the hostages pinned to our shirts imploring the international world to help "Bring Them Home."