Purim Cocktails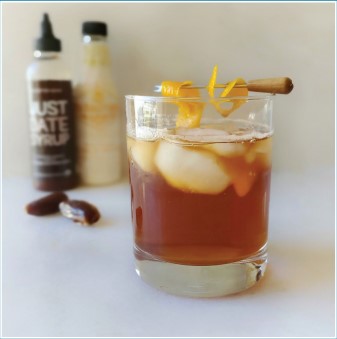 Here are three Purim themed Cocktails for everyone to enjoy. L'chaim!
Makes one
2 ounces bourbon
1 ounce silan (date syrup)
3 dashes orange bitters
1 small orange
Ice
1. In a cocktail shaker combine the bourbon,
silan and orange bitters.
2. Using a vegetable peeler, remove a few strips of
orange zest, add to the shaker and top with ice.
3. Shake until combined and strain into an old-fashioned
glass. Garnish with additional orange peel.
Makes six
1 bottle chilled sparkling wine
6 ounces pomegranate juice
1 lemon cut into wedges
Sugar for rimming the glasses
1. Rub the rim of the glasses with lemon
juice and then dip into sugar to coat.
2. Add one ounce of pomegranate juice to
each glass, top with sparkling wine and serve.
One punch bowl
1 bottle Manischewitz Concord grape wine
¼ cup Chambord raspberry liquor
Juice of one fresh lemon
1 liter club soda
Ice
1. Combine everything into a large punch bowl.
Serve immediately.