Faye Levy's Matzo Ball Soup with Yemenite Flavors
Yields 6-8 servings
For me, matzo ball soup is an essential part of Passover. My mother, who was born in Poland and cooked Ashkenazi (Eastern European Jewish) cuisine, made light, fluffy matzo balls, which we called by their Yiddish name, kneidelach. Actually, she made them for most other holidays too, but on Passover somehow they seemed special, perhaps because they were so satisfying during this period when the only "bread" allowed was matzo.
When our family moved to Israel from Washington, DC, my mother and I learned to use the seasonings of my new Yemenite in-laws. Unlike my mother-in-law, who used cumin and turmeric liberally, my mother gingerly incorporated pinches of turmeric and cumin into her chicken soup. At first I added them with a light hand too, but eventually I used more of the spices, added fresh cilantro and even served the soup with schug, the favorite Yemenite pepper and garlic relish, which can be fiery.
I also enjoy adding new flavors to the matzo balls. For my Yemenite chicken soup, I season the matzo ball batter with grated fresh turmeric root. This colorful, slightly spicy soup has become our favorite matzo ball soup.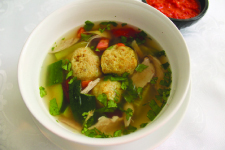 2 to 2 1/2 lb chicken pieces, preferably legs or thighs
1 large onion, quartered thick stems of 6 cilantro sprigs (leaves reserved)
11 cups water
2 teaspoons ground cumin
1 turmeric root about 2 inches long, minced (about 2 tablespoons)
(wear gloves when handling) 
4 garlic cloves, coarsely chopped
1/4 teaspoon ground pepper, or to taste salt to taste
turmeric root matzo balls (see recipe below)
mild red schug (optional, see recipe below)
2 or 3 zucchini, cut in 2-inch sticks
2 plum tomatoes, diced
2 or 3 tablespoons chopped cilantro leaves
Put chicken in a soup pot, large saucepan or stew pan. Add onion, cilantro stems and 10 cups water.
Bring to a boil, skimming foam a few times. Cover and cook over low heat for 10 minutes. skim thoroughly.
Add cumin, turmeric root, garlic, ground pepper and a pinch of salt. adjust heat so that soup simmers very gently. Cover and cook until chicken is very tender and soup is well flavored, about 2 hours, skimming occasionally.
Discard onion and cilantro stems. remove chicken pieces, cool slightly and discard skin and bones. Refrigerate 2 or 3 chicken pieces for another meal. Cut meat from remaining chicken pieces in strips. Put them in a container, cover and refrigerate. Strain soup. if possible, refrigerate soup overnight. Skim fat thoroughly.
Prepare matzo balls and schug – see below.
Bring soup to simmer, add 1 cup water and skim the fat again. return to a simmer, add reserved chicken strips and heat through. reheat matzo balls in their cooking liquid if necessary.
Shortly before serving, bring 3 cups of soup to a simmer in a medium saucepan.
Add zucchini, return to a simmer and cook uncovered 2 or 3 minutes or until done to your taste. Add diced tomato and heat through. remove vegetables with a slotted spoon, cover them loosely to keep them warm, and return their cooking broth to rest of the soup.
Add chopped cilantro to the soup.
Taste and adjust seasoning.
To serve, put 2 or 3 heated matzo balls in each soup bowl using a slotted spoon, and ladle hot soup over them. Add a few vegetable pieces and chicken strips
Faye Levy's Turmeric Matzo Balls
3 large eggs
1 tablespoon plus 1 teaspoon olive oil, or vegetable oil such as grapeseed oil or safflower oil
1 to 5 tablespoons water
2 tablespoons finely grated peeled turmeric root (about 1.5 oz or
2 three-inch turmeric roots)
3/4 teaspoon fine salt
1/4 teaspoon ground pepper
2/3 cup matzo meal
(sometimes labeled matsah meal)
(about 2 1/2 ounces)
1/4 teaspoon passover baking
powder (optional)
about 7 to 8 cups water (for simmering)
1/4 teaspoon coarse salt
about 3 cups strained chicken soup or vegetable broth (for storing and reheating)
to make traditional matzo balls, omit the turmeric
using a fork, beat eggs with oil, grated turmeric root, fine salt, pepper and 1 tablespoon water in a medium bowl until blended. Mix matzo meal and baking powder in a bowl. add to turmeric mixture and stir with a wooden spoon to a smooth batter. stir in 1 tablespoons water to make a soft batter.
cover and refrigerate for about 30 minutes.
stir batter. add about 2 tablespoons more water by tablespoons, adding enough so that mixture is just firm enough to be formed in rough-shaped balls; it should be soft.
bring 7 or 8 cups water to a boil in a saucepan and add coarse salt. reduce heat to medium or medium-low so that water bubbles gently.
Prepare a small bowl of cool water. Moisten your hands, measure a mounded teaspoonful of batter and remove it from spoon. transfer batter from one palm to the other, gently rolling it to a roughly round ball. drop matzo ball into simmering water. continue shaping matzo balls and adding them to pan, moistening your hands after every two or three.
when all of matzo balls are in the pan, raise heat and return liquid to a simmer. cover and cook over low heat until matzo balls are tender, about 30 minutes.
with a slotted spoon, gently transfer matzo balls to another saucepan for reheating or to a container to refrigerate them. ladle enough chicken soup over matzo balls to cover them.
cover matzo balls and keep them warm until ready to serve; or refrigerate them. reheat them in their chicken soup in a covered saucepan over low heat, without stirring. serve hot
Faye Levy's Mild Red Schug
Yields 1/2 cup, 6-8 servings
5 red fresno chiles or other mild chiles
1/4 cup garlic cloves (about 1 ounce), peeled and quartered
1/4 teaspoon salt
2 to 3 teaspoons water
1 tablespoon extra virgin olive oil
remove stems from chiles. remove seeds if desired so the schug will be milder.
cut chiles in chunks.
put garlic, chiles and salt in mini food processor and puree until finely chopped and well blended.
if necessary, add 2 or 3 teaspoons water, just enough to enable food processor to
chop mixture until smooth.
add olive oil and puree.
transfer to a small bowl for serving or to a jar for refrigerating. 
schug can be kept, covered, up to 1 week in the refrigerator.
This schug (also spelled zehug), a Yemenite relish, is made with mild Red Fresno chiles. If you would like hot red schug, use red jalapenos; or make hot green zehug with green jalapenos or serrano chiles.