L'Dor V'Dor – Nanny's Apple Cake
This dish brings up memories of warmth and togetherness. My grandmother was such a connector – she brought us all together and made us feel at home, warm, loved, and important. This memory just brings up memories of her hugs – the moment that you were enveloped in her arms, all that mattered was pure love.  My grandmother was my greatest source of light and love in my life. Her stories came to life and my brother, cousins, and I deeply internalized the concept of never-forget, to always carry our ancestors with us as we navigate the world.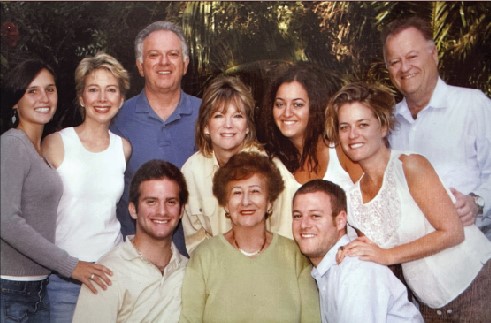 Esther Zelda Ajlman was the eldest of five children born 1920 to to Szmul Moszek Ajlman and Chuma Kuperman Ajlman in Zwolen, Poland. During the Holocaust, Esther was detained in five concentration camps, many in which she was forced to make ammunition for Nazi soldiers. She was liberated by the United States military in Turkheim, where she met and married Max Wasserman. Esther and Max's has their first child, Steve, in a displaced persons camp in Turkheim Germany. They travelled on the USS Wilson to the United States, where daughter Shirley was born. Years later, they moved to Los Angeles where Esther lived out her remaining years enveloped by love. She believed that her parents and all her siblings perished in the Holocaust, until she was reunited with sole surviving sibling Chil Ajlman thirty years after liberation. Esther died June 8, 2019 surrounded by her family at Cedars Sinai Hospital.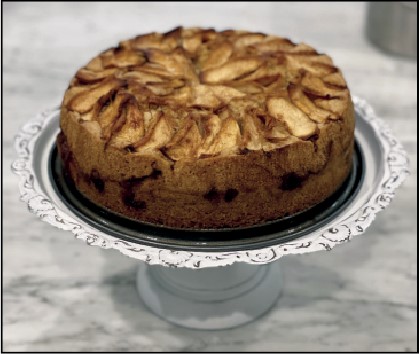 4 medium-sized apples peeled, cored, and sliced
3 eggs
1 ½ cups sugar
1 ¼ cup vegetable oil
½ tsp vanilla
2 ½ cups flour
1 tsp baking soda
½ tsp cinnamon
¼ tsp ginger
¼ ground black pepper (for a little kick if you like!)
½ tsp salt for coating the apples:
3 tbs sugar to coat apples
¼ tsp cinnamon to coat apples
¼ tsp nutmeg to coat apples
¼ tsp cloves to coat apples
Butter to prep pan for baking
Preheat oven to 350 degrees.
Butter your baking dish – I like to use a 9" round spring-form cake pan as it makes
it all pretty for display!
Beat eggs and sugar in a medium to large bowl until combined.
Add oil, and vanilla – beat well- here's where the arm workout comes in!
In a separate medium bowl, combine the flour, baking soda, cinnamon, and salt.
Combine the dry ingredients to the egg/wet mixture until smooth. (Arm workout here we come!)
In a separate bowl, put the apples, extra sugar and spices. Mix together to coat the apples.
Layer the batter and the apples- start with the batter – pour half into the bottom of the baking dish and then layer with about half of the apples, then batter, then top with apples.
Bake for 75-90 minutes.
Remember to take the toothpick test to see if it's done!