Galilee Culinary Institute, The Future of Food & The 4 Questions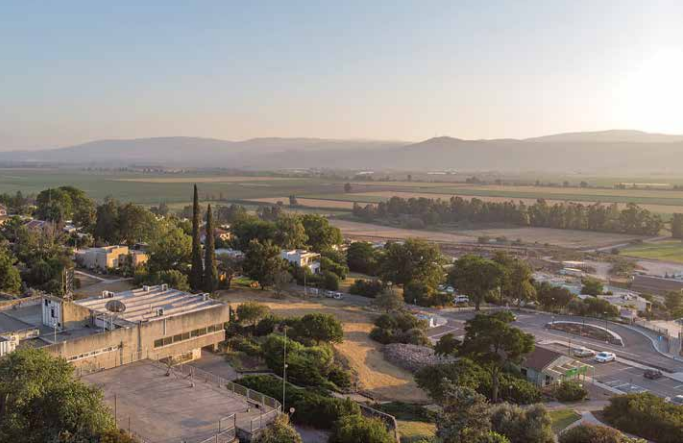 The Galilee Culinary Institute (GCI) by Jewish National Fund (JNF) is a one-of-a-kind total-immersion culinary institution. Based in the heart of Israel's Galilee, a thriving agricultural region, GCI combines culinary and restaurant expertise, tourism, and entrepreneurship; it is slated to open next Spring. 
"We want to sculpt the next generation of food leaders, thinkers, and disruptors in different levels," explains Lior Lev Sercarz, GCI co-founder and Chief Culinary Officer. 
"Whether you're planning to be a farmer, a lobbyist in Washington, D.C., or open a chocolate factory somewhere around the world, we want people to talk about food: what it is, where it's from, what's the story, and what's the social impact?" 
There are so many career opportunities in the culinary world, from farm to chefs to table and everything in between. This includes food scientists and experts in sustainability, as well as food stylists, photographers, and writers. 
"One of the things that I'm most excited about is the conversation about the culinary world," Lior explains.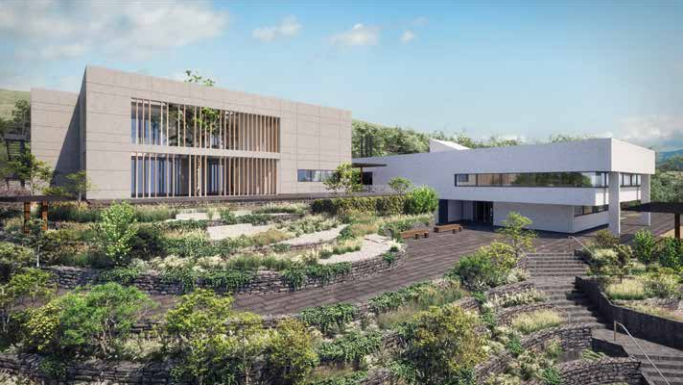 Architect's rendering of the Galilee Culinary Institute. Image by Totem courtesy of GCI
It's not just about the impact of food – from growing to cooking – it's understanding the whole culinary ecosystem.
The Rosenfield School of Culinary Arts in the GCI is accepting pre-applications for its first class of food disruptors for Spring 2024.
"The main building is scheduled to open in May 2024 with the first group of 16 full-time students from Israel, the US, and around the globe," explains Sheryl Buchholtz, Vice President of JNF National Board of Directors, Chair of GCI by JNF Task Force, and member of the Board of GCI. "An additional group of 16 will be added in the Fall semester and then again in the Spring of 2025. The goal is to eventually have 60 full-time students at different levels of their culinary education."
Once the institute opens, GCI will have opportunities for food enthusiasts from Israel and around the world to expand their personal culinary knowledge.
"GCI will be able to host culinary tour groups from one day to several days," Sheryl explains. "We will have on-campus housing suites available for students and faculty in addition to some housing available for culinary tourists. Hotel and other spaces are being developed by JNFUSA and others."
In the spirit of Passover, here are 4 Questions about GCI and how it plans to disrupt the culinary world.
What makes the Rosenfield School of Culinary Arts in the GCI different from all others?
While there are some amazing programs around the world, GCI embraces how broad the culinary world is today. Lior and JNF want to expose the students to all career possibilities in the food world, as that will give them a better chance of success.
Lior says they are not doing things just to be unique; they just believe that there's so much more to a culinary career than being a chef.
"Over the years so many young graduates discovered the harsh reality of this profession," Lior says. "It's hard. It's long hours of work when everybody's having fun. And maybe cooking isn't for you. Maybe you are actually better in a lab, being a food science or technologist. We want to really expose our students to all of these opportunities and hope that they will make the right choice with our help."
Adds Sheryl, "We wanted to build a real culinary education, a formal, innovative educational program."
GCI's one-year program gives students a chance to engage and connect with the larger food world, in whatever way it means to them. Not just learning how to cook or be a chef
The first part of the education will be to see and look and learn all about the culinary world, not just chopping and dicing, which you'll do part of the time," Sheryl says.
Students will engage in the discovery phases, instead of going through a cookie-cutter approach of education.
"Since they will have active farmlands, part of the education will be a real, hands-on farm-to-table approach, from where food comes from to how it gets sourced and everything else," she explains.
The program will also include a "social responsibility" component; working or having an internship in food-insecure environments and/or volunteering and working with nonprofits.
Plus, parts of the curriculum will be academic – like food science – while others will focus on business and entrepreneurship since, in today's day and age, it is a huge part of being a successful food entity.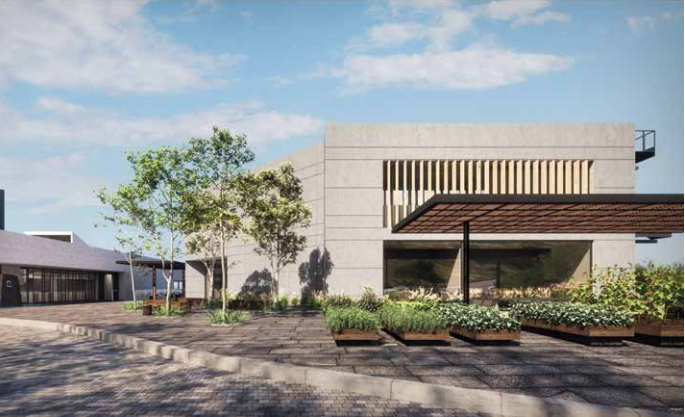 Architect's rendering of the Galilee Culinary Institute. Image by Totem courtesy of GCI
Not everyone is a good fit to work in a restaurant kitchen. "To reproduce the same exact dish every single time, day in and day out, that's a whole other skill set," she says. "GCI wants students to discover and focus on their strengths."
"The experiential part of it is so exciting," adds Lior. "Being exposed to so many things and then making the right decision of what is the perfect fit for you."
How did GCI come about?
In 1997, after Lior moved to France to pursue his culinary studies, he started thinking about his colleagues in Israel who for whatever reason couldn't afford, couldn't find the time, or couldn't leave the young families to study abroad, let alone explore culinary studies.
"Israel, back then, sadly, only had one cooking school, which since then has shut down," says Lior, who is from Galilee.
Lior started thinking about what kind of cooking school he could create in Israel. Over 20 years, on and off, he pitched this idea to people in the private sector and nonprofits.
"For the most part their response was, 'It's a good idea, but it's too expensive. It's never going to work. And a bunch of other reasons," Lior explains. "About four and a half years ago, I was connected with JNF and with Russell Robinson the CEO. I think within less than 5 minutes, we shook hands and decided that we're gonna do it."
JNF wanted to bring thousands of people to live in the north of Israel, and create job opportunities, housing, education, a medical center, and small businesses, as well as highlight food technology and innovations.
What was supposed to be a cooking school with a couple of stoves in a classroom turned into this massive initiative that will impact the region.
"The plan is to eventually bring 300,000 people to the North," Sheryl explains. "The GCI is helping to rebuild and repurpose aging and abandoned cities."
The area is already attracting highly educated individuals from all over Israel (Jews, Arabs, Druze) to work together. The college that has been up there for many years, Tel Hei, has now been approved by the Israeli government to become a University in Food Sciences, Agriculture, and Technology, and is bringing in students worldwide.
Plus, JNF is building a 24/7 Health care center, as well as housing; 250 sites sold out immediately. International hoteliers and other business groups are also investing near GCI, as they see opportunities with the lush agricultural, historical, and multicultural location.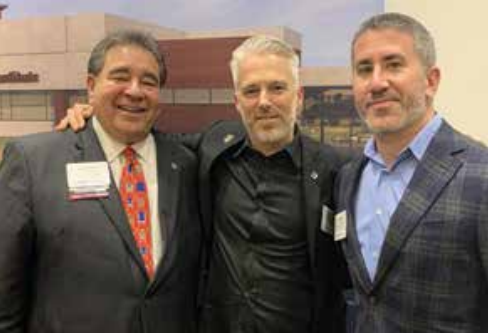 Who can come to GCI? 
In addition to the flagship 12-month professional education, there will be vibrant short-term culinary programs for amateurs and professionals from Israel and around the world. 
"The same way that you would go and take the class in your local cooking school or restaurant, we will offer that to you as well," Lior says. 
There are options for everyone, "whether you're coming to have dinner or lunch at the restaurant, whether you want to just buy something at the store or take classes, whether it's for one hour, one day, or one week, depending on your level of interest," he explains. There will also be continuing education for professionals who want to come and perfect their craft, as well as courses for avid home cooks. 
Lior, Michael Salmonov, and other culinary leaders, many of whom have appeared on the GCI at JNF podcast "What's Burning," will be faculty. 
For candidates, GCI is seeking a diversity of individuals, including age, prior experience, initial ideas, and goals in pursuing a culinary background. This could include working as a chef, writer/journalist, recipe writer, or in the restaurant development, hotel management, or agricultural tech industries. 
People from different business and cultural backgrounds will be in the same classroom, having conversations about topics such as the future of food, sustainability, and social impact, as they're preparing a dish. 
"We want people who we believe are the next generation of culinarians, leaders in whatever field of the culinary world they are considering," Sheryl says. 
What excites you the most about bringing GCI to fruition? 
"You see more and more the impact of food on our lives," Lior says. "And not just what I call the 'fun food' – when you go to a fine-dining restaurant and you make it a night out – it's purely nourishing yourself. We, as cooks and chefs have the ability to be a big part of it; to prepare food for people to nourish them to make sure that they have a better life." 
"We are creating a food universe, even more than a food town," Sheryl says. "You're going to learn from the land, up and from the sky down." 
"I think it's a one-of-a-kind opportunity to really be part of something that's bigger than all of us," Lior shares, "that we believe will have a global impact on the culinary world. I'm blown away." 
To learn more, go to GalileeCulinaryInstitute.com.