Cook Like an Israeli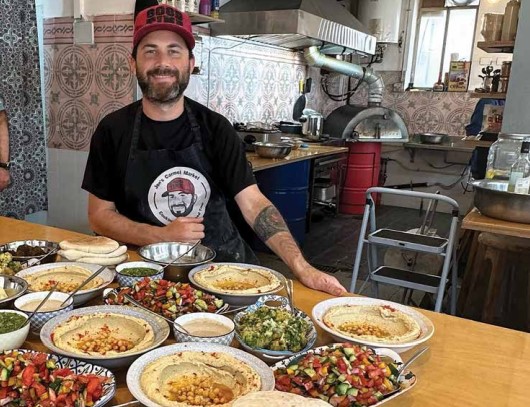 Learn how to cook at the shuk
On almost every street corner in Israel, you can find a falafel. Golden fried balls of chickpeas that no matter how good they are in the States – are never as good as the ones from Israel. If you had a tour guide on your trip to Israel, I am sure they took you to their favorite falafel location, or as our guide would qualify – the greatest falafel west of Jerusalem or the best falafel you can get in the North! As a tourist, they were all delicious.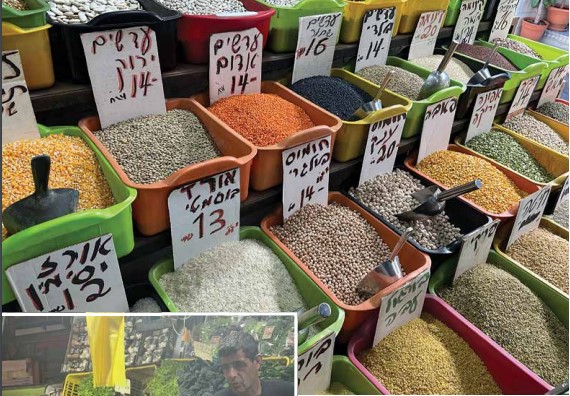 A few years ago after a trip to Israel, I attempted to make my own falafel balls using the Trader Joe's mix. Easy to make, and tasty, but not surprisingly, it rang hollow to the Israeli version. So when we went back to Israel this year, I was determined to learn the secrets! 
It was a busy Friday morning when we met up with Jon standing at the entry of the Carmel Market in Tel Aviv. Our family had signed up for Jon's Cooking Class and Carmel Market Food Tour. We joined Jon and a few fellow travelers and were greeted by his signature "Good Time" hat and a self-branded apron. He welcomed us all by giving us a shot glass full of freshly pressed fruits and veggies.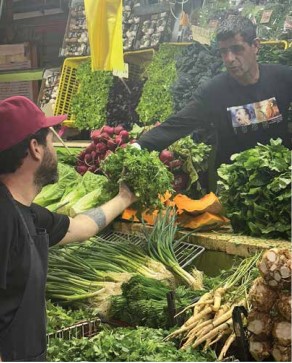 If you never have been to the shuk before you must come ready. The shuk or market is a bustling place where you'll walk shoulder to shoulder with everyone in town. You'll pass spice sellers. T-shirt vendors, produce merchants, and much more, all asking for your business and ready to make a deal. 
To the newcomer, the market is a step into chaos with a wonderful vibrancy of personalities, colors, and smells. As Jon led us through the market he explained the workings behind the market, highlighting how the vendor stalls are managed over generations and how there is still room for new innovations. On one side of an alley, a new rising chef is opening up a small restaurant while a block away the multi-generations restaurant is serving the Yemenite traditional soup as it has been prepared for decades if not centuries.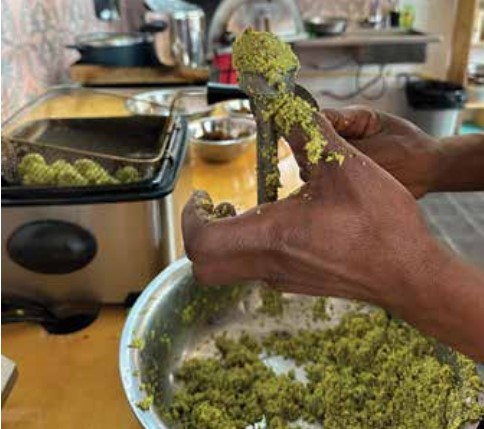 Through the tour of the shuk, Jon introduced us to his favorite spice vendor, and produce merchant and had us sample some freshly prepared food treats. 
As the shuk bombards you with smells and tastes, this curated tour allowed us to traverse it through a local's eyes while savoring its offerings. 
As we wandered around the shuk we were careful to follow Jon's orders as we purchased fresh produce and spices for the meal that we were going to make – Israeli street food consisting of falafels, pita, Israeli salad, hummus, and fried cauliflower. 
As we finished the tour of the market, Jon led us to his studio which was just a block or two away from the market. Here we were able to sit down, have a drink, and begin the cooking lesson that we were all wanting. Sitting around a long wooden table the nine of us spread out, each of us placed in front of a cutting board with a knife. Jon had one worker with him who helped deliver the ingredients and made sure that we all were keeping tidy. 
Over the next 90 minutes we were busy. The only preparation for our meal that was done ahead of time was soaking the dried chickpeas for both the hummus and the falafels. The rest was up to us. 
As we enjoyed our initial rest, Jon discussed his culinary background and his wish to play more golf. Explaining the importance of the freshest ingredients he explained the menu. We were all set on making a meal and had to carefully manage the timing so that the pita bread had time to rise and the cauliflower needed to cook. After starting those recipes a large bowl of veggies was placed before us. From our purchases earlier we had red bell peppers, cucumbers, onions, tomatoes, parsley cilantro, and more. We diced and prepared for the recipes ahead. From one side of the kitchen studio to the other, each one of us helped grind and form falafels, knead, roll, and cook our pita bread, pestle and mortar some spices together, and assemble the salads and salsas. After a whirlwind of activity, each dish was plated and put on the main table. 
When everything was plated, we all stood there, amazed at what we had done (or really, what Jon had instructed us to do). First step was taking pictures of our creation and then it was time to eat. Maybe because we made it, maybe because Jon is a genius, or maybe because it was all true – we had created the best falafel in Israel (at least for that fleeting moment). The true sign was that the room became silent as we all savored the meal and went for seconds. 
After our lunch, Jon brought us over to a table he had covered with saran wrap to serve us a wonderful apple dessert. Simply heaven! 
As we all got to the point where we could not take another bite, Jon summoned us together to make sure that all of our questions were answered. He discussed the falafel making tool that we would need and recapped how we prepared every item so that we could repeat this feast without his hands-on guidance. 
Good bye Trader Joe's mix. I am going to create the best falafel near the Pacific!
To book a cooking class with Jon go to joncookngclass.com