Shine A Light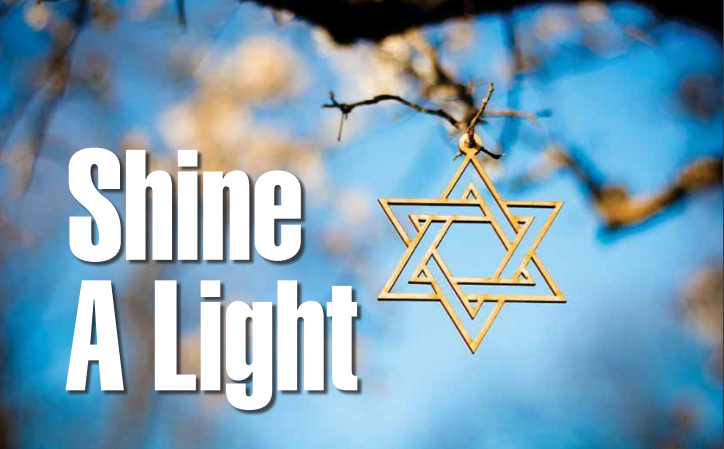 According to the American Jewish Committee's State of Antisemitism in America report, four out of ten Jews in the United States feel less secure than they did a year ago. That report was released in February this year. On October 25th, the ADL (the Anti-Defamation League) reported that incidents of harassment, vandalism, and assault increased by 388% over the same period last year. We watched the news and saw the attack at a Russian airport, a stabbing in France, an attack in Montreal, and the attack closer to home in Thousand Oaks. We witnessed the tearing down of posters of kidnapped Israelis, saw swastikas painted in public spaces, and continue to fear for the safety of Jewish students on college campuses. 
On October 31st, FBI Director Christopher Wray testified in a Senate hearing about the Jewish American community stating, "In fact, our statistics would indicate that for a group that represents only about 2.4% of the American public, they account for something like 60% of all religious-based hate crimes." 
The ADL measures the percentage of Americans who agree with anti-Jewish tropes. Over the past three years from 2019 to 2022, the rise of those who agree is staggering. Some of the findings include that the number who believe that Jews are more loyal to Israel increased from 24% to 39%. Those believing Jews are more willing than others to use shady practices to get what they want doubled, from 10% to 20%. In the 2022 study, 36% of the respondents simply agree that Jews do not share my values. In ADL's topline report conclusion, they surprisingly note, "Unlike in years past, researchers found that young people seem to hold similar levels of belief in anti-Jewish tropes compared to older adults. This report also shows that anti-Israel sentiment, including anti-Israel sentiment rooted in antisemitic conspiracy theories, is held by broad swaths of the population." 
Now in its third year, Shine A Light, draws inspiration from Chanukah, the Festival of Lights, to encourage Jews and allies to speak up and send a message that antisemitism, in all its modern forms, won't be tolerated in our communities. The platform has plans for several campaigns for organizations, companies, communities, elected officials, and individuals to unite in shining a light on antisemitism in all its modern forms. Shine A Light's community building and education include: 
Shine A Light Shabbat 
In partnership with OneTable, Shine A Light Shabbat's program will anchor around December 8, when Shabbat overlaps with Chanukah celebrations. Communities across religions and denominations will come together to share a meal while engaging in thoughtful discourse on standing up to the harmful prejudices and stereotypes around the Jewish community and beyond. 
Inaugural Civic Courage Award 
This year, Shine A Light has launched its inaugural Civic Courage Award to honor students and educators who exemplify what it means to be an upstanding citizen when it comes to taking action against antisemitism and countering hate in their communities. Applications are open and winners will be announced in late November and will be featured at the New York City event in December. 
Educational Resources 
A suite of vetted educational materials (curricula, lesson plans, articles, videos, and other educational content) designed to empower people to recognize antisemitism and take appropriate action is free to educators and all community members looking to learn more and share information. The Shine A Light resource library is one of the world's largest repositories of educational tools on antisemitism for learners of all ages. 
Microgrants 
Microgrants will enable creative, community-specific, grassroots events across the U.S. and Canada. Past award-winning events have included college students skiing with menorahs, multi-generation mosaic making, bridge lightings, interfaith gatherings, film screenings, concerts, and more – all designed to encourage meaningful community engagement. 
Workplace Engagement 
Through its workplace efforts, Shine A Light plays a pivotal role in addressing gaps in workplace education and discrimination policies, including Diversity, Equity, and Inclusion (DEI) programs; raising awareness of the Jewish experience in the workplace; supporting employees through the creation of Jewish Employee Resource Groups (ERGs); and sharing free resources to businesses committed to addressing antisemitism in corporate culture. 
Carolyn Siegel founder of If You Heard What I Heard explained, "I started If You Heard What I Heard in May of 2020 in response to a rise in antisemitism, never anticipating what we're seeing today. The nonprofit is focused on documenting the stories of the grandchildren of Holocaust survivors – the last generation to ever hear survivor stories firsthand. Shine A Light is so important because we know from history it takes all of us and our allies standing up and speaking out to be stronger and overcome hate and ignorance. Now, more than ever, sharing our stories and shining a light on antisemitism is what's needed to not only stand up to evil but to educate on the vibrancy and resilience of what it means to be Jewish." 
Shine A Light has partnered with JCRC's, JCCs and Jewish Federations and presently counts over 100 partners including StandWithUs, IAC, JewBelong, Union for Reform Judaism, Chabad and Eagle's Wings to name a few. They are also working with over 75 workforce partners ranging from American Airlines to Zoom. 
You can also help Shine A Light this Hanukkah! From December 7th to the 15th, help Dispel the darkness and post a unified light image on Instagram, Facebook, X, LinkedIn and TikTok. Download the image, add a caption, and post it on social media.