L'Dor V'Dor – Bubby's Gedempte Chicken
Bubby's "gedempte chicken" was a link to another world which no longer exists. The flavors told a story of a home before the war where Bubby, her parents and her sister would celebrate shabbats and Jewish holidays with festive foods steeped in tradition and culture. She would prepare this chicken on Rosh Hashana for our family and through her cooking, we would glimpse at what her life was like before the Holocaust. Bubby was a model of strength and resilience to all of us, and was very reluctant to share her story with her children and grandchildren. For me, it was imperative to preserve her powerful legacy and her incredible strength and will to survive despite enormous hardships.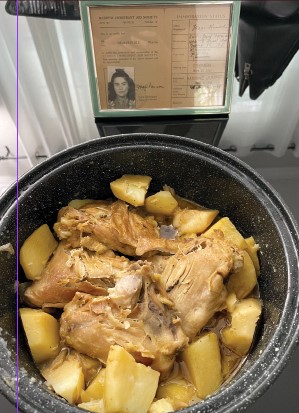 Hilda Zelmanovitz was from Chechanov, Poland. She was the sole survivor of her family having lost her parents and younger sister at Auschwitz. Hilda married Ben Zelmanovitz after the war. They had a daughter, Batya, born in a displaced persons camp in Munich, Germany. They family came to New York in the late 40s where they were sponsored by her only surviving cousin. They lived in New York, Rhode Island and Connecticut before eventually settling in Los Angeles in the 60s where Ben received employment as a kosher butcher.
4-6 Chicken Thighs
2 Onions
4 -6 Potatoes (quartered)
2 Tablespoons Paprika
2 Table Spoons Olive Oil
Salt & Pepper – to taste
Season chicken thighs.
In a pot, add onion and paprika (no spray).
Put chicken in skin side down.
Cover it and heat on a stove flame. After 5 minutes turn the chicken over.
Sautee for 15 minutes.
Put in water (1/3 cup).
Put in potatoes, on top of chicken.
Add salt and pepper and cover it.
Cook for 15 minutes and stir.
Add water if needed.
Cook one hour and 15 minutes.