A Diamond in the Dough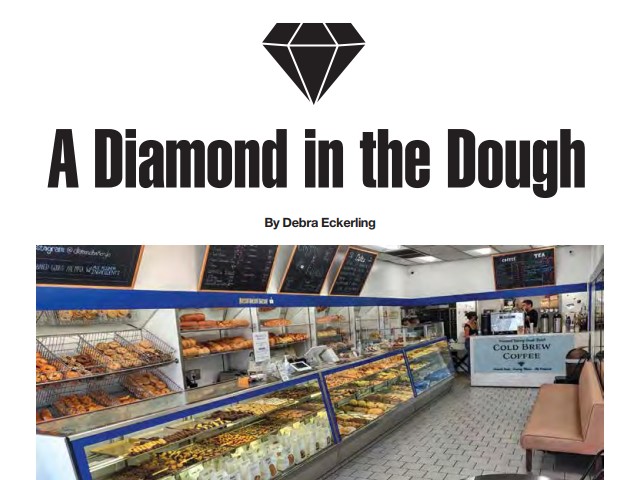 "There's nothing better than a rainbow cookie or an almond horn or some Russian coffee cake," Doug Weinstein, who owns and operates the Diamond Bakery, 335 North Fairfax Avenue in Los Angeles, says. 
Weinstein took over the Fairfax staple in June 2021. The bakery became employee-owned during COVID, and they were just going to let that piece of history fade away. Weinstein couldn't let that happen. 
"I wanted to perpetuate the traditions of Jewish baking," he says. "There used to be five Jewish bakeries on Fairfax. 
"Now, there's this and Canter's, and Canter's is more of a deli than a bakery," Weinstein says. "It just seemed like such a shanda to let such an iconic place with such history go." 
An iconic Jewish-owned business, the Diamond Bakery was started in 1946 by Jack and Betty Segal. In 1969 it was sold to two couples, the Lottmans, and Rubensteins, who met in Auschwitz in 1944 before liberation by the Allied Forces. After WWII, they immigrated to the United States and landed in Detroit, where they developed their skills as bakers before relocating to LA. 
Throughout the decades, Diamond Bakery expanded from a small retail operation to a fully equipped wholesale bakery. The Lottman and Rubenstein families ran the bakery for 50 years, stepping away in early 2020. 
It was employee-run for about a year before Weinstein took over.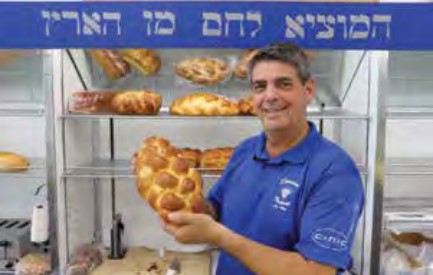 "I can't believe it's been almost 2 years," Weinstein says. "We employ 15 people and we give to the community. We're here for our customers, and we keep everything as authentic as we can." 
A classically trained bakery/pastry/ culinary veteran with 35 years of experience, Weinstein became a fan of baking and cooking when he was a little kid. His Aunt Bea and Grandma lived together and they were always baking! 
"I would walk down the street, through the backyard, and into their house," he recalls. "They would sit me on the table and hand me cookies. … They would be cooking or baking and arguing about who's doing it right or wrong, and I fell in love with the whole process, with them." 
At the age of 13, Weinstein got his first job, washing windows and sweeping floors for the corner pizza place in exchange for pastrami sandwiches. 
One day, the dough guy didn't show up. "The owner said, 'Kid, come here, let me show you how to make the dough.' So I was making balls of dough… and then the pizza guy didn't show up, so I was spinning pizzas. I just loved it." 
Weinstein has worked in some of the best-known establishments in Southern California including Westin Century Plaza Hotel, Westin South Coast Plaza, Regent Beverly Wilshire Hotel, Checkers Hotel, The Broadway Deli, and more. He has also used his culinary skills to benefit the Jewish community in Long Beach and most recently Santa Barbara, where he also lives.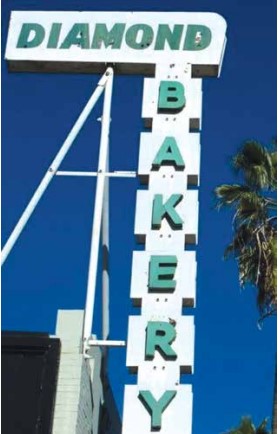 Among other mitzvahs, he established the Challah program for the Santa Barbara Jewish Federation, which delivers up to 200 challot per week, as well as additional baked items for holidays and special events. Doug has also taught classes at Congregation B'nai Brith in SB, Temple Israel in Long Beach, and via Zoom as host of "Get Baked With Chef Doug." 
Weinstein was raised with tzedakah. His parents were involved with the synagogue. 
"If someone needed something, my parents were always there to contribute," he says. And that's what Weinstein learned. 
"I didn't need a bakery," he says. "I wasn't looking for a project, but I just couldn't let Diamond Bakery die." 
Diamond also does contract baking for companies, such as Shappy's Pretzels. They supply the recipes and Diamond fulfills the orders.
"They'll come in and give us the specifications of what they want, and we make it," he explains. 
"I like to help people make their dreams come true," Weinstein continues. "If we can get them started and they can get to a point where it makes sense for them to get their own place, great." 
While Diamond Bakery is probably best known for its Challah, they carry many delicious baked goods. Side note: They also have a great coffee bar with espresso, lattes, cappuccinos, and great drip coffee by Peerless Coffee. 
Weinstein's plans include putting in a refrigerated case to display their dairy delights, such as cheesecake, rainbow cookie, 7-layer cake, raspberry nut cake, sweet kugel, and more. 
"I want to start doing traditional Jewish things with a modern twist," he explains. "I also want to start featuring Jewish traditional baked goods and desserts from different regions of the world." 
Weinstein did a Yemenite Jewish cooking class for the eighth graders at the synagogue a couple of years ago and would love to do other programs like that in the bakery. "It's a way to be a little bit more creative, but also draw people in," he said. 
After all, it is a community bakery. One Weinstein also has been going to since he was a kid; his family moved to Los Angeles in 1975, when Weinstein was 12. 
"I don't really own Diamond Bakery," Weinstein says. "I'm just the current steward of it." 
People's memories of Diamond Bakery keep them coming back.
"I like to help people make their dreams come true."
– Doug Weinstein, owner Diamond Bakery
"There are people who come in every day and say, 'I've been coming here since I was 7 years old. My grandma would bring me in [and] give me a sprinkle cookie,'" he shares. 
Weinstein hopes those guests start bringing in their grandkids, so they can create new memories with the next generation. 
Does it take a mensch to save a bakery? Probably. 
Does it take someone who grew up with a love of food to save a bakery? Absolutely. 
Doug Weinstein is both. 
"I love baking," Weinstein says. "I love the fact that I can make something beautiful and then watch people eating go, 'Oh, my God, that's amazing!"