La Boite Seared Gefilte Fish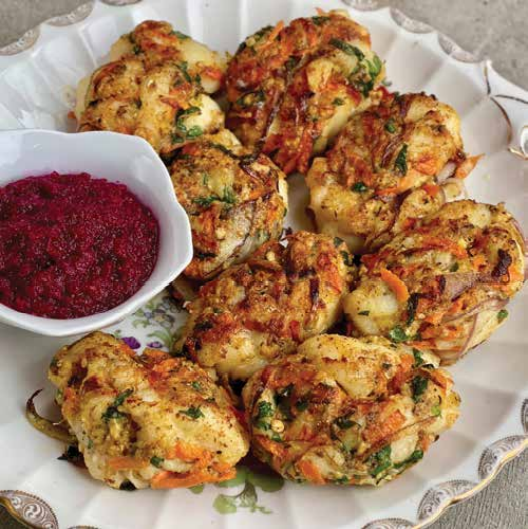 For a modern version of the classic gefilte fish, we adjusted some ingredients and gave them a nice sear. As part of the evolving Passover table these gefilte fish cakes have the carrots and Hezeret (beet horseradish) you love with the flavor of roasted fresh fish.
INGREDIENTS 
2 pounds fresh white fish, preferably cod or haddock, diced ¼" 
½ cup grated carrots 
½ cup red onion, thinly sliced 
2 eggs 
½ cup matzoh meal 
¼ cup roughly chopped parsley 
1 tablespoon Moruno blend (Moruno is a blend of coriander, cumin, saffron and other spices) 
½ teaspoon fine sea salt 
½ teaspoon ground black pepper 
Oil for cooking
DIRECTIONS 
In a large bowl, combine all of the ingredients, except oil for cooking, well. 
Portion the mixture into ¼ cup oval patties and place them onto a parchment-lined tray. 
In a large nonstick skillet, heat oil to coat the bottom of the pan to shimmering. 
Sear each fish cake until golden brown on both sides and cooked through, as more oil as needed. 
Serve warm with the horseradish sauce. 
Note – The fish cakes can be frozen once they are formed and seared as you need them. Makes 24 2oz cakes.