Family Spirits – The Hollander Distillery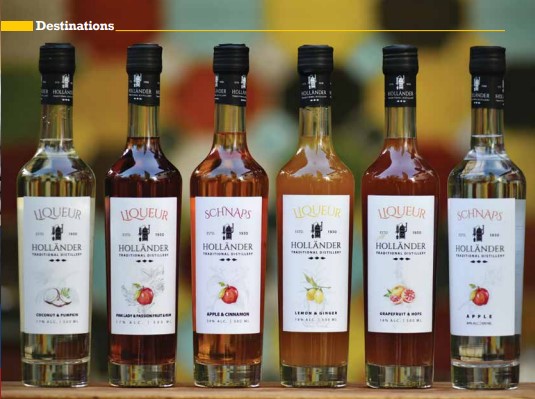 Hollander Distillery – An Oasis in the Hills
As we are sitting and talking with Ronny about Hollander Distillery we are told the story of both histories, the birth of Israel and the raw entrepreneurship of this generation. As we revel in the story, we are equally captivated by the delicious spirits that are being presented by our gracious host. 
Venturing through the winding road in the hills outside Jerusalem, we arrived at a small oasis on Moshav Beit Meir. The large garage door swung open, welcoming us into a tasting tour. We settled on a small patio, adorned with picnic benches, offering a delightful view of serene green hills and fruit trees basking in the afternoon sun. 
Leading our tasting experience was Ronny Hollander Moatti, the fifth generation of Hollander distillers. With a passion to revive the Hollander name in the world of quality liquors, Ronny greeted us like old friends, curating a flight of liquors tailored to our American preferences. 
Pour #1 was Pink Lady, Passionfruit Rum. Its sweetness, complexity,w and freshness instantly hooked us. Ronny explained the meticulous process of sourcing local Israeli fruits, ensuring the highest quality ingredients for their spirits. The majority of ingredients are sourced from nearby Israeli farmers and carefully selected and handled to extract the perfect flavors. 
Pour #2 introduces us to Grapefruit & Hops, an instant favorite that we envisioned as a perfect spritz.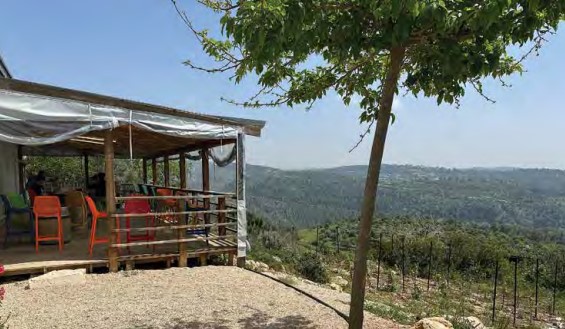 Savoring the next glass, we immersed ourselves in the Hollander's history, as Ronny shared their remarkable journey. It all started as a family-owned winery and distillery in pre-war Czechoslovakia. Ronny proudly spoke of her great-great-grandfather and his daughter, Leah Rosa, an orthodox woman who defied traditional gender roles and became the driving force behind the operation. However, World War II disrupted their plans, forcing them to flee. As they left the business, they gave the keys to an employee to safeguard. On his transport, Leah's father's ship was caught, and he was placed into an Italian detention camp where he used his distilling skills to provide for the camp guards, ensuring his survival. 
After the war, Leah returned to the family's vineyard and was met by the employee who gave them back the keys. Very shortly thereafter the communists in power expropriated the business and the family knew it was once again time to leave. 
Determined to start anew, they embarked on a journey to Australia but decided to stop in Israel on the way. At that time the War of Independence started and tragically claimed the life of their relative, Yossi. The family met and decided that they were not going any farther and that Israel would be their new home. 
Pour #3 unveiled the tantalizing flavor of Ginger & Lemon sparking ideas for signature cocktails.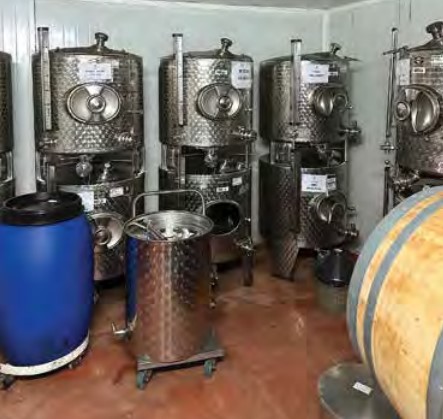 The family rebuilt their lives in Israel but did not return to distilling until 2012. They began to acquire the needed machinery and the cumbersome paperwork. As they began to refine their product a launch date of 2017 seemed within reach. However, they faced setbacks when arsonists set Israel ablaze in November. Their small town lost many homes as the fire swept through their area. Undeterred, the Hollanders once again rebuilt, only to face the unexpected obstacle of a global pandemic, reshaping the marketplace. Another challenge another day. 
Pour #4 intrigues us with its unique blend of Coconut & Pumpkin. Developed for a family member, it stood out as the only drink not to use Israeli ingredients. Its taste evokes a love/hate reaction, different from the other offerings. 
Ronny had left us for a few minutes to help a worker tend to the newly planted plum trees and grapevines before returning with some schnaps to try. By this time Ronny's return felt like a long-lost cousin coming back to the table and our conversation turned away from the distillery and onto the challenges of managing a business. With two kids under two, international distribution hurdles, and being a woman in a male-run industry… Each of the challenges was presented with a bit of nonchalance and presented as new opportunities to accept and conquer. 
Pour #5 & #6 brought us Apricot and Etrog Schnaps.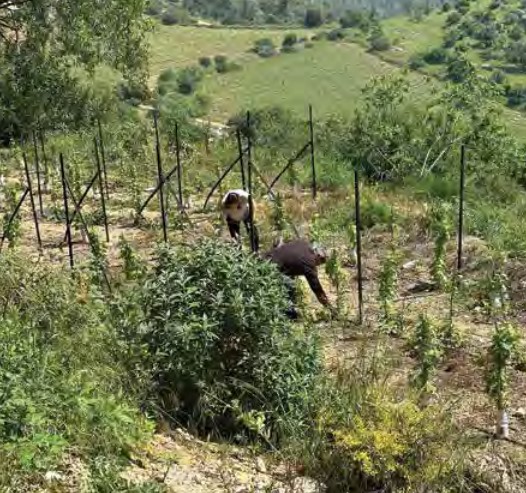 At about 40% alcohol these spirits were a much more potent sip than the previous pours which averaged around 18% alcohol. Roni smiled as she usually reserves the schnaps for her European visitors but wanted to make sure we tasted the full range of products. 
After a light snack, I can't help but mention the savory boozy fruit jam and crackers that accompanied our tasting. As we had finished all of the drinks it was time to tour the distillery. We were captivated by the seamless blend of traditional techniques and the newest equipment, showcasing Hollander's dedication to crafting a consistently exceptional product. 
Hollander Distillery is defined by its commitment to quality, the spirit of Zionism, the strength of family, and the resilience to overcome challenges. However, beyond these defining elements, it is the product itself that truly speaks for itself. 
Hollander Distillery is located at Habrosh 47, Beit Meir, Israel For more information visit www.hollanderdistillery.com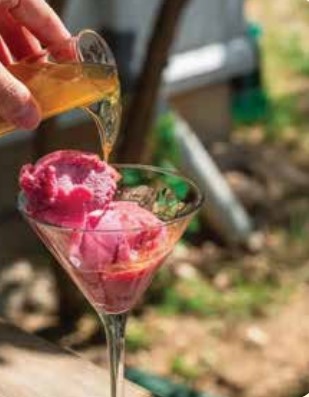 The Alcoholic Sorbet of the Hollander
Indulge in the perfect balance of sweetness and tanginess with this zesty fusion of Hollander Lemon & Ginger Liqueur, paired with refreshing strawberry sorbet. Begin with a spoonful and savor, or simply indulge by sipping it directly.
Sugar Girl
Savor the blend of Hollander Pink Lady, Passion Fruit & Rum Liqueur. Enhanced with rum syrup, lime, and a touch of anise star, this harmonious creation offers a refreshing and enjoyable beverage that will keep you coming back for more.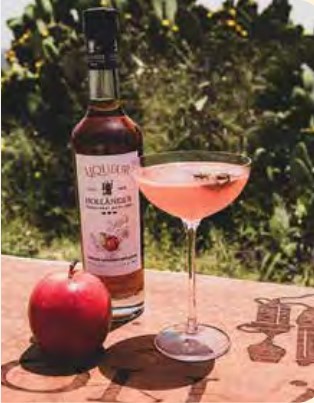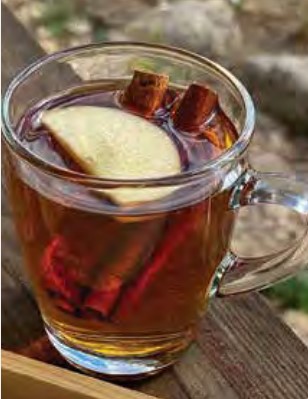 Hot Alcoholic Cider
This blend features Hollander Apple & Cinnamon Schnaps, natural apple concentrate, and a touch of warm spices. Sip on the aromatic goodness accented with a cinnamon stick and apple cubes, creating a cozy and invigorating drink to enjoy on chilly days.
Alcoholic Chocolate
Hollander creamy Coconut & Pumpkin Liqueur combined with whipped hot milk and a dash of chocolate syrup. Top it off with a dollop of whipped cream. A truly irresistible treat in every sip.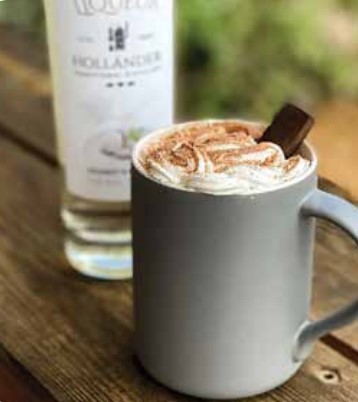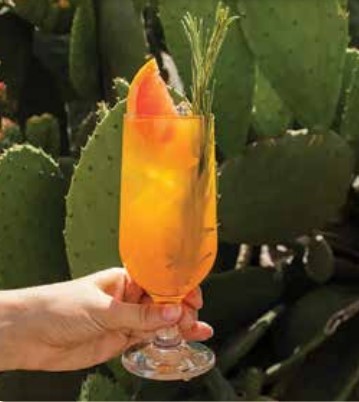 Grapefruit Fun
A blend of Hollander Grapefruit & Hops Liqueur, Infused with the tangy essence of red grapefruit cord and a subtle touch of turmeric. This invigorating drink is elevated with the crispness of tonic and the aromatic infusion of rosemary. Complete your experience with a slice of red grapefruit.
A Beautiful Tropical Country
Savor the tropical autumn fusion of Hollander Coconut & Pumpkin Liqueur, dark rum, and handmade pumpkin walnut puree. Enhanced with fresh orange, lemon, mint, and a touch of cinnamon, this delightful concoction delivers a harmonious and refreshing taste.