Making Summer Fun Accessible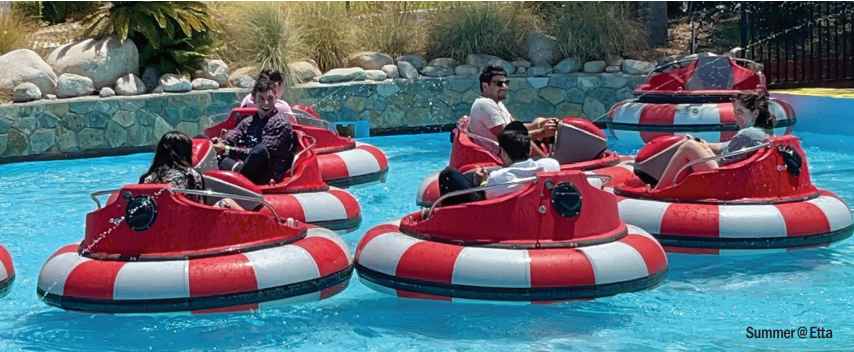 The idea of sending a child to a sleepaway camp for the first time can leave any parent fraught, but for those who have children with special needs the application process alone can provoke intense anxiety: Will my child be rejected because of their disability? Will the staff know how to accommodate my child's needs? Will my child be sent home if they have a meltdown? 
A 2013 study conducted by the Foundation for Jewish Camp (FJC) and Lazlo Strategies partly validates some of those fears — 25 percent of parents of children with special needs reported being turned away from a camp because of the disability, and 16 percent reported having their child sent home. 
However, another key finding stressed the importance of camp in the lives of children with special needs. According to the study, these children are far more likely to go to public school than a Jewish day school, and less than half attended a religious synagogue school; for many, they received their Jewish content from two places — home or camp. 
Southern California camp leaders who spoke with JLiving include campers with special needs at their sites. They also understand parent trepidation that leads them to hold back on details about their child's disability, worried that sharing too much might lead to rejection. But each leader said they prefer that parents of campers with special needs provide in-depth detail so the staff can anticipate each camper's individual needs and develop appropriate support plans. If the camper has an individualized education program (IEP), each site recommended including a copy with the application. 
For those parents of children with special needs who do send their kids to camp, the dividends are worth the risk. The FJC study found that 93 percent of parents of children with special needs were moderately to extremely satisfied with their child's Jewish sleepaway camp experience. 
Camp Alonim 
Aaron Goldberg, vice president of American Jewish University (AJU) and director of Camp Alonim, says campers with special needs will feel supported at the nondenominational sleepaway or day camps. 
"We're able to incorporate most needs," he said. The camp, established in 1953 and located on the AJU's Brandeis Bardin campus in Simi Valley, hosts incoming second-graders to 12th-graders at its overnight camp and kindergarteners to 6th-graders at its day camp. 
Camp Alonim's support for sleepaway campers with special needs is based on an inclusion model, in which campers with special needs can fully participate in the program with their typically functioning peers. "Nothing is off limits," Goldberg said. 
The camp arranges additional support as needed — from training with inclusion professionals to ensure they can address specific situations, to the addition of an extra counselor for a particular bunk (Alonim's term for its cabins) to ensure each camper can fully integrate into the camping experience. For those with medical needs, such as epilepsy, Camp Alonim features a health center with three to five nurses on shift at any given time and a doctor on site each week. 
For campers with mobility needs, some of Camp Alonim is compliant with the Americans With Disabilities Act (ADA), such as the dining hall and health center, and most of the camp's terrain is flat. It's the bunk areas that can present challenges. "Some bunks are easier to accommodate than others," he said, adding that future plans for new bunk areas will ensure greater ADA compliance, making them available to anyone with disabilities. 
While he wants to offer space at Camp Alonim to any camper, Goldberg is pragmatic in his acknowledgement that the camp might or might not be the right fit for each prospective camper. Prior to camp, parents meet with a community care specialist to discuss what kinds of support a camper might need. 
"In general, we want to have a conversation to see what the camper's abilities are," he said. 
For more information about Camp Alonim, visit alonim.com or call (877) 225-6646.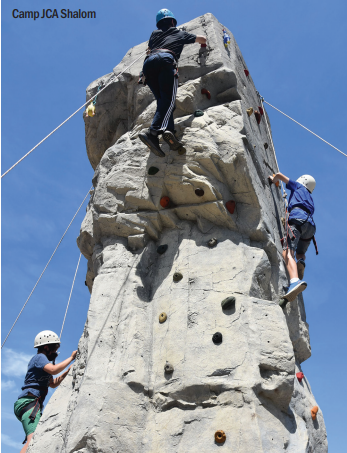 Camp JCA Shalom 
"The fires showed how when we get knocked down, we get back up again. We want to give our kids that resiliency," said Joel Charnick, director of Camp JCA Shalom, referencing the 2018 Woolsey Fire that destroyed nearly all of the buildings at their 220 acre site in Malibu. 
Since then, the nondenominational sleepaway camp shifted its operations to Gold Creek Center in Lake View Terrace. Charnick and his team are making it work for as many campers as possible while simultaneously planning ahead for the future. 
"We have an awesome opportunity at our site in Malibu to build a model camp in sustainability and inclusion," he said. "This is the most exciting project ever. I get to design a camp of the future." 
Campers range from incoming second-graders to 12th-graders. Charnick says Camp JCA Shalom, founded in 1951, follows an inclusion model for its programming, which has been transformative for the organization. All campers who age out as campers can apply to become CITs and staff, and some former campers with disabilities who now work as staff can do so with the support of two job coaches. Rachel Adler, JCA Shalom's mental health director, oversees the work of the camp's inclusion coordinator and an inclusion team of 8 to 10 staffers, most of whom are former JCA Shalom campers. She also conducts intake interviews by going to the homes of prospective campers to meet the family. She says when parents are forthcoming about a camper's needs, it helps make for a better camping experience. 
"I try to be transparent about the process. If we know more information in advance, we can help," she said. "As long as we know ahead of time we can support. If not, we may not be able to. Staffing issues are hard." 
Camp JCA Shalom generally requires that its campers be self-sufficient in the bathroom, but if a camper with special needs requires a 1:1 aide to support them with toileting and showering tasks that isn't a deal-breaker. The camp can accommodate aides on site. 
Organizers are eager to return to Malibu, but they're not sure when that will be. 
"Right now we have to deal with this. It's temporary. If we look to the future, it's really bright," Charnick said. 
For more information about Camp JCA Shalom, visit campjcashalom.com or call (818) 889-5500.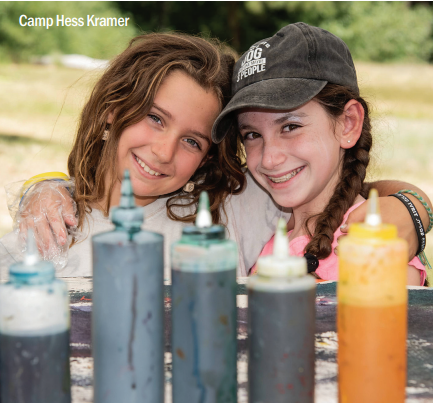 Camp Ramah in California 
Camp Ramah in California is one of the largest in the Conservative movement's eight overnight camps. Founded in 1956 by Rabbi Jacob Pressman, the Ojai-based camp draws more than 1,350 campers during its summer session and is the only Ramah camp that operates in winter. 
Each of the camp's special-needs programs fall under the umbrella of Tikvah, which serves children, teens, and young adults ages 10 to 23 with learning, emotional, and developmental disabilities. The camp features a variety of models of participation, including a family camp (Ohr Lanu) and a vocational training program (Ezra) for 18- to 22-yearolds with special needs.
"We offer opportunities for full inclusion, camp within a camp, half day of inclusion, one hour of inclusion, depending on the need of each kid," said Elana Naftalin-Kelman, Tikvah's director. 
Camp Ramah is not 100% accessible, but Naftalin-Kelman said campers have used walkers and wheelchairs before and could access most of the program. For campers who need more support, she said they try to make it work. 
During the week before campers arrive, counselors and general staff receive training that includes lessons in inclusion, and Naftalin-Kelman says she supplements with on-the-job training when a need arises. 
Naftalin-Kelman, who has worked with Camp Ramah in California for 16 years, says the most challenging aspect of the job is the increase in mental health needs. "We're working on how to support the needs of those campers," she said. 
The camp can accommodate most disabilities, and conducts extensive interviews with families to determine the camper's needs. 
The camp makes modified versions of its programs available, from swimming lessons to the ropes course, and provides individualized accommodations, such as headphones for the dining hall. 
"Our goal is to get all of our campers to experience everything at camp," she said. "We try to support each kid where they are — we want them to fall in love with camp, like generations of kids before." 
For more information about Camp Ramah in California, visit ramah. org or call (310) 476- 8571. 
Friendship Circle of Los Angeles 
Miriam Rav-Noy believes that every child deserves the opportunity to form camp memories. As co-founder and program director of Friendship Circle of Los Angeles, she wants to provide a social outlet for individuals with special needs and diverse abilities, including a summer day camp featuring three divisions — a younger division for ages 5-12 that includes both boys and girls as well as separate divisions for older girls (13+) and older boys (13+). 
At its core, each Friendship Circle pairs typically functioning teen or young adult volunteers with an individual with special needs on a 1:1 basis to ensure they can meet each child where they're at. Volunteers get a profile of their buddy, including their strengths and challenges. 
"Oftentimes we've had siblings and friends of kids as peers to the kids," she said. "Since COVID we've had an influx of participants." 
Beverlywood-adjacent Friendship Circle of Los Angeles, which features an accessible playground, including a carousel, and a sensory room for individuals with autism on site, is part of an independent network of Chabad projects that develop programming based on the needs of their own local community. Other Friendship Circle programs in Southern California include Conejo Valley Friendship Circle, Studio City-based Valley Friendship Circle, and Friendship Circle of Pacific Palisades. 
"We're definitely there for each other," Rav-Noy said. 
Each day camp excursion is by coach bus, which features bathrooms, DVD players, and sensory bus bags that includes toys, mini games, and other activities. 
During the school year, RavNoy says her program works on inclusion programs with Jewish day schools, and its educational director is currently pursuing a doctorate in special education.
"We feel very passionately that every kid deserves opportunities and we go the extra mile," RavNoy said. 
For more information about Friendship Circle of Los Angeles, visit fcla.org or call (310) 280-0955. For a list of Friendship Circle programs in your area, visit friendshipcircle. com/locations. 
Moshava Alevy 
Nestled in the San Bernardino Mountains just west of Big Bear, Moshava Alevy started out in Malibu in 2013, a partnership between Bnei Akiva of Los Angeles and the Shalom Institute. In 2015, the camp moved to the Dovid Oved Retreat Center in Running Springs. 
Avi Matanky, Moshava Alevy's executive director, says the camp works in partnership with the Orthodox Union's (O.U.) Yachad program to ensure campers with special needs are fully included at their site. Not all of the campers with special needs are from Los Angeles; some might come from the Midwest, the East Coast, or Israel. Campers at Moshava Alevy range in age from incoming third-graders to incoming 10th-graders, but some campers can be as old as 16 or 17, Matanky said. 
Matanky directs families of campers with special needs to apply with Yachad, which places individuals with disabilities at partner camps nationwide. The O.U. program also handles training and staffing of support personnel at each site. 
Jen Goldman, assistant director of Yachad Summer Programs, says her organization places 8- to 17-year-olds in camper programs, and those 18 and older in adult programs at its partner camps. The organization's intake process, which includes speaking with references, such as teachers and support providers, helps them to identify the right placement for each camper, she said. 
"Finding the right fit is important," said Goldman, who encourages parents to be as up front as possible about the needs of their child. "Help us help you." 
For more information about Yachad, visit yachad.org or call (212) 613–8369. For more information about Moshava Alevy, visit moshavaalevy.org or call (855) 667-4282.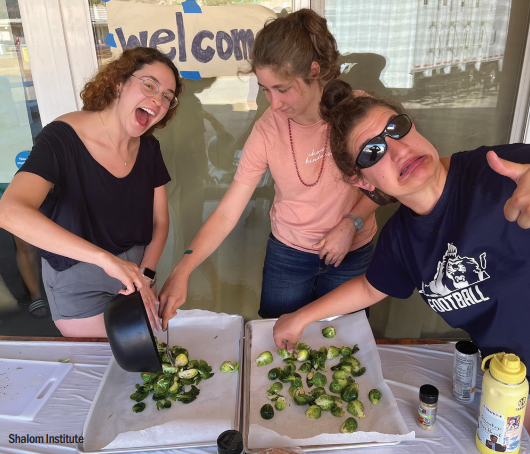 Summer @ Etta 
ETTA, a Los Angeles-based program for individuals with intellectual and developmental disabilities, provides an array of services to its clients, including residential housing, case management, employment training and placement, educational services and social services. 
They also host Summer @ ETTA. But don't call it a day camp. 
Instead, Summer @ ETTA refers to itself as a day program, which features day trips and lessons in topics like culinary skills and self-defense for its participants, who range in age from 14 to 65 years old. 
"We try to teach life skills in a super fun way," said Leah Schachter, ETTA's director of volunteers and special programs. "The goal is to celebrate being part of the Jewish community, the special needs community, and to be a happy, fulfilled person." 
Summer @ ETTA participants are paired 1:1 with neurotypical teens, and Schachter said that 80 percent to 90 percent of the summer program's participants end up moving on to the organization's regular day programming. 
"Whatever they need we'll be there for them," she said. 
For participants with mobility challenges, the site has been adapted to support their needs (e.g., wheelchair ramps). The program can address mild behavioral concerns, but participants need to be able to toilet themselves to participate. "We will assist in terms of reminders and waiting outside, but we can't expect teens to deal with this," Schachter said. 
Summer @ ETTA runs for a total of five weeks, but space limitations can truncate that time to one to three weeks. 
"They often want to stay for longer," Schachter said. "They come out and ask me when the next one is starting." 
For more information about Summer @ ETTA, visit etta.org or call (818) 985-3882. 
Wilshire Boulevard Temple Camps 
Wilshire Boulevard Temple established the first Jewish summer camp west of the Mississippi when Rabbi Alfred Wolf, tasked with reviving the synagogue's youth programming, rented space in Pacific Palisades in 1950. In June 1952, the Reform congregation purchased a site in Malibu and founded its own Camp Hess Kramer, with adjacent Gindling Hilltop Camp following in 1968 to meet a growing demand. But in 2018, the same fire that destroyed Camp JCA Shalom also decimated the sideby-side camps. 
For the time being, Wilshire Boulevard Temple Camps is renting property in Idyllwild, just west of Palm Springs. Camp Director Jen Shankman says both camps, which are open to children entering second grade through 10th grade, feature full inclusion for campers with special needs. "We recognize that every kid is coming to us with their own sets of challenges. We look at each family individually as they come through our doors," she said. 
Campers have access to a medical team on site, which consists of doctors and nurses, nurse practitioners and nursing assistants. If a child works with therapeutic support in daily life at home, systems can be set up at camp, Shankman said. 
If the Israeli dancing is too loud, quiet spaces are available. Kits featuring stress balls and noise-canceling headphones can also be made available to cabins. When it comes to unstructured environments, like a dining hall, staff know that some campers might need to slow down and take a few minutes before entering. 
"We look at the individual," Shankman said. "We make a plan for each camper with special needs." An inclusion team is available throughout the day to consult with staff if additional support is needed. 
The camps have several therapists who will work with the families before the summer in order to structure the camper's experience, from best cabin placement to determining which counselor is best suited for a particular child and their needs. 
Shankman wants parents to know that if they think they're sharing too much information, the camp doesn't think so. 
"We all want the same thing for your child — to fall in love with camp, to feel successful, and to be proud of how they've grown at camp. We can only do that if we know everything in order to help that child be successful," she said. 
For more information about Wilshire Boulevard Temple Camps, visit wbtcamps.org or call (213) 835-2196.
Having a child with special needs can be expensive, in part because they often require out-of-network care from specialists, according to a recent study out of Ohio State University. 
Camp leaders who spoke with JLiving were unanimous in that they don't want finances to be a reason why someone doesn't attend a Jewish camp. Each makes financial aid available, and some will help families work with their local Regional Center to secure funding for needed services. The important thing, they say, is to ask. 
In addition to the camps themselves, The Foundation for Jewish Camps (jewishcamp.org) offers first-time campers grants of up to $1,000 through its One Happy Camper program, and The Jewish Federation of Greater Los Angeles (jewishla.org/ program/jewish-summer-camp/), in partnership with FJC, make grants available for first-time campers with special needs, up to $1,800. 
Jewish Free Loan (jfla.org) makes loans of up to $5,000 available for Jewish day camp or Jewish sleepaway camp, but the money must be paid back within one year.