H Is for Hanukkah, Hope & Hallmark

I love Hallmark movies. These year-round romantic comedies are light, fun, and warm. When holiday time comes along, we are treated to a slate of new Countdown to Christmas movies, along with old favorites, airing daily until the new year. Note: This year's bounty of holiday films started the week before Halloween. The majority of this holiday fare is done with the backdrop of Christmas. 
Two years ago, Hallmark premiered two Hanukkah movies, but to be honest, they weren't very Hanukkah-y at all: "Double Holiday" and "Love, Lights, Hanukkah!" split time between Christmas and Hanukkah celebrations. Last year's "Eight Gifts of Hanukkah '' was Hanukkah through-and-through, but it premiered nearly a week after the holiday began.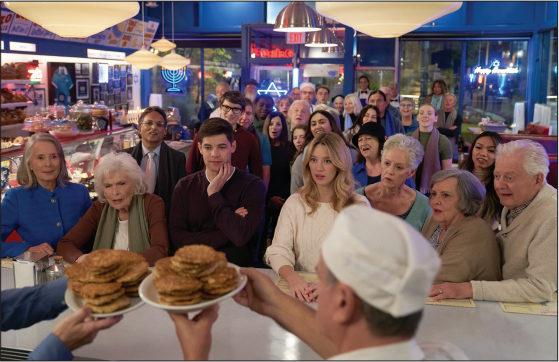 Imagine my delight that this year's solo Hanukkah feature, "Hanukkah on Rye," has Jewish leads, is set on the backdrop of a deli, and premieres on December 18th aka the first night of Hanukkah. I Zoomed with the film's stars – Yael Grobglas and Jeremy Jordan – as well as Lisa Loeb, who appears in the film and wrote the Hanukkah-themed song, "Light."
I embraced my outer foodie and inner Hallmark fangirl, when I chatted with these three stars, who were as happy to reunite on Zoom as I was to listen to their banter. We talked about food (a lot), their Hanukkah traditions, and perhaps the true purpose of this hopeful holiday film. 
"Hanukkah on Rye" follows Molly and Jacob, a couple brought together by a matchmaker, who realize that they are competing deli owners. 
"Well, it's a Hallmark movie," Jeremy Jordan says. "It's about two people who fall in love. There's literally no other way to tell a story on Hallmark than to have at least two people fall in love. There's actually more in our movie, but we won't spoil that." 
"It's a Hanukkah rom-com," laughs Yael Grobglas. "That's what [makes it] so cute and full of heart. It's not just about Hanukkah. It involves Hanukkah. It happens during Hanukkah. There's a lot of Hanukkah in it. But it's really a story of these two people." 
"Hanukkah doesn't necessarily have the same importance in our religion as Christmas does," adds musician Lisa Loeb, who plays a JCC music teacher in the movie. "There's always been this push to make Hanukkah a bigger holiday, so that it could compete with the celebrations of Christmas, which aren't necessarily always super religious. They often involve gingerbread and hot chocolate more than religious themes." 
A Hanukkah movie in the Countdown to Christmas lineup is like a menorah-sighting in a Christmas movie. It's a nice thing to see. 
"Hanukkah on Rye" celebrates Jewish culture, the history of these characters' families, and their connection to food.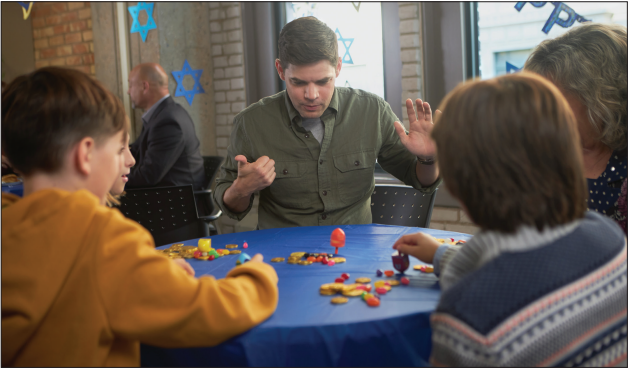 "Basically, they own competing delis on opposite coasts, so it's not really a big deal, but my character – and his family – want to open up a franchise right nearby Yael's families' Jewish deli," Jordan explains. "Before they even realize their competitors, they meet and sort of have that spark, and then realize there's a lot more complicated issues at play, because they're in competition with each other." 
Plus, he explains, they happen to have both been set up with the same matchmaker, and don't realize it. 
"So, it's a little bit of a "You've Got Mail" situation in that regard as well," Jordan adds. There's some fun plot developments and lots of food. And it's really funny, too." 
"Food is really at the center of it," Grobglas says. "I feel like that's true for most Israeli holidays, except for the ones where we fast." 
"But then breaking the fast brings you together, right?" Loeb chimes in. 
"Exactly," Jordan agrees. "It directly involves food."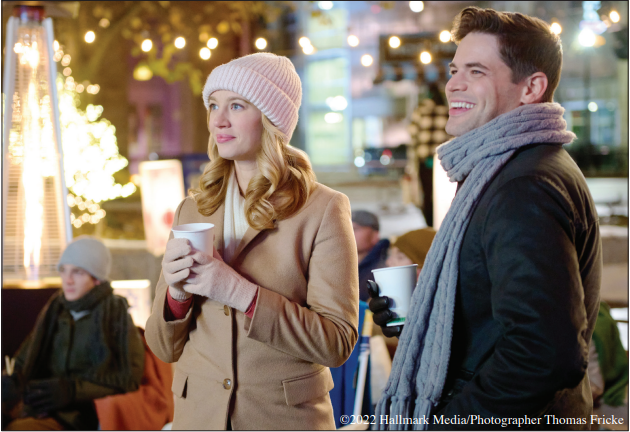 Grobglas believes, whether you are religious or not, at the heart of every Jewish holiday, including Friday night Shabbat dinner, is a family sitting around the table, enjoying delicious food. 
"The movie tells that story very well with incredible shots of sizzling latkes and bobbing matzo balls," she says. When Loeb was asked to write a Hanukkah song a few years ago, she took the time to dive into the essence of the holiday. 
"The ritual of lighting candles, the smell of candles burning, eating latkes, all the cultural stuff and the food is really fun," Loeb says. "I realized, aside from the story of the Maccabees, the story of the oil lasting more nights than it was supposed to – the idea of a miracle – to me that was a metaphor for hope."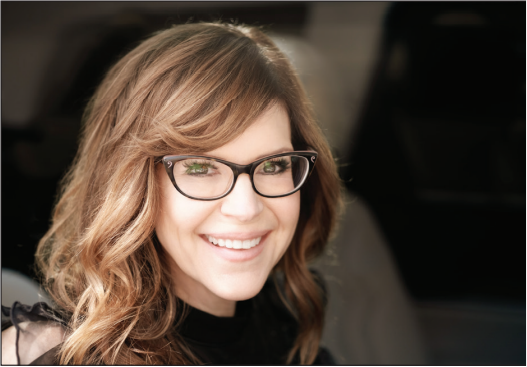 Loeb's song "Light" is about how there is always hope, even when you think all hope is gone. The full-length version of the song goes into the rituals of Hanukkah, including the mitzvah or putting a menorah in the window, so others see the light. 
"It's the kind of song that really can speak to me and speak to others throughout the year," she says. "I hope that it leads people, whatever religion they are, to help focus on what the essence of their own holidays are." 
Even in her youth, Loeb – and actually all of the "Hanukkah on Rye" stars – loved lighting the lights and watching them burn. Loeb's favorite tradition now? Dreidels! 
"My husband's family is really into playing dreidel, and that's … a really fun thing," she explains. "It becomes really competitive. Everybody always ends up with a million dreidels." 
Loeb says dreidels are the Legos of a Jewish house. 
Grobglas' favorite tradition growing up? "I know this is going to sound silly, but playing with the wax," she recalls. "I liked the smell of the candles, the warmth of the whole atmosphere, and making little shapes out of the hot wax. I feel like that is such a sense memory for me."
As an adult, Grobglas loves playing hostess on Hanukkah and other holidays. So she has "less time for wax playing, although I do," she says." I'm the one preparing all the food, so that to me is the exciting part." 
Jordan grew up celebrating both Hanukkah and Christmas; his mom's side is Jewish and his dad's side is not. 
"Hanukkah, when you're a kid, the presents were always smaller, but … it's more [about [ the celebration, the rituals," he recalls, "Whereas Christmas is all about the day." 
This is Jordan's second Countdown appearance. Two years ago, he played the main character's love interest in "Holly & Ivy;" a contractor who helps a woman renovate a house, so she can adopt a sick neighbor's two children. 
"What Hallmark really captures well is the spirit of both of these holidays," Jordan says. "My Christmas movie wasn't religious at all either. It was really about coming together, [taking] time to really connect with the people around you and doing good things." 
At the end of the day, he says, they're just days. It's what you do with them that counts. 
Grobglas, Jordan, and Loeb are all thrilled to be part of this future Hanukkah classic. 
"I feel like with each new thing that's come my way, I've gotten to do something that's different from the standard Hallmark movie," Jordan says. "And that's really exciting to me… I got very lucky to land a pretty cool costar in Yael Grobglas and of course got to meet the incredible, iconically Lisa Loeb." 
The great cast was a bonus for Grobglas and Loeb too. 
"I know [Hallmark] really brings people together, and I love that," she says. "It's such a classic iconic place. But then, when you find out really high-quality people are going to be involved, then you want to be a part of it." 
One of the first years after Grobglas moved to Los Angeles, she hosted Passover at her house for about 20 guests; most of whom were not Jewish. At that point, no one in her friend group had kids, so she did an adult Afikomen "treasure hunt." 
"I found it so fascinating to see people from other cultures coming in, finding a way to enjoy my culture and [having' fun," she says. "And I feel like this movie is kind of the same thing." 
Jordan says, "I imagine that the audiences that are watching a lot of these Hallmark movies don't have access to a lot of Jewish culture. I would hope that they would still tune in and watch this movie as well, and I think they will. It's not just a movie for Jewish people that want to see themselves. It's a movie for everybody." 
"Sometimes we don't know how to share our cultures with each other," Loeb says. "So, to have a Hanukkah movie that hopefully isn't too Christmasy … It makes it really easy to share our culture with other people. And for people to feel welcome to see it." 
This Hallmark movie is a great example that you can teach through action, you can share different cultures without trying to convert or change people, Loeb says. 
Grobglas remembers that when she got a call about doing a Hanukkah movie, her face lit up. She has been feeling the love and anticipation of this movie from close friends through social media 
"[They] are just so excited that they're finally gonna get a proper Hanukkah movie on Hanukkah," she says. "It means a lot."
FOODIE SPEED ROUND!
Favorite deli foods?
Jeremy Jordan: An everything bagel withvcream cheese.
Yael Grobglas: A bagel with lox and creamv cheese.
Lisa Loeb: Tuna salad and egg salad combined on egg bread, non-toasted.
Favorite Jewish food?
Jeremy Jordan: Yael's potential latkes.
Yael Grobglas: I grew up in Israel and only moved to the States eight years ago, so I can't tell the difference between what's a Jewish and what's an Israeli food, so my answers might skew Israeli.
Lisa: Yeah, I'll tell you the difference.
Yael: I like the little soup nuts. I call them soup nuts, but that's not the official name. Do you know them? It's awesome, Oh, my God! This is like soup crack.
Lisa: Oh, I know what you mean. That's Israeli! They're like croutons. They're yellow.
Yael: Exactly. They had them on the set of our deli [as part of the] permanent background.
Lisa: Pita Bread, Israeli
Yael: Delicious, but it's hard to find really good ones,
Lisa: Matzo balls, Jewish.
Yael: I do make killer matzo balls.
Lisa: I love matzo balls, they're so delicious.
Yael: I actually really like gefilte fish. But, as you know, all Jews are split down [the middle when it comes to gefilte fish]. There are people who love it. There's some people who hate it. There's never anybody who's sort of neutral
about it.Lisa: I'm in the middle. I'll eat it, but I would
be fine if they don't serve it. But I'm gefilte fish out of a jar.
Yael: Me too
Let's talk Latkes
Lisa: I like latkes! And we make great latkes too. Weirdly the recipe I like to use is from
"Judaism for Dummies," but it's a great recipe,
Yael: My latkes have the basic ingredients: grated potatoes, onion, a little bit of flour. I
usually use a little bit of consommé (soup mix).
Lisa: That's a special tip. You don't usually find that.
Yael: Latkes are all about the timing: how crispy you want it, the right size, and making them sort of flatter rather than poofier. It's about levels. You don't want to add too much flour. My latkes are honestly delicious.
Lisa: Just remember to squeeze out all the moisture from the shredded potatoes. Or buy pre-shredded potatoes, which some people do. Not me.
Yael: I never heard of eating latkes with applesauce until I came to the US. I don't think
that's a thing in Israel. We've eaten them with sour cream.
Lisa: We eat them with ketchup, too. I'm from Texas.
Yael: That makes more sense to me than applesauce.
Jeremy: It's a potato. You eat a potato with ketchup in Texas. I'd probably dip it in a ranch
in Texas, too. Let's be honest.
Lisa: I've never seen that. That's actually a good idea.
Jeremy: Yael, I'm going to video chat you [during Hanukkah], and we're going to make latkes together.